Philip O'Hanlon is the President/CEO of On a Higher Note, a high-end audio distributor, and this weekend, he came by to spend a day with the folks of Command Performance A/V of Falls Church, VA. For this mere customer, it was a chance to pick the brain of one of those middle-men that sit between the world of the dealer and manufacturers (more on that later) and see, hear and (gently) touch some of the new pieces of audio kit to come from one of the long-term heavy weights in the audio industry: Luxman.
I showed up shortly after noon and dutifully filed into the listening room. Philip was demoing the $3750 Luxman 505u, a 100wpc Class A/B solid-state integrated amp being fed by a $2700 Hegel CDP2A mk2 and a custom mini-PC offering from CommandAV. Output was to a pair of $3500 Totem Forest speakers.
Lost in the forest
Let's start with the speakers. At $3500, the Totem speakers are in the middle of the Totem lineup, with two speakers that over top them — the $8,000 per pair Totem Wind and the now-retired $12,000 Totem Shaman. All are very fine loudspeakers and a line I happen to be rather familiar with.
My first audiophile speakers were the Totem Forests. I got them second hand from a friend who upgraded to the Shaman, and I ran them with an NAD integrated. They were marvelous speakers. When my friend moved on from the Shamans, I was happy to find them a home, and I've been very happily using them on and off for the last 3 years. The Forest and the Shaman share more of a "house sound", which makes sense as they . I like to think of it as "full" — big bass, warm mids, extended treble. The Forest is a 2-way (vs the 4-way Shaman) with very robust bass, but I always thought that it was a little loose and somewhat congested in the mid-bass. By contrast, the the Shaman appears to be more sorted on the low end, not only providing that extra octave, but integrating it much more seamlessly. Only moderately sensitive, all Totems seem to sound best when played loud, which means you'll really want to drive them with an amp that has plenty of heft — and an amp with a very grippy bottom end would be highly preferable. The natural pairing, then, would seem to have the brand Plinius written all over it. And for what it's worth, driving the Shaman's with a big Plinius SA-250 amplifier will deliver gut-check bass and SPLs that will make the neighbors call in the local police. Ask me how I know.
I sold my Forests on AudiogoN when I got my Merlin VSM-MMe speakers. I was looking for a more "audiophile" sound, if you will, and Stereophile had the Merlin's listed as Class A and the Forests as Class B at that point (interestingly, Stereophile has since downgraded the Forest to Class C due to a rather uncharacteristically unfavorable review that came out in January of 2010 — for a lark, you have to read the manufacturer's comments on that review), so I figured I'd give them a try. With the Merlins, I got a tighter bass, cleaner highs and even more intimate mid range — in a package I was able to drive well with tubes. All in all, I felt that the Merlins were (and are) superior speakers — of course, they're also at least twice as expensive, so that's hardly surprising.
Anyway, that's all backdrop for what happened when I came over to Luxman-fest at Command Performance this past weekend. Let me say this: I have never heard the Totem Forests sound this good. Further, if they'd sounded this good at my house when I owned them, I'd still own them.
Now, look. I'm aware of the effects of time on aural memory, and how different spaces react to speakers differently, and all of that. And no, the Totems suddenly didn't become The One That Got Away in my own personal audio mythology. They were, and are, really great speakers — the Merlins (and Pulsars) are just better. But with this bottom rung Luxman integrated driving them, the gap closed rather alarmingly. Word to the wise — system matching is the most important aspect of system construction. In this setup, the Forests sang, screeched, wailed, and seduced all at the command of the ring master, Mr. O'Hanlon.
Luscious Lux
O'Hanlon, as the distributor for the Luxman brand (and Giya, Brinkman and some others), gets his hands on the nifty-new long before us random mortals. Like the rumor of a new 24bit/96kHz async-USB Luxman DAC in the sub-$2k segment, scheduled for release this Spring. Very interesting, says I.
Today, however, he had along a sparkly $16k D-08 SACD player. I've heard, and enjoyed, the DU-80 on many occasions in The Big Rig, but this D-08 is something special. Me want! Me want!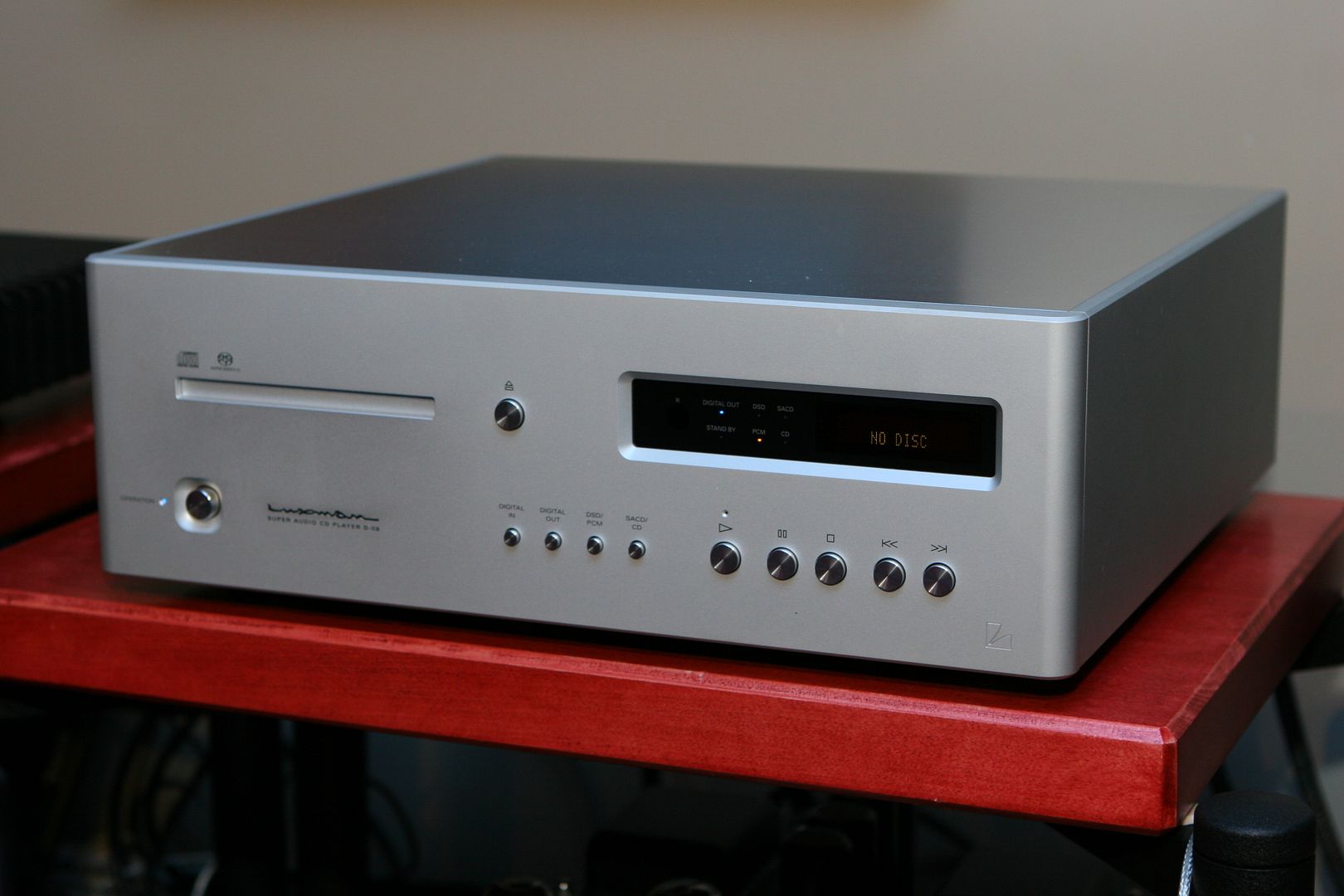 I asked O'Hanlon about his musical selections — which ranged pretty widely, from Beyonce, to Jem, to Louis Armstrong, to Diana Krall, to Neil Young. Apparently, he's quite taken with the mixed-CD thing and regularly compiles discs full of extremely well-recorded tracks, which he "tweaks" before assembling into his demos discs. Not surprisingly, he uses these to best effect when showing off his wares, and watching him work the room with his bow-tie and Irish brogue is quite the treat. And the music was just exquisite.
Shortly before I had to leave to rescue my wife from my twins, Phil and crew treated the assembled audiophiles to the D-08 driving The Big Rig. With the matching Luxman C-800 pre and M-800 amplifier and $20,000 worth of cabling, the D-08 was able to thoroughly outclass its stablemate, the DU-80. This is the kind of performance that really makes you wish you had bought piles and piles of Apple stock at $7/share back in 2002. [sigh].
Unfortunately, I wasn't able to spend the rest of the afternoon hanging out, but I did get to threaten to harass O'Hanlon at some point in the future, and he seemed down with it. Right, Phil? 😉
I had a follow-up from this event, which is to get a chance to listen to the Luxman 590aII, Luxman's $10k 30wpc all Class-A no-holds-barred integrated. Apparently, Command Performance has one on the auditioning floor! Ahem.