I like panels! I guess this isn't a surprise as my reference speakers are the recently released Magnepan 3.7s. There's just "something" about panels that speaks to me ….
On display were the Analysis Omega panels, here outfitted with the optional external crossovers. The price on this combo is ~$25k. Good for 22Hz up to 2okHz, these panels are pretty much the same size as my Magnepans: 5.5′ tall by 2′ wide. Both are ribbons, both are planar, both are pretty awesome. Given that the Omegas reach quite a bit deeper than my beloved Maggies (at least by spec), I'm not surprised to see the price climb accordingly.
There was a lot that I found familiar – speed, resolution, detail, mid range immediacy and great treble extension – but, interestingly, I think my Maggies edge by more than a little on actual bass output! Go figure. I'm guessing that the Analysis numbers might not be a "flat" response, but more like an F6 or F10 number. Still, I think the Omegas do everything that the Maggies do – and other than the bass, I suspect they do it a bit better. The overall sound was a bit more detailed. The treble was a bit sweeter. The mid range was a bit more immediate. Of course, it's really hard to be definitive about any given element of any given system at an audio show, but the music played was reasonably familiar to me, so the system's sound wasn't totally alien. Analysis vs Magnepan? Point goes to Analysis on overall performance, mid range and treble. Point to Magnepan on bass presence/output and price. YMMV.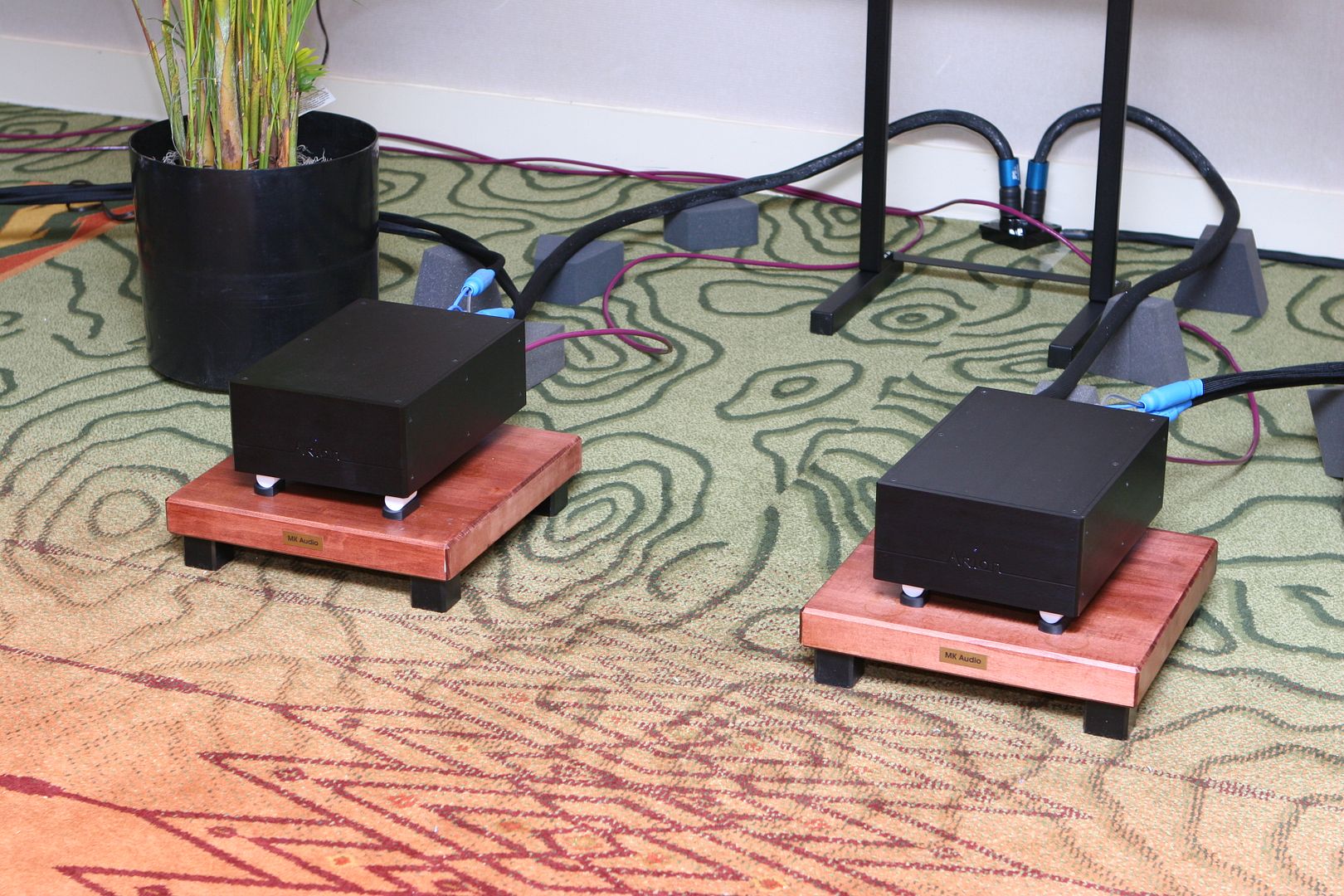 The diminutive $6k/pair HS-500 hybrid tube/Class-D monoblock amplifiers from Arion Audio were driving the speakers, pumping out a cool 500w @ 8ohms and 1kw @ 4ohms. Anyone else thinking Bel Canto, but with tubes? On the off chance you were interested, the HS-500 sports a 6N6P (6H30 optional). At no time was the sound coming from the speakers anything less than controlled and full, so whatever it was the Arions were contributing, they didn't appear to be limiting the big panels.
The Arion amps were fronted by electronics making their first-ever debut from Sonus Veritas. Made and designed entirely in the USA: the $12k Genoa Line Stage Preamplifier, the $$20k Venice Phono Preamplifier and the $12k Modena Tube DAC.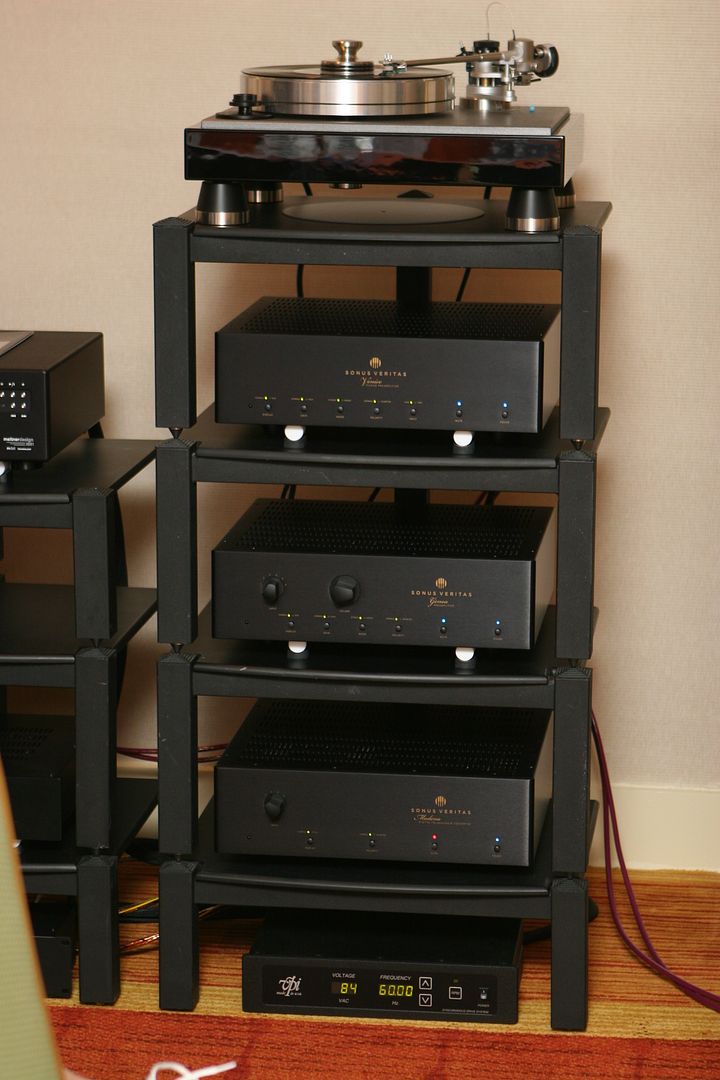 Starting from the back, the Modena comes with three S/PDIF connections, two coax and one Toslink. It also comes with a USB connection. The topology uses asynchronous sample rate conversion to reduce jitter and supports both RCA and XLR outputs. A volume control can be added for an additional $1300.
The Venice has a three stage differential transformer-coupled topology. It supports dual inputs and outputs (XLR is an option on the input, but standard as an output), and can provide 64dB, 70dB and 76dB of gain for moving coil cartridges. For whatever it's worth, the sound in the room was always delectably served via vinyl (at least on my visits), so any praise for overall sound quality will also come here.
The Genoa supports two gain modes, 6dB at 100ohms output impedance, and 12dB at 400ohms. Frequency response has an F3 at 5Hz and 85kHz. The preamp allows muting, polarity inversion, stereo and mono flipping, change the gain, and adjust the panel lights. It comes with a remote.
While I was in the room, a ($6k) VPI Classic III with SDS and a periphery ring (add another $2k) along with a ($4500) Soundsmith Sussuro cartridge was spinning out some very satisfying tunes. I got to hear several tracks from Eva Cassidey and the immediacy of the vocals was palpable. Loved it!
Interestingly, the room used some roller-floaters for isolation from Pon-Tunes that reminded me of Barry Diamant's recommendations for bearing-based isolation. The hard cutting-board-like rollers, of course, are only good for side-to-side isolation, but assuming they work on the same principle as the Symposium Rollerblocks, they're probably far better at isolation than most gel footers. $179/set of 3.
Also in the room (but not playing either time I was there) was a player from EMM Labs.