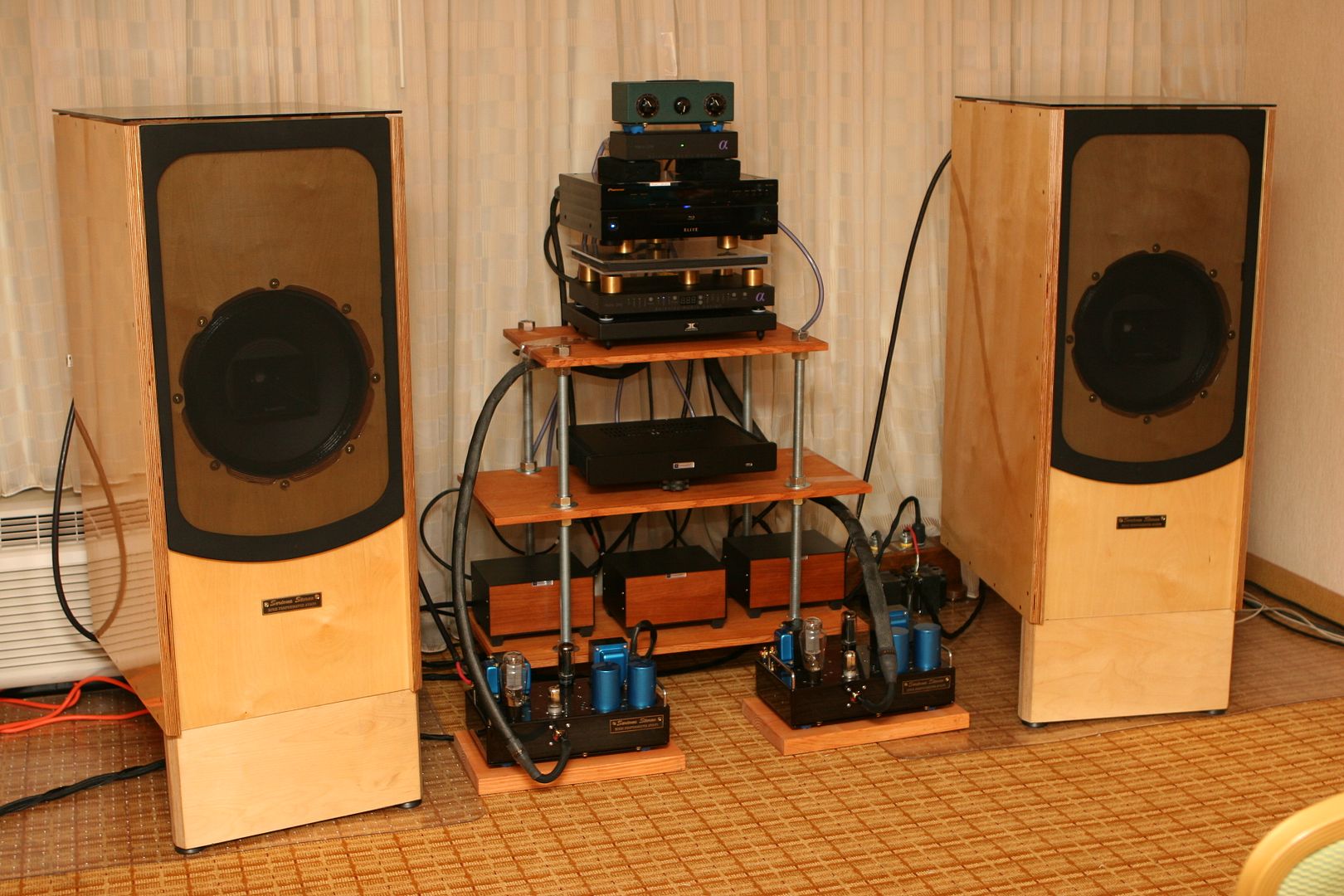 I'll admit it: before this year's RMAF, I'd never heard of Serious Stereo, out of Livingston, Montana. Apparently, they've shown at RMAF every year since the first show and have been written up by 6moons and PFO. Just goes to show you how appallingly uninformed I am. Oh well.
Dennis Fraker of Serious Stereo set me straight.
Serious Stereo sells, well, some serious stereo gear. Including a hand-built $15,750/pair (including power cords & delivery in CONUS) 2A3 amplifier. This unit is a 2 stage direct-coupled single-ended monoblock amp, ships with EML or JJ 2A3 tubes, is a powder coated chassis for extreme durability and has Dupont automotive finish on all the transformer & capacitor covers. Total watt output? Don't ask — but this amp has "power to burn". In the Daedalus/Galibier room up in the tower, these same 2A3 were cranking the tunes out to very satisfying levels out of "traditional" (but admittedly, high efficiency) cone/box speaker design. How? Giant power supplies with very low DC resistance! To finish us off, the amps are internally wired in 12-gauge Siltech silver wire and a variety of super-premium caps are used throughout.
Serious Stereo also offers two models of Kimber/Siltech silver-wired passive attenuators to front those amps. The first, more expensive unit uses Shallco 10amp 45 position switches for volume control. This will run you $2800. Moving down to L-PAD attenuators, replacing the Shallcos, will drop the price to $1850. "They're both excellent", says Dennis. Hard not to agree.
The speakers in the room were very large mass-loaded transmission design, using the latest version of the classic Altec 604 duplex engine, this one made by Great Plains Audio in Oklahoma City. This is a 15″ woofer with compression horn midrange/tweeter mounted concentrically. Hello, point source! $12,500/pair (shipping not included) with usable bass deeply into the 20Hz range, but is more conservatively rated from 35Hz up to 20kHz. Siltech silver wiring, exotic capacitors, marine-grade plywood (birch shown, options include mahogany), 7 layers of hand-rubbed poly urethane will round out the package.
Everything Serious Stereo does is done beautifully and by hand. Their products have the look and feel of heirloom-quality antiques. Dennis told me that he's been building the amps since I was in college — and most of them are still running the same tubes.
Unbelievable build quality.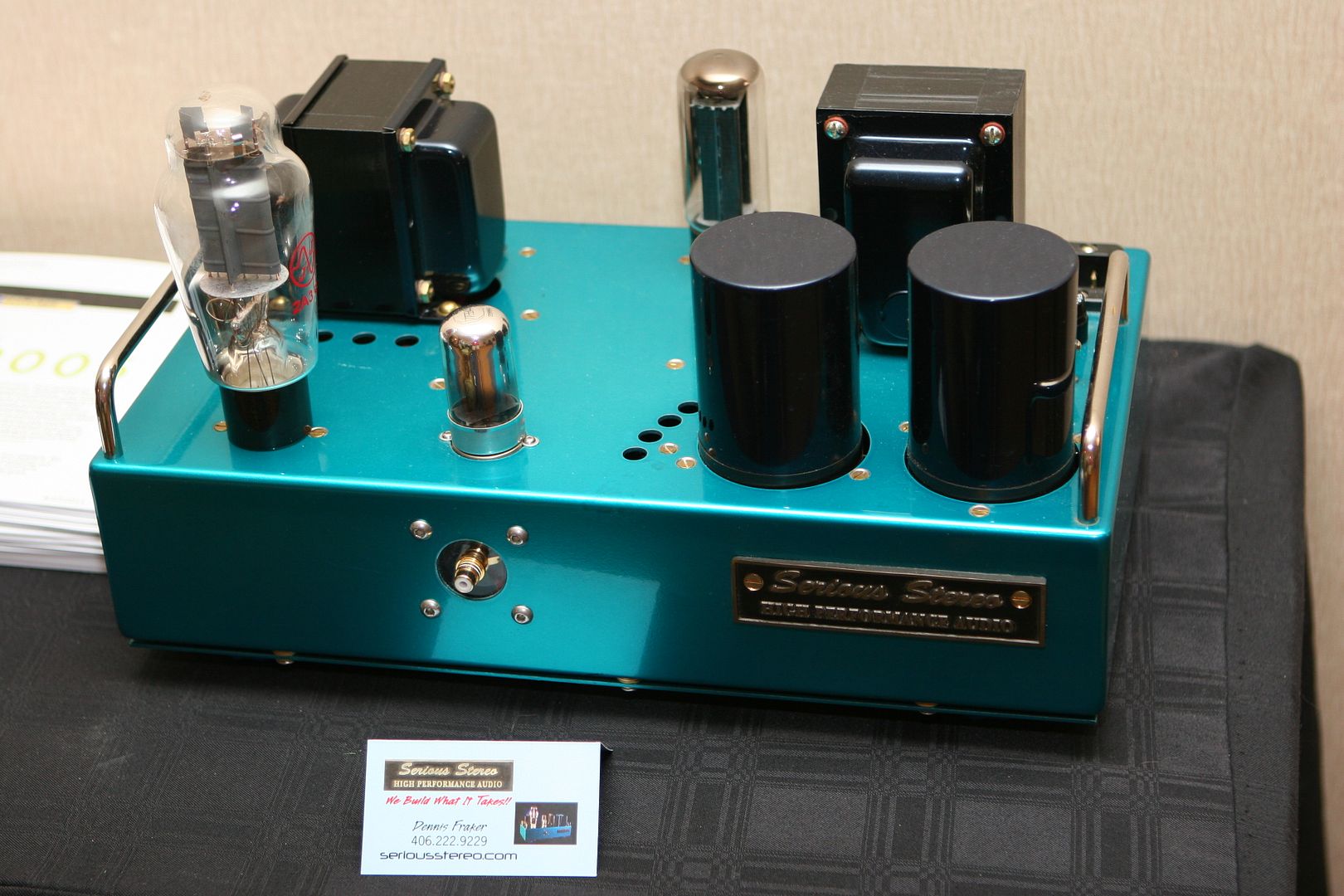 The 2A3 monos come in glossy "black chrome" and the standard glossy blue-green. Fire-engine red is an option.
I heard some hauntingly beautiful music in this room, courtesy of the Serious Stereo gear, which was fronted by some familiar gear from Command Performance A/V.
But this $9k monster is not one of them — this server is new. CPAV has been custom-building audiophile music servers for a while now, offering them for between $2k-3k, depending on options. But the magic in any music server may not actually be in the server itself, according to CPAV's Jeff Fox, but rather, in it's power supply. Or … supplies.
Building a power supply for a server isn't easy or straightforward, however. Parts aren't just parts — good parts are expensive and hard to find. So, to get to their  "Over-The-Top" version on display in the Serious Stereo room, they decided to see what happened with an external linear power supply. One was good. But two? Better. So, naturally, they added a third.
Yes. Three power supplies.
These PSUs are offered as upgrades to the CPAV server, and will add between $1k-2k, each, depending on options. For the show, each of the three PSUs has a specific function, separate from the others. One PSU powers the musical output, in this case, it's a SoTM USB card. One PSU powers the motherboard. One PSU powers the CPU directly.
More details: each of the $2k power supplies that were on display, called "Foundation LPS", were completely hand-built and had all premium parts, including:
Point-to-point wiring
Three 22,000 microfarad Mundorf Caps
Furutech EMI filtering IEC
Furutech premium connectors
Vishay rectifier
Silver plated, cryogenically treated fuse holders
Furutech fuses
Siltech hookup wires
Extensive EMI and Vibration Control
… and now you know why they cost so much. All three, together, are absolutely total overkill in the kind of way that every enthusiast would not only intuitively understand and appreciate but is also likely to cause spontaneous drooling coupled with shiny green envy. Envy is never pretty, but this silent, fanless server was pretty freakin' awesome.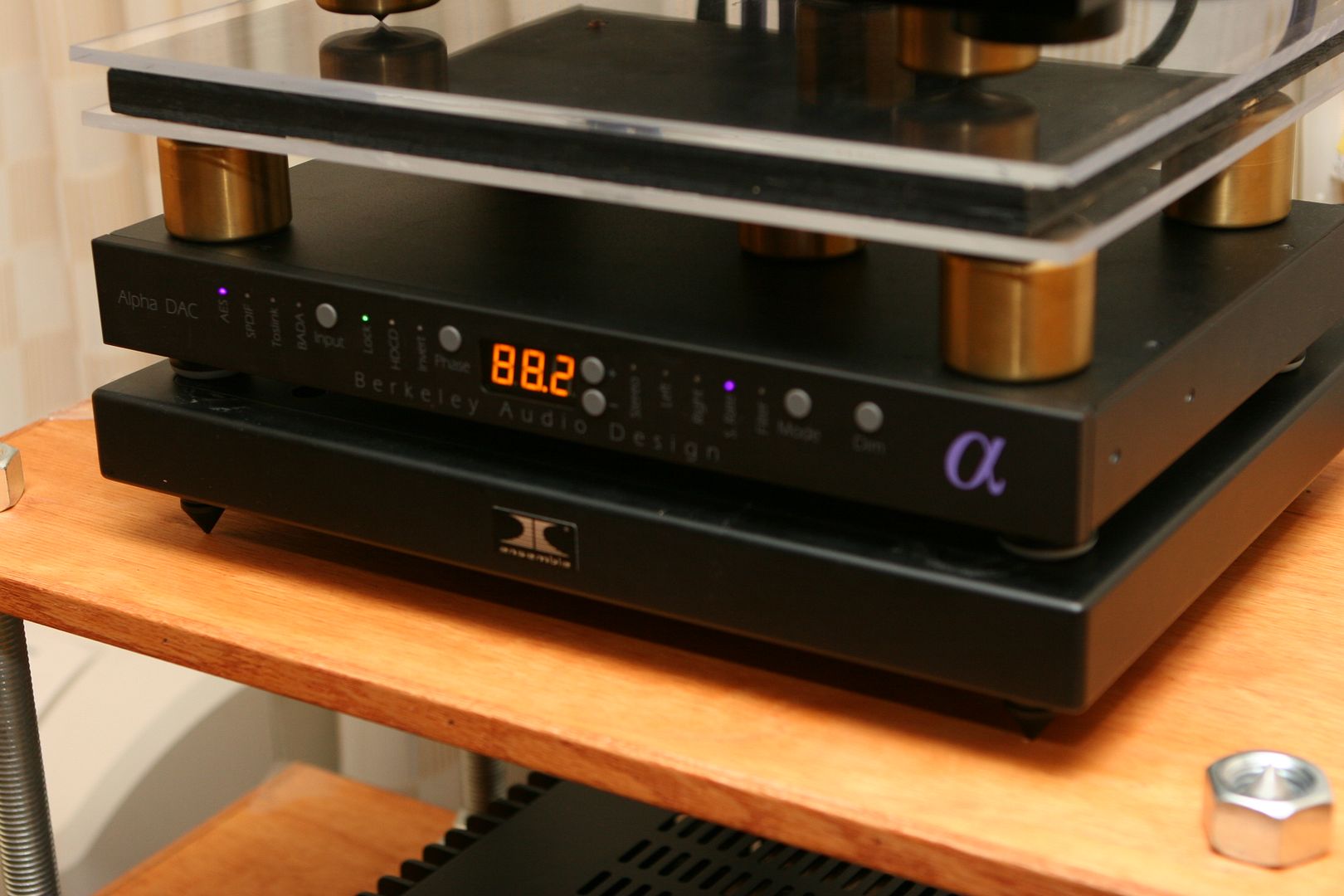 Tunes from the CPAV uber-server came courtesy of a Berkeley Audio Alpha DAC, which was also doing pre-amp duties, too. But as most of us Berkeley Audio users know, the Alpha DAC has no computer-friendly interfaces aside from a single Toslink. But that's not how this Alpha was rolling. No, this one brought along a friend.
Sandwiched between a CD transport and an unused passive attenuator (used for its weight) was a little Berkeley Audio Alpha USB. Alive! And in the wild!
I almost missed it in the rather creative racking that the folks at Serious Stereo had going on. AFAIK, this was the only Alpha USB at the show! It's not terribly beefy, which is good to know, and should yours magically appear at some point in the future, be aware that a stiff USB cable (unlikely) or AES cable (possibly) or power cord (quite likely), might make keeping that mini unit planted somewhat problematic.
Like I said, the sound in this room was delightful and mellow, with great dynamics, rhythm and pacing. And the guys? Very clearly having a ball. I wish more rooms had been as relaxed and pleasant as this one.