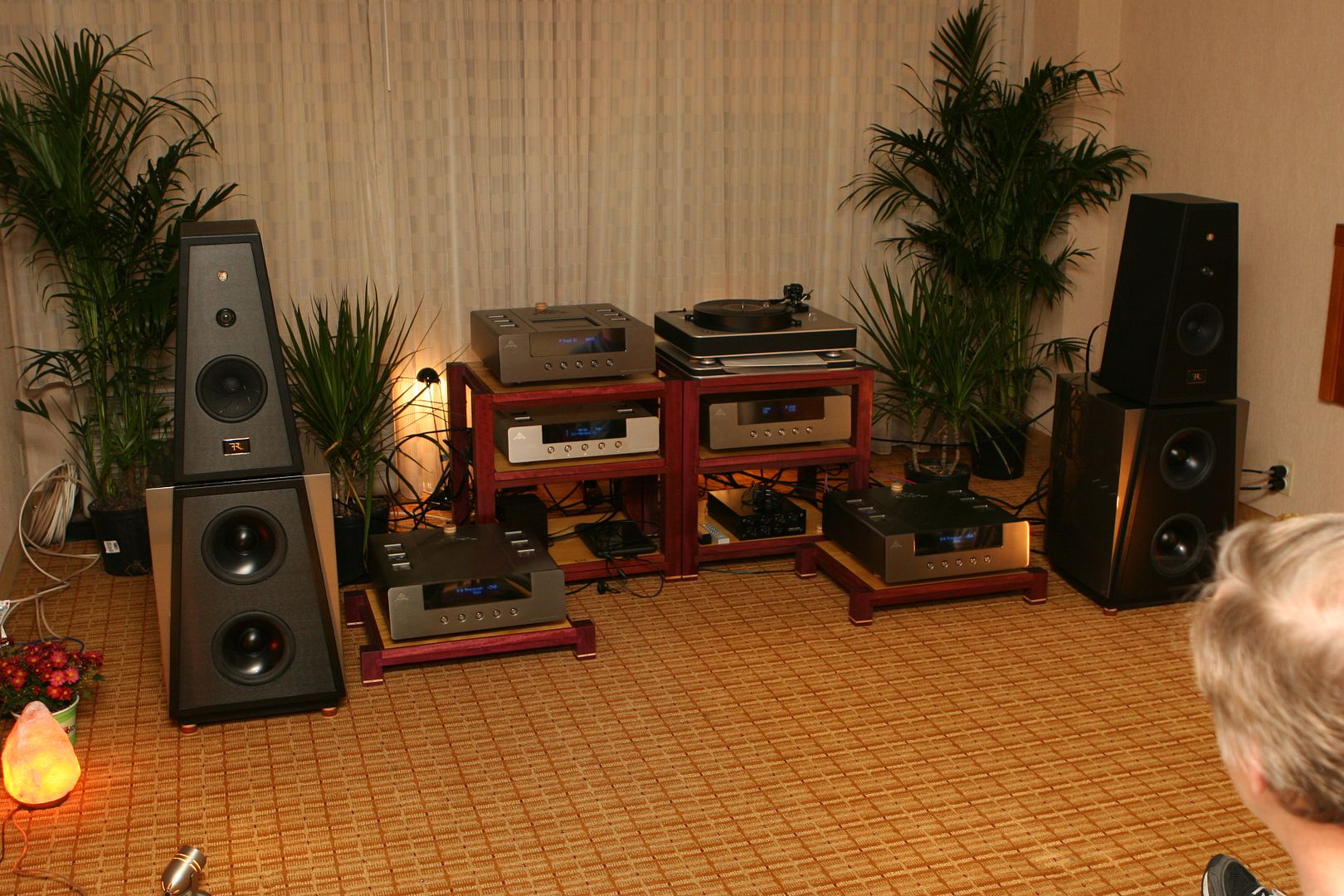 Avatar Acoustics always puts on a good show. At RMAF, the Himalayan rock salt was out, and the walls were festooned with ASI Resonators and Sugar Cubes. The big $27k Rosso Fiorentino Siena loudspeakers were, by turns, as intimate and as ballsy as I've ever wanted out of a loudspeaker. And did I mention they're covered in leather? Did I mention that that turns me on a little bit? Ahem. Anyway, the sound was detailed, fast, and warm, and when asked to, easily swamped the room with some devastating bass.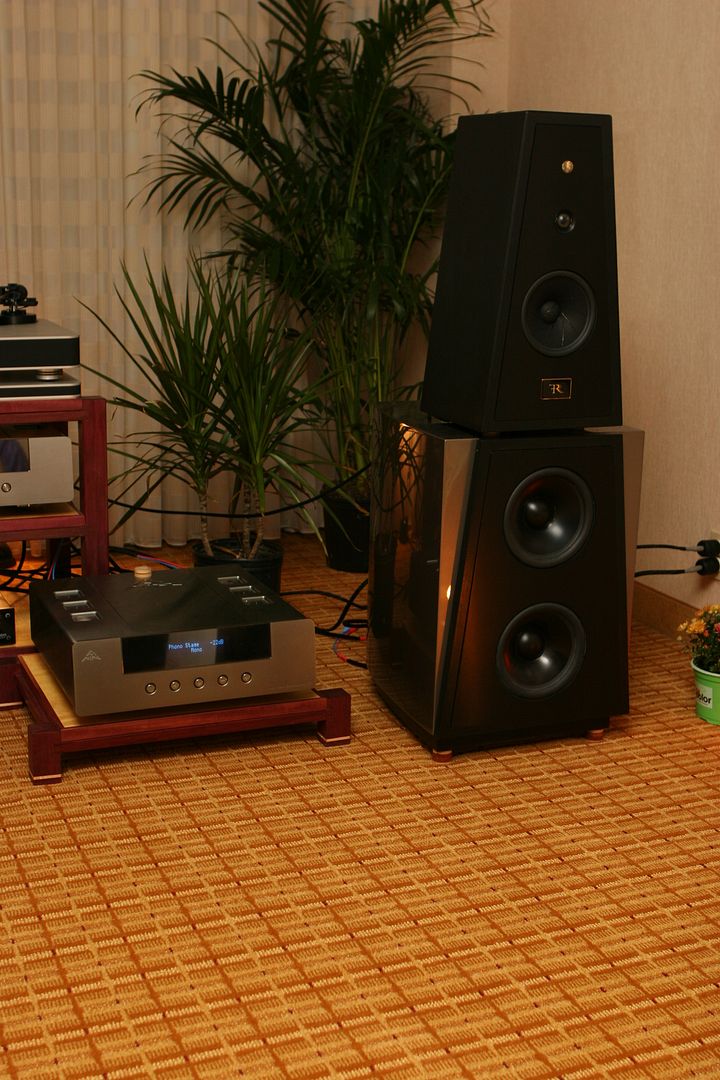 Beautiful speakers!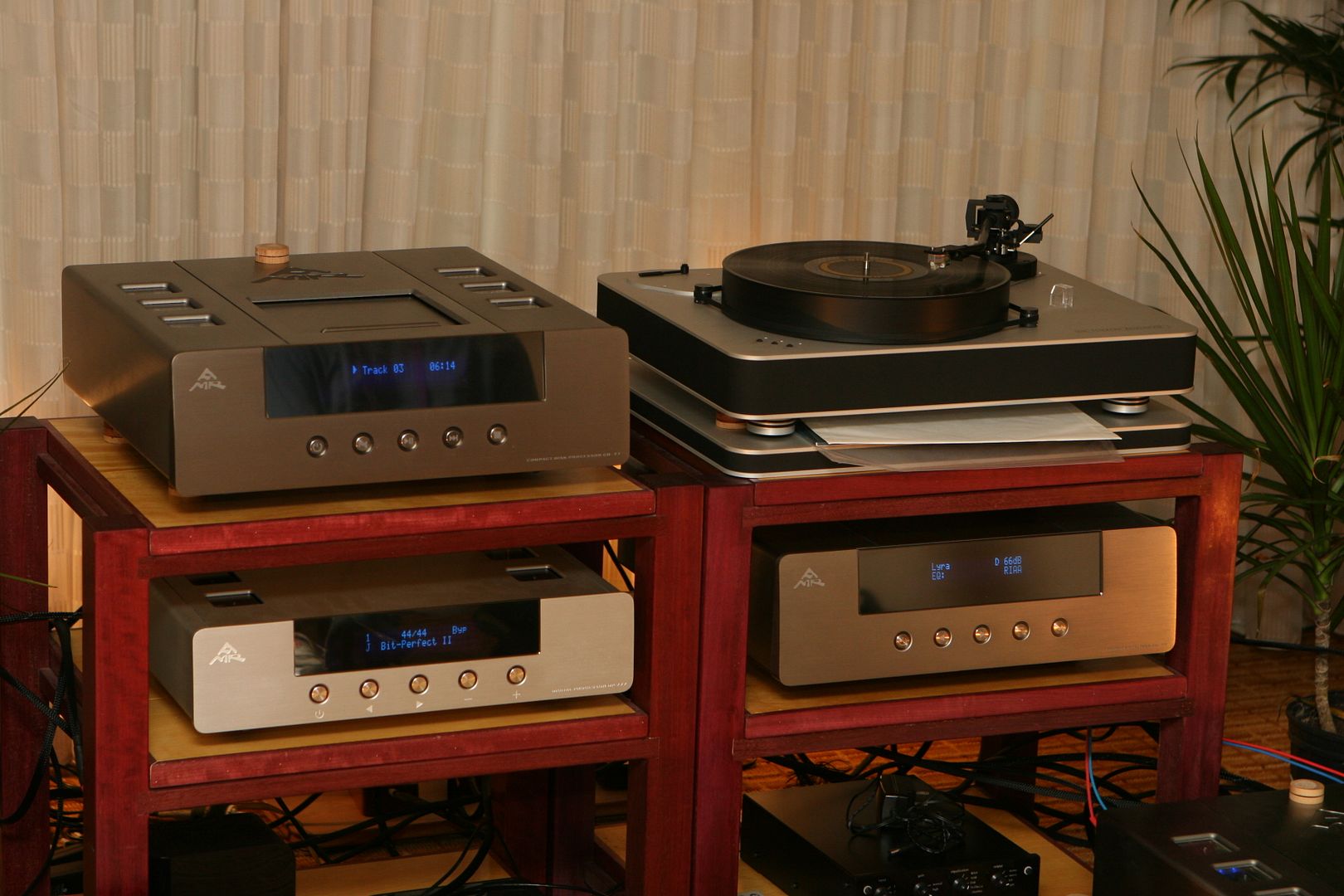 AMR was running the show while I was there. The outstanding $11k AMR CD77.1 sat just to the side of the $8k Dr Feickert Analogue Blackbird turntable, recently reviewed by Michael Fremer and classified as "Class A" — the least expensive 'table to get that distinction, I believe. Phono stage duties were very ably handled by the $12k PH-77 phono and, interestingly, all the signals got their amplification from a pair of $10k AM-77.1 integrated amps in "mono vertical biamp mode". Very nifty. All cabling was from ASI, as was the rack and all equipment footers.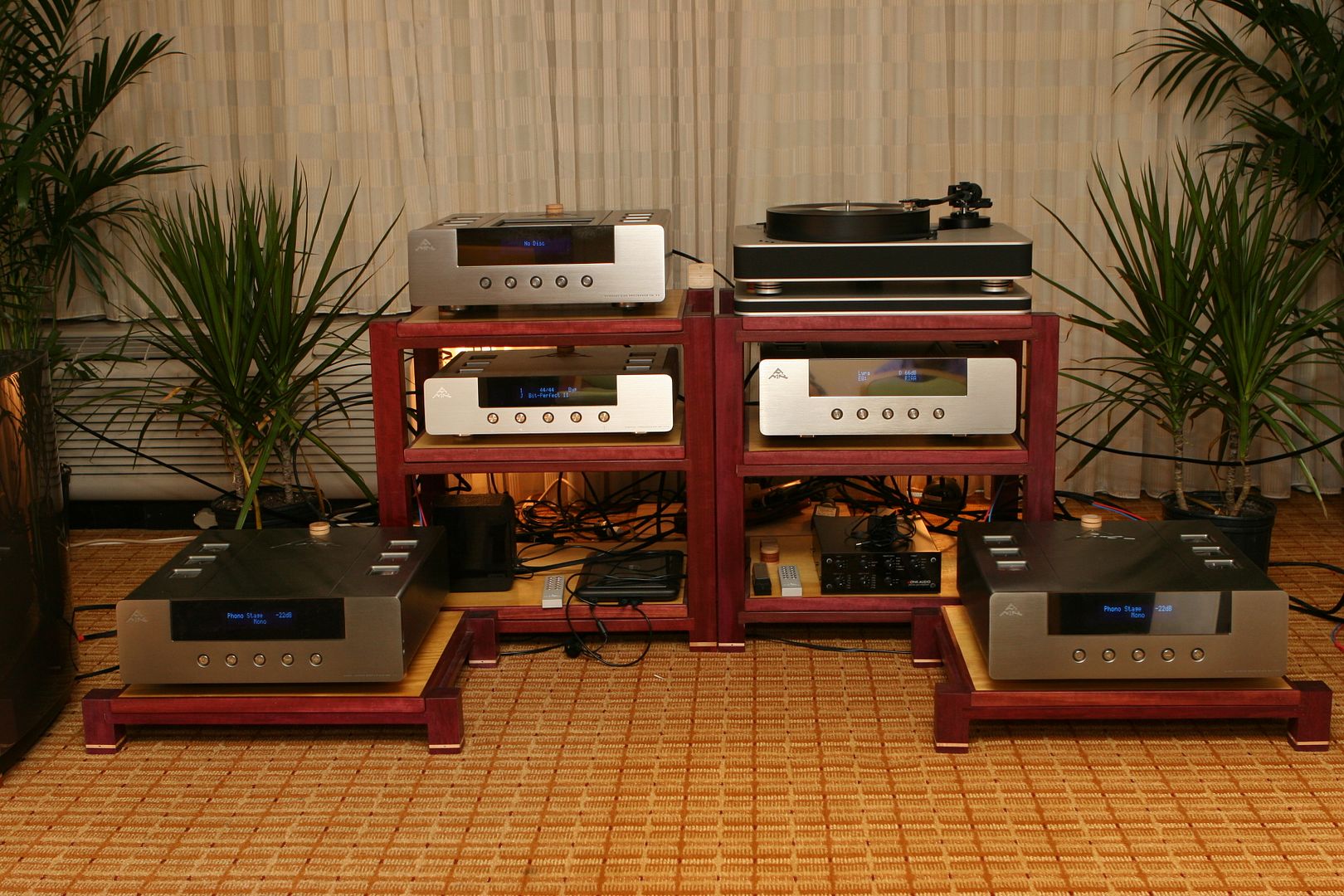 Daren Censullo of Avatar and Dr. Chris stood by, happy to assist. One of the things I saw was the new DFA 12.0″ tonearm, a $1500 option when you purchase it with the table.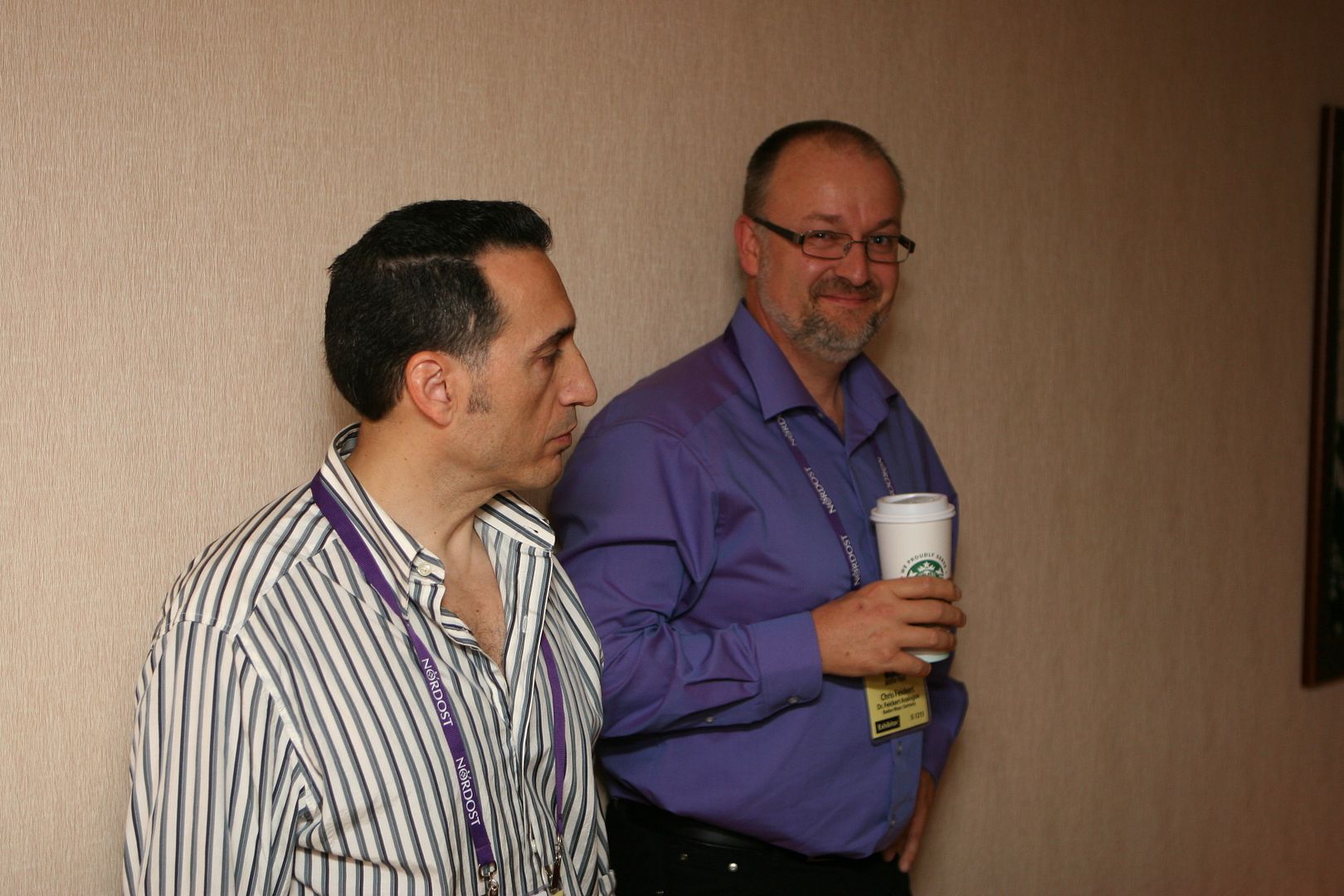 I got a chance to chat with Chris about the Stereophile review, to see if he had any comments about Fremer's write up, specifically about his comments about the noise floor. "Michael heard what he heard and wrote what he wrote," Chris said. "All I can say is that I know what I hear." Interestingly, the table that Fremer says provides a serious challenge to the Blackbird was also recently reviewed and awarded a lower Class rating. Hmmpfh. Do those ratings even mean anything at all? Paraphrasing, Chris, all I know is what I hear — and what I was hearing in the Avatar room on the three times I stopped in for a listen was truly superlative sound.
However, Chris does have something new: a $500 option for a "PO+" platter, with brass inlays. Slips right down over the spindle, swapping out the old platter. This new platter, Chris says, increases frequency response, especially bass response and treble purity. Handsome and reasonable, as far as turntable platter upgrades go.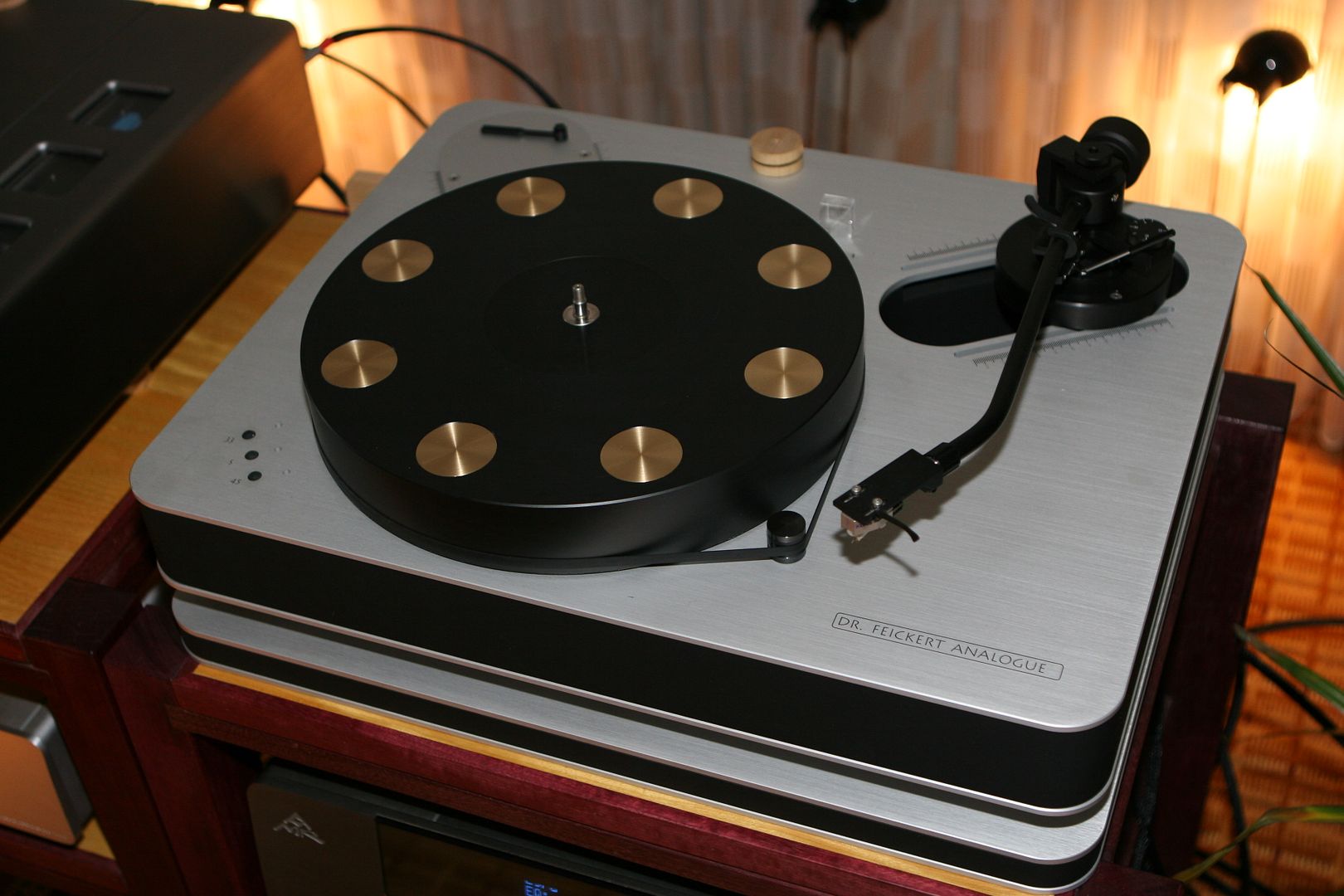 On my third, and last, trip through, I sent Chris on a smoke break so we could finally queue up the AMR DP-777 DAC. This is the DAC that I heard very briefly last month when I was comparing it to the Playback Designs MPS-5 and LampizatOr Level 4. At that time, the USB input wasn't terribly satisfying, and I found I had far better sound out of the machine when I used an S/PDIF input.
Well, guess what. Turns out that that unit was something like 3rd off the line — and a significant change had been made to the board topology. Replacing the board was required. And with that change, or on a DAC already "upgraded", the already-fine AMR DAC became something else indeed. Dare I say it? It was freaking magical. The 3D imaging I'd heard hinted at before was deep and layered. Vocals had far more of that stunning LampizatOr mid range. Bass was very deep, tight and fast. All in all, I was shocked.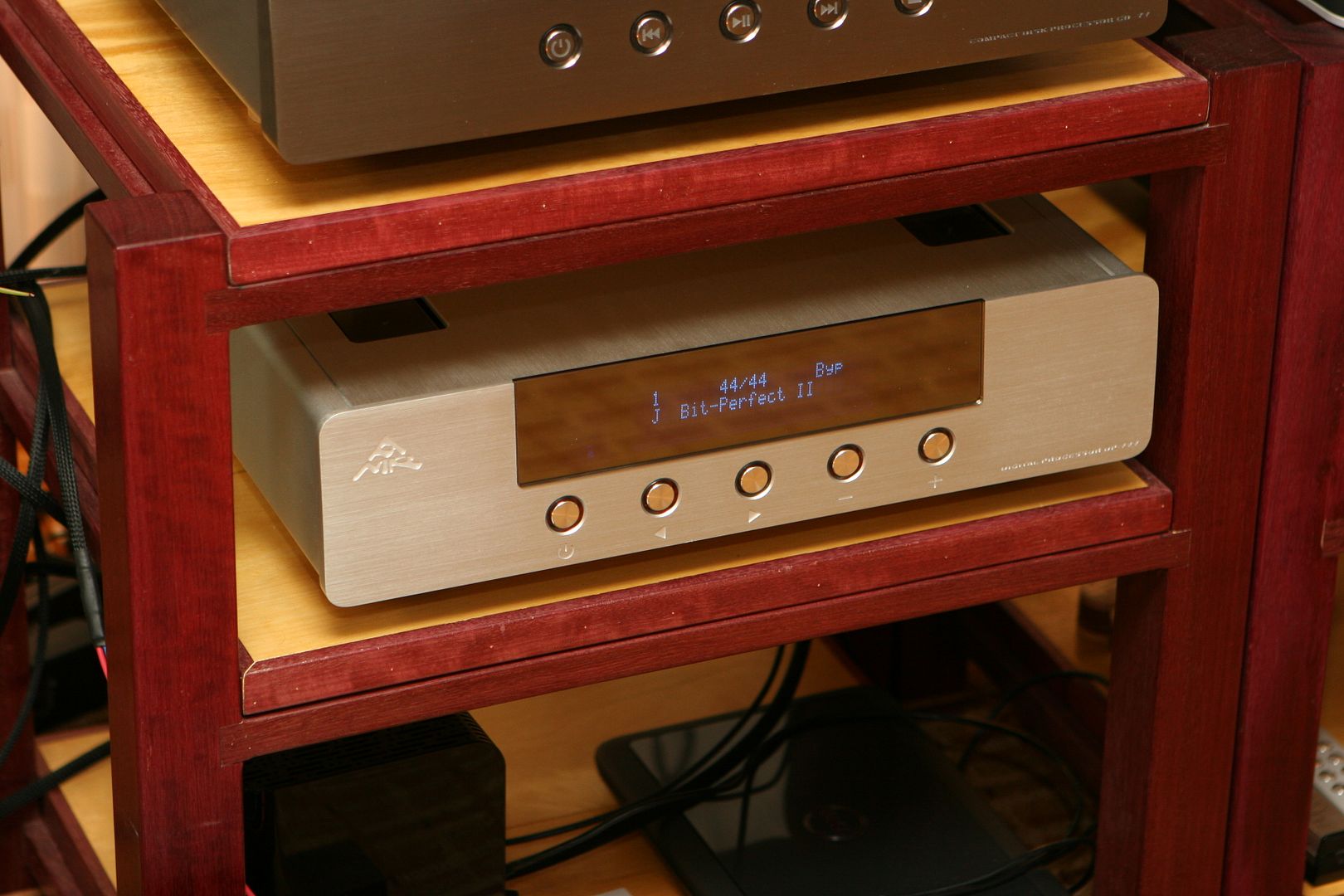 For those of you that are contemptibly shallow, like me, the remote on any unit matters quite a bit. I can't stand it when I spend thousands of dollars on any piece of gear that requires a remote only to find that the designers didn't bother to think about it, much less do anything beyond toss in a cheap, plastic doohickey. Red Wine Audio and Berkeley Audio, I'm looking at you. Seriously, folks. Remotes are cool. You know they are! And the AMR remotes? Very cool. Big, touchy-feely buttons in a hunk o' metal, just like I like 'em. Bravo.