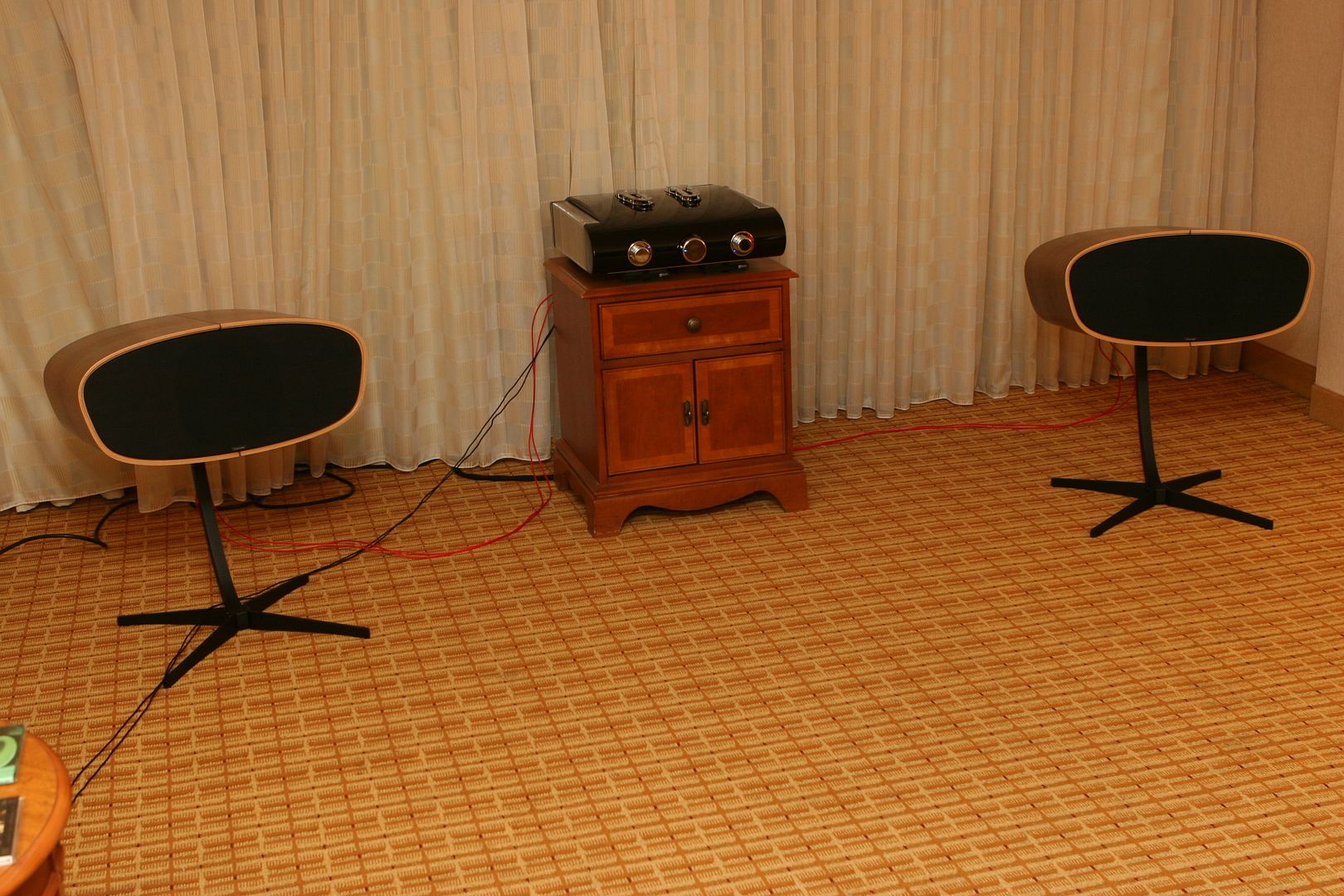 And now for something completely different.
That's the way I felt coming into room from The Signal Collection. Todd Garfinkle of MA-Recordings was spinning some of his superlatively recorded material out of his Korg MR2000s to an amp I'd never heard of into speakers I've never seen before.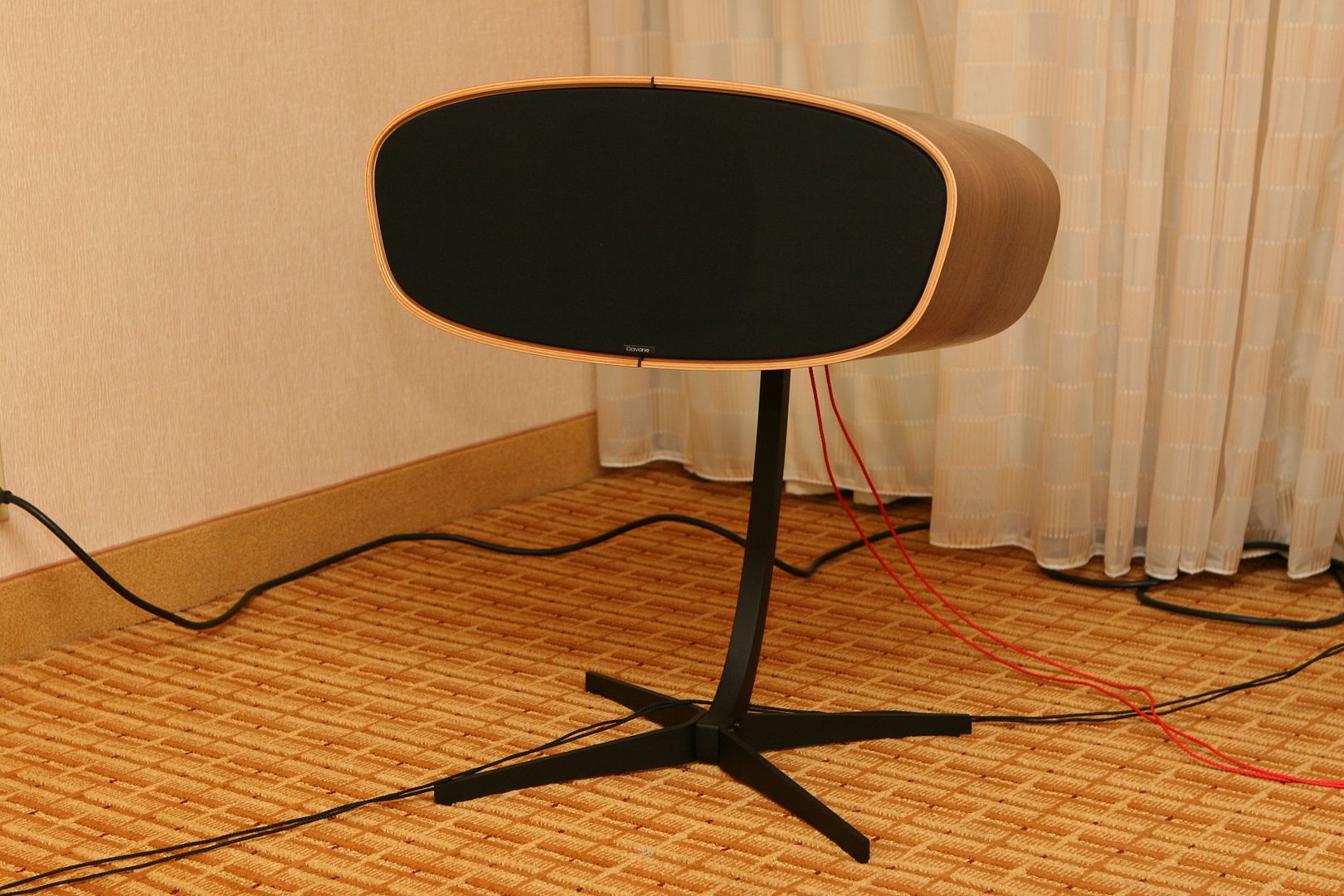 The Davone Aduio RAY loudspeakers are $7,500 a pair. Chris Sommovigo, the importer, calls their styling "very Jetsons", but I think the 60's reference needs to be more concrete.
This is JFK's speaker.
I picture my grandfather owning these. They'd have fit in his house, comfortably, and shared quite a bit of the 60's furniture styling he really enjoyed. Leather, but not club-room leather, with stands and bent wood. He'd have flipped over these, though, maybe not as much as I did. If these are lifestyle speakers, then we're all Mad Men and I need a Scotch. I love the look of these speakers.
The Ray is a rear-ported bass-reflex design and sports a coaxial driver, with an 8″ woofer with a 1″ center-mounted Illuminator tweeter. The speakers have a 38Hz-20kHz response, hit 4ohms at 20kHz, and have an 89dB sensitivity. Crossover happens at 2800Hz.
The stand is a functional work of art. Very elegant. Very retro.
The sound from these speakers was exceptionally fine. Whether that was the speaker, the gorgeous integrated or the brand new Black Cat cabling — or simply the fact that none of this gear effed-up Todd's marvelous recordings — is irrelevant. The room was refreshingly Spartan. The gear, elegant. The sound? Deep, rich, punchy, fast and detailed. I was charmed by the looks and captivated by the sound.
Okay, I can see "Jetsons" for the Absoluta "Partenope" integrated amp. At $16k, this is a serious change, but I had no complaints — far from it — about the sound in the room. You get what you pay for, no? According to their website, the Partenope is good for 73wpc into 8ohms, 125w into 4ohms, and 195wpc into 2ohms. Not exactly "high current" numbers, but stable into bad loads is very, very good.
Did you see the amp stand? It's an end table. Hardly "audiophile" — but, looking closer, it seems that someone has very cleverly set some black footers underneath the Partenope. Hello, Black Ravioli! The newish design purports to not only provide vertical isolation but also to pull vibrational energy right out of the equipment's chassis. Result? Superior sound. Prices range from $40 to $400 per 'Ravioli.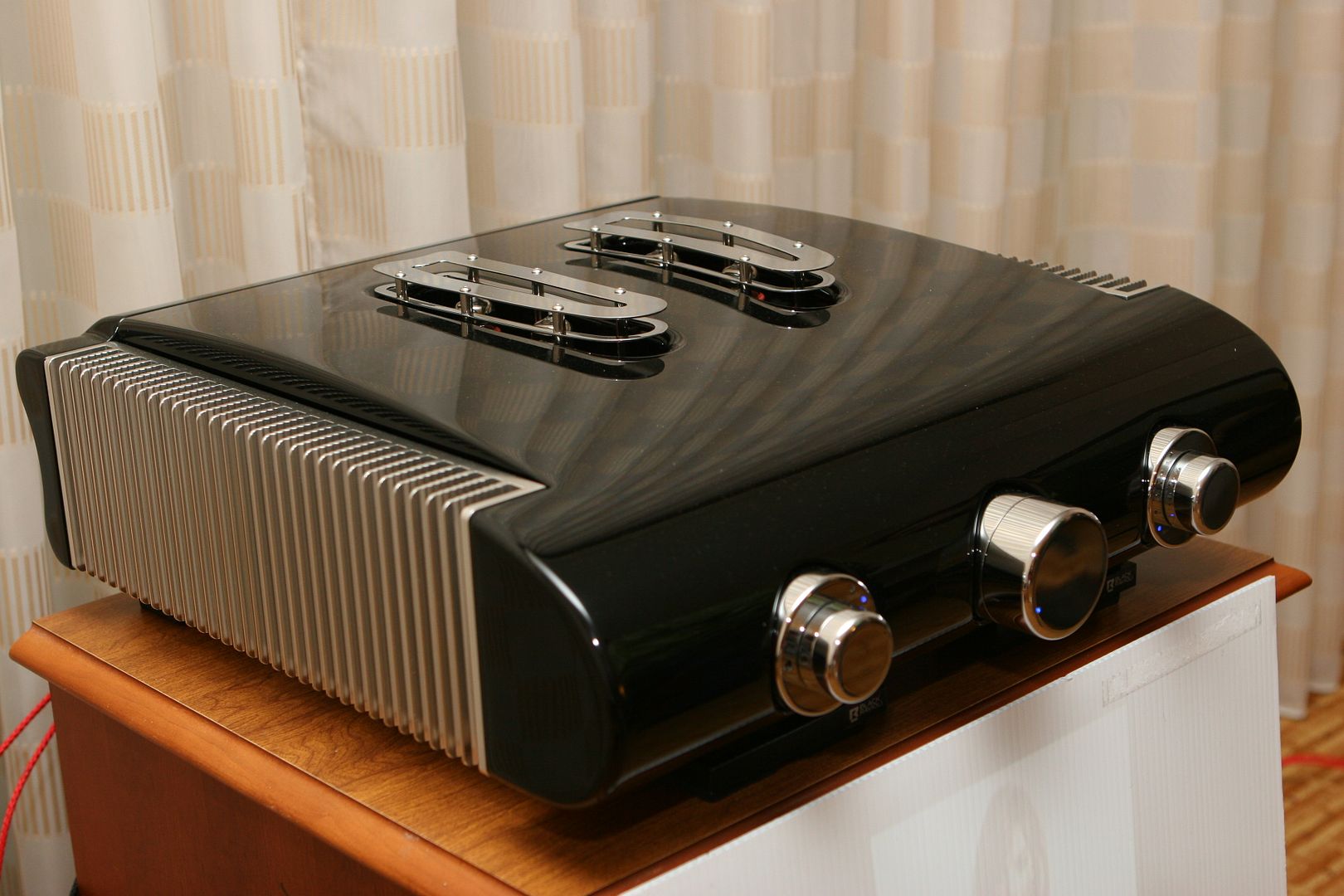 Also new at the show were the Black Cat Morpheus speaker cables, making their debut at $350/3m pair. I even caught Chris showing off some prototype Black Cat interconnects looking quite upscale and totally ready for production (to me, at least). Pricing on those is still TBD.
And yes, $350 speaker cables with $16k integrated and $7,500 speakers. A mismatch? Hardly. I've had those cables in house. Entry level price, yes. But let's just call them a total steal and leave it at that.