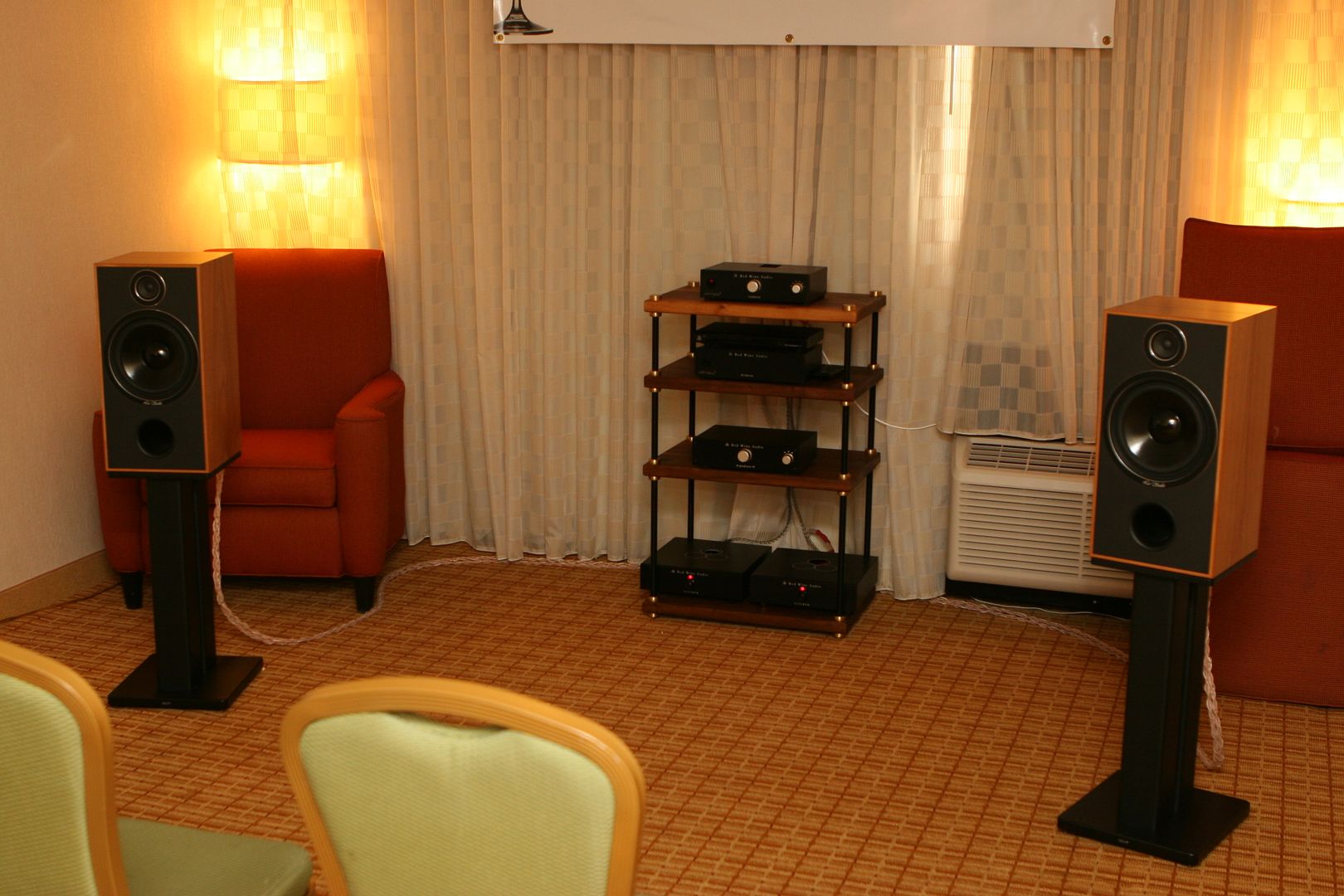 I remember finding the Red Wine Audio room last year almost by accident. Vinnie Rossi was alone in the room at the time, foot tapping, head gently bobbing to the music, oblivious. He clearly didn't hear me come in — and I didn't want to break the spell he was under. Just a man, his gear, groovin' to tunes. It was awesome!
This year, I don't think Vinnie had a spare minute to groove out. People were in and out of the room every time I came by. And with good reason as he had some great — and new — stuff to show us this year.
From the top: Isabella Pre/DAC, Red Wine CDT-1 transport, Ginerva Phono, Signature 15 integrated (being used as a preamp) and a pair of prototype Liliana monoblock amplifiers.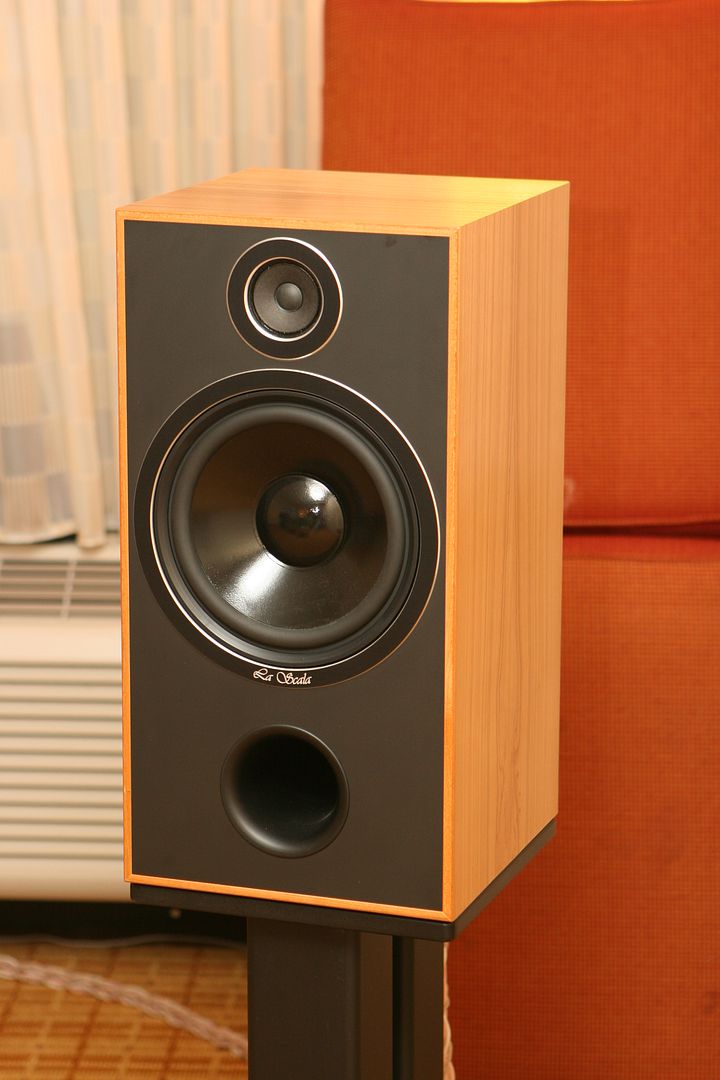 $4500/pair La Scala monitor speakers. Great tone, 8ohm, 40Hz-25kHz, 91dB efficiency. Impeccable fit and finish. Honestly, the sound in this room was easy, rich, detailed and extraordinarily pleasant — which, while not exactly a surprise, as this is the Red Wine trademark sound — was a happy refuge in the surging sea of noise that is RMAF.
Say hello to the new Liliana! She's a hybrid tube/SS monoblock amplifier design, leveraging the same LFP-V technology Vinnie has rolled out to the rest of the product line in the last year or so. Producing 100wpc into 8ohms and 200wpc into 4ohms. It's a high current, low output impedance design that's stable to 2ohms. Introductory pricing is $5600/pair until year-end and will float to $6k/pair thereafter. Bonus: Red Wine Audio is offering a 100% trade-up credit toward a pair of Liliana monoblocks. From the announcement:
"When we come out with a breakthrough design like Liliana, we want our customers to be able to trade-up without losing money on their previous Red Wine Audio amplifier purchase."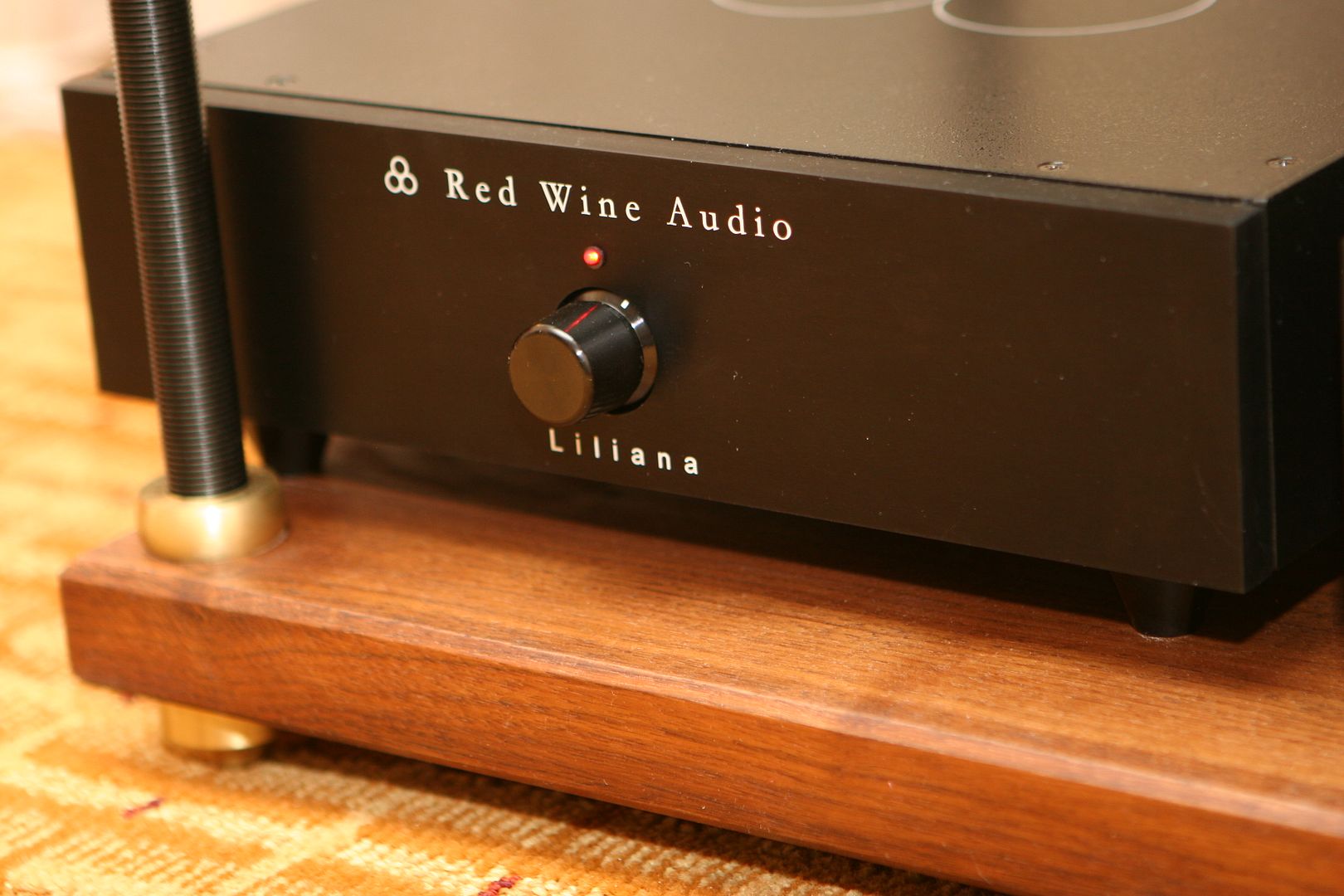 Also new is the Signature 15 integrated. 15wpc into 8ohms/30wpc into 4ohms. 3 inputs. 2 variable outputs and 1 set of fixed/pre outs for subs or an external amp. Tube buffer stage and LFP-V for some sweet music. At $1500, this is a crazy deal.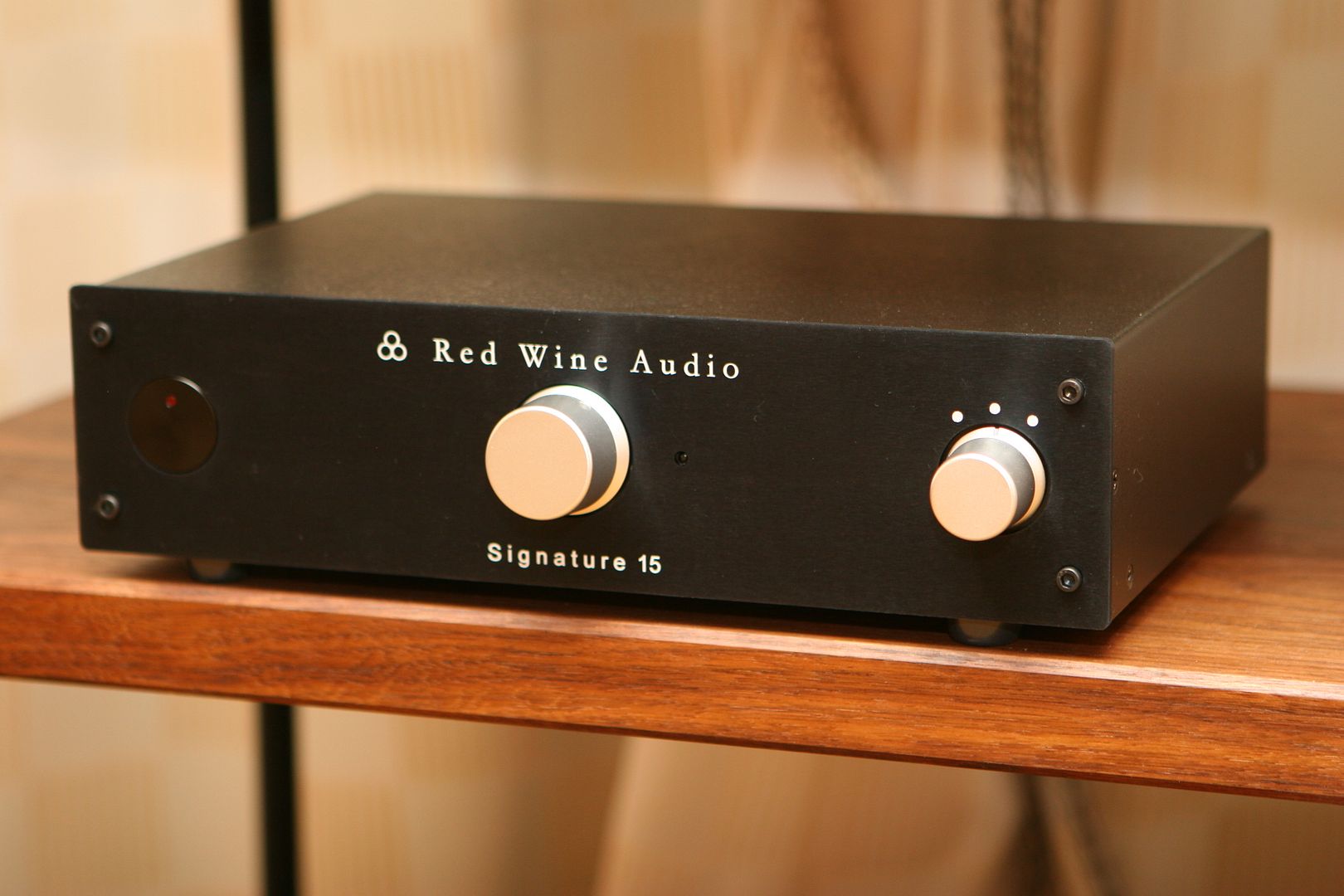 Also new is the Red Wine CDT-1 transport. This is, essentially, a refurbed Sony player with it's guts ripped out and prepped as a low-cost ($500) transport. The standard PSU is gone, replaced by a linear PSU powered from the optional ($100) 12v output of one of the other Red Wine Audio DAC products, including the Isabella, Isabellina, Isabellina HPA, Audez'e Edition and the new $1k Corvina head phone amplifier. In fact, just about anything other than the Ginerva phono stage it's sitting on in the pic, below.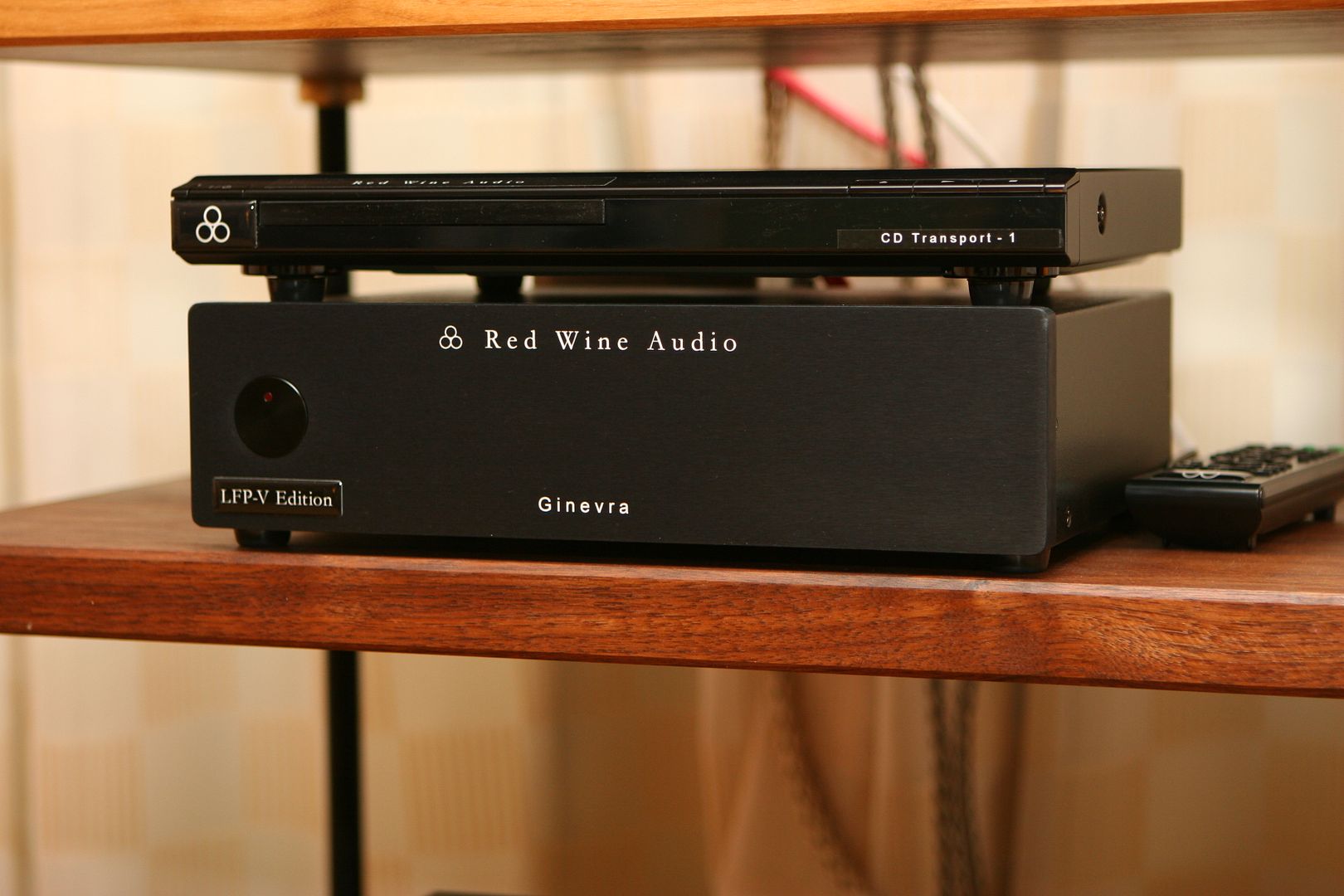 Isabella! Now with an optional 2 DAC chipsets on a single board, one a 16-bit NOS, one using a full 24bit/192kHz "HD" Wolfson DAC chip. Don't know which to use when? Well, a toggle switch can let you change your flavor on the fly. USB, coax and Toslink inputs supported.
All Red Wine Audio gear has a 30-day return policy, so you can pull off a buy-and-try with some degree of comfort that the solution is actually going to work for you.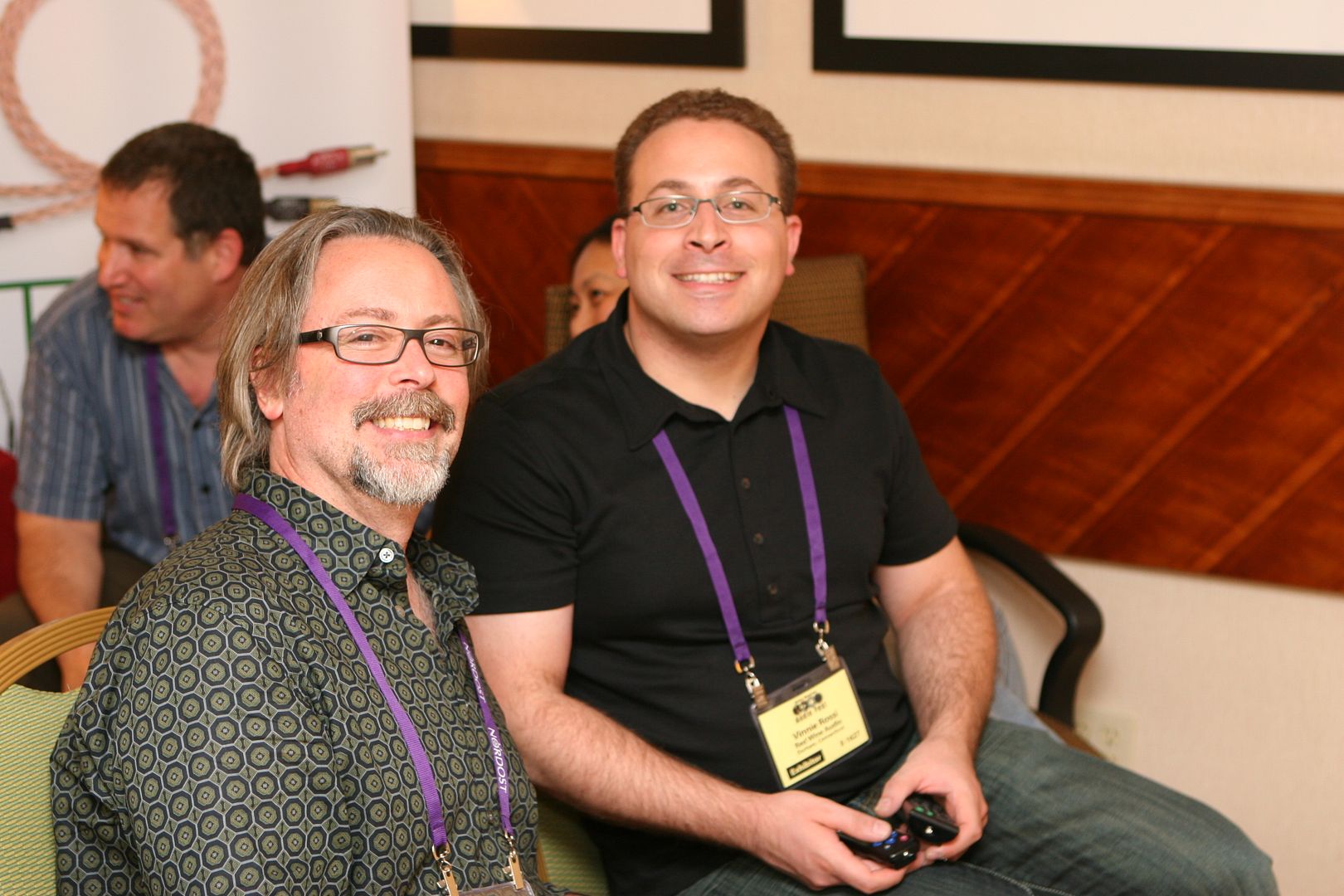 AudioStream's Michael Lavorgna and Vinnie Rossi flash their pearly whites. Apparently, Lavorgna offers bonus points for big smiles, just so you know.