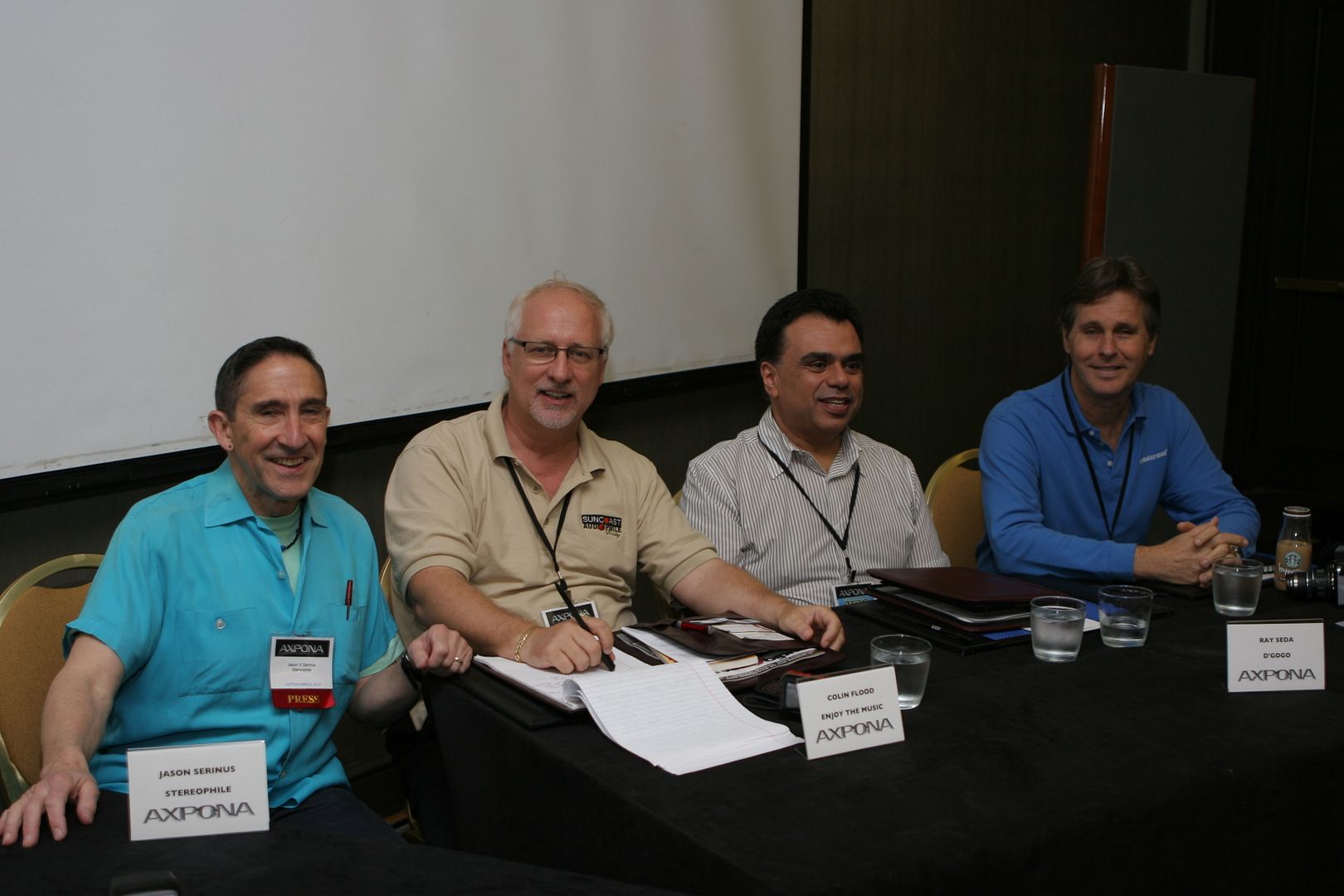 Have you ever gotten the feeling that someone else has been having way more fun than you? Well, after spending 45 minutes with Jason Sirenus, Colin Flood, Ray Seda and Neil Gader, I managed to have all those fears confirmed. Rats.
There was exactly 50 minutes for this rather nifty little last-minute event. The room was very conveniently in the middle of an aircraft turbine, so it was quiet and intimate. Okay, not so much. The room next door was desperately attempting to gain attention and those ridiculous air-cell room dividers were the only thing between us and Beethoven, Nils Lofgren, Diana Krall and a host of audiophile chestnuts, played at "I'm deaf, are you?" levels.
We, the humble audience, got a chance to pelt some high-profile audio writers from Stereophile (Jason), Enjoy the Music (Colin), Dagogo (Ray), and The Absolute Sound (Neil). Quite a body of audio experience up there. So, after some off the wall questions about "how do I get my new piece of gear reviewed" and "why doesn't your magazine do more of" questions, I got to ask about one about their favorite, most memorable, experiences in audio. Neil asked for a bit of clarification, but I waved him off and asked him to run with it.
In return, we got to hear about a hellish night on the Scottish moor when he and his best friend, trapped between towns, found themselves hunted down by a wild, rampaging beast. The creature chased them and knocked them to the ground, nearly ripping Neil to ribbons before the it brutally dismembered his friend, right next to his face, as poor Neil lay there, wounded, and unable to save either of them.
Okay, maybe that was American Werewolf in London.
Jason captured all this on his blog, but I did want to add that I think this was all great stuff. I wish this kind of interaction happened more! Many thanks to all four gentlemen for their patience and openness; that session could easily have been another 45 minutes longer. Next time ….
By the way, speaking of Jason's blog, I got a shout out on Stereophile's site for some photographic chicanery just as the session was kicking off. Jason even used the pic I took, with his camera, for the post! Have to say, that pic was perfectly done. Of course. 😉