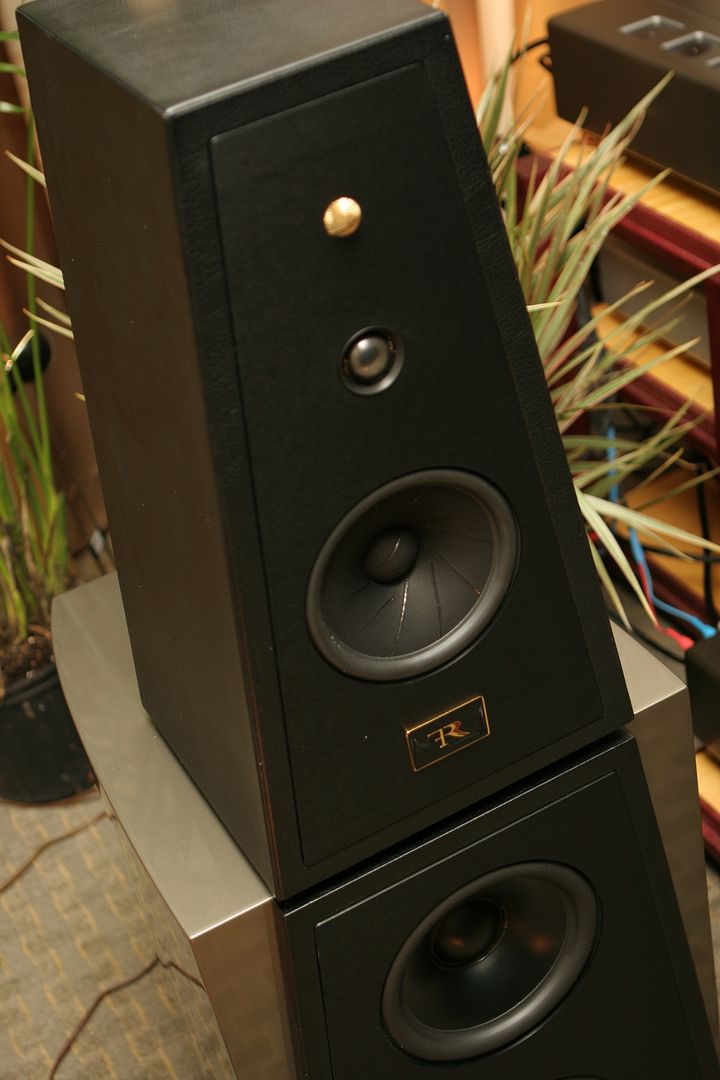 I knew I was coming up on something special as soon as I made the turn off the elevator. Just a hint. Subtle. Delicate. Someone, somewhere up ahead, was doing something different.
No, it wasn't the music. It was … vanilla?
Turning in to the last room on the right, US importer Darren Censullo of Avatar Acoustics was changing records on the brand-new $13k Firebird turntable from Dr Feickert. Turns out it was the new 45rpm reissue of "Gerry Mulligan Meets Ben Webster". Some seriously mellow and melodious sax ensued and I had found my little bit of heaven.
Just so there's no confusion: I thought that the sound in this room was among the best I've heard. Not just at a show. Anywhere. This was great stuff. This was the room I kept coming back to, as if to get a sip from the water fountain, just a little refreshment to keep on keeping on. And with the lighting, the whole ambiance, the mood … it was just fun to be there. Darren totally nailed it.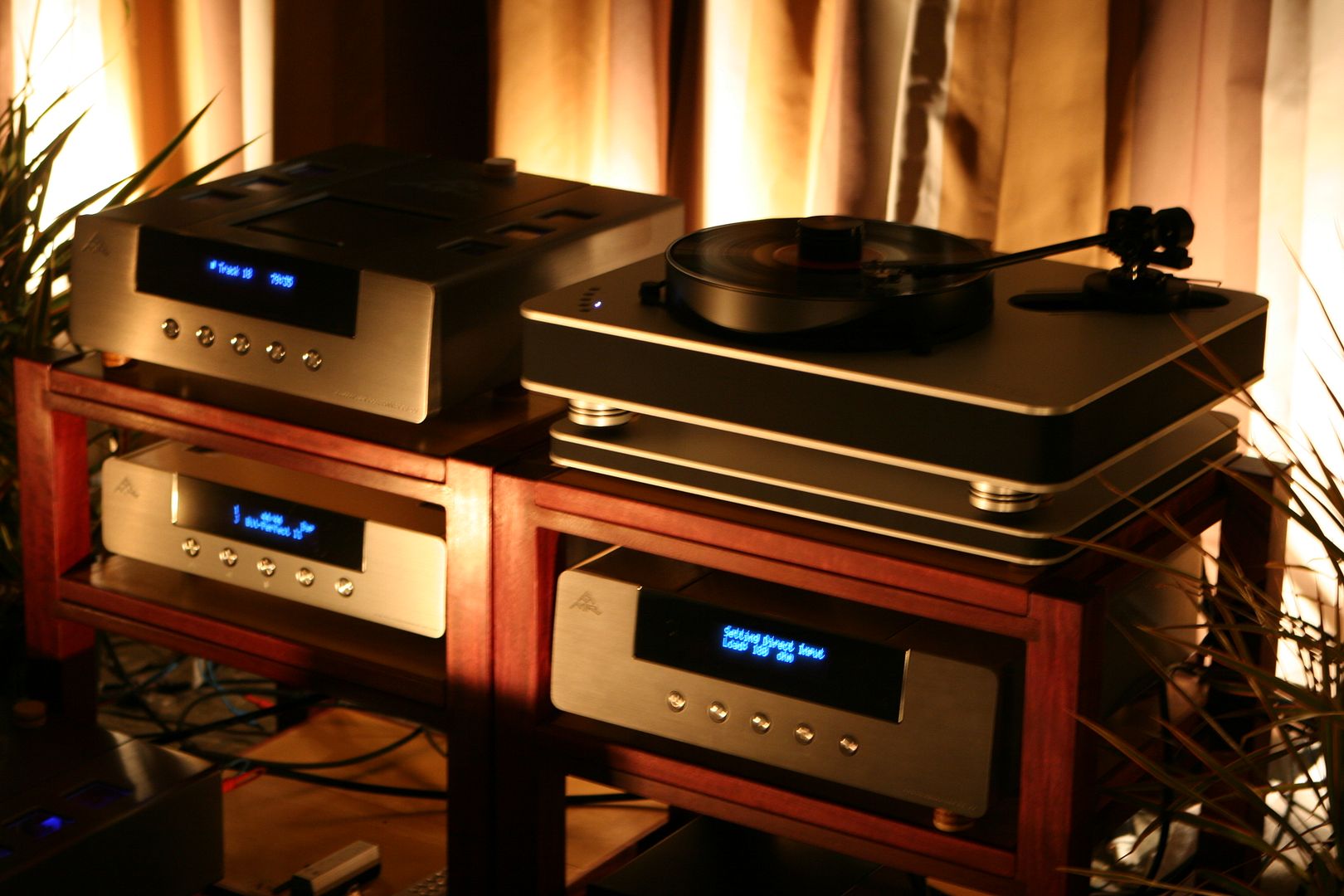 Darren's usual linup was on full display here, the only new element being the 'table. So, that means AMR Audio all the way, starting with the superb $12k PH-77 getting the hand off from the 'table. The very capable $5k DP-777 handling digital-from-the-computer. The reference-class $11k AMR CD-77.1 spinning the silver discs. A pair of $10k AMR AM-77.1s, run as "mono vertical bi-amp" monoblocks (in other words, there's one amp per speaker, with one output — say, what's normally the left speaker out — going to the top cabinet and the other — the right speaker out — going to the bottom cabinet), sent gobs of power into the stunning-looking and stunning-sounding $24k Rosso Fiorentino Siena loudspeakers.
Did I mention that I liked in this room? No? Well, I did!
Franck Tchang's ASI cables were used throughout. Room and acoustic treatments were also provided courtesy of ASI; this included racks, footers, weights, and room resonators. The Omni hotel provided the plants.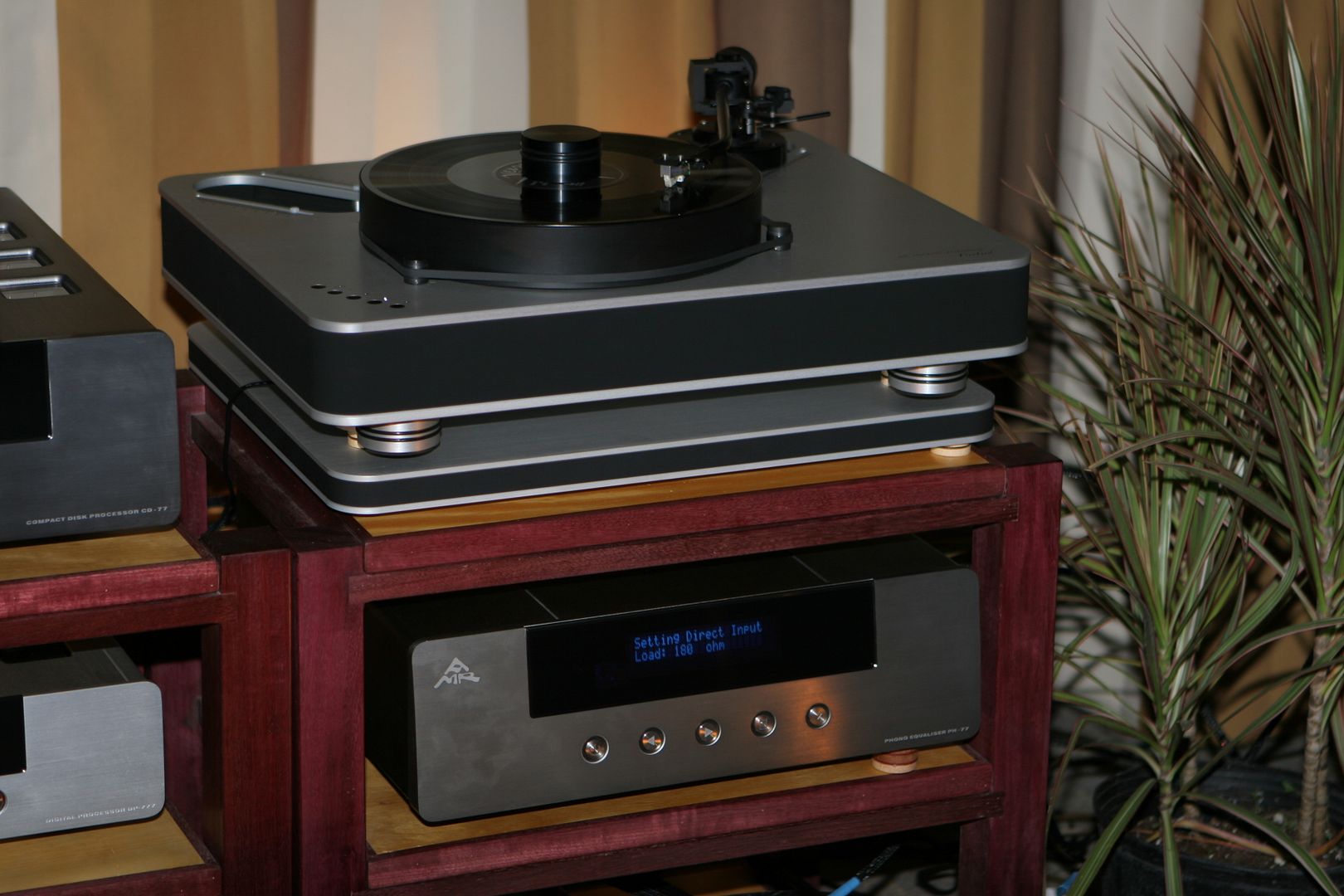 Okay, let's start with the vinyl. The new top-of-the-line turntable from Dr Feickert sports some serious upgrades. First, there's a brand new low-friction bearing that was designed in consultation with Continuum Labs' Mark Dohman. The new bearing is supposed to be out of this world with respect to it's smooth and silent action. In fact, "silent" seems to be a new buzzword over at Feickert since Stereophile's Michael Fremer recently offered some ambivalent comments on the still Class A rated Blackbird turntable. So, in that vein, Feickert has introduced a brand new motor controller with all-new isolation to push the noise floor even further into the … ah … floor. The Firebird also comes with the new PO+ platter with big brass inserts that I first saw back at RMAF in October of 2011.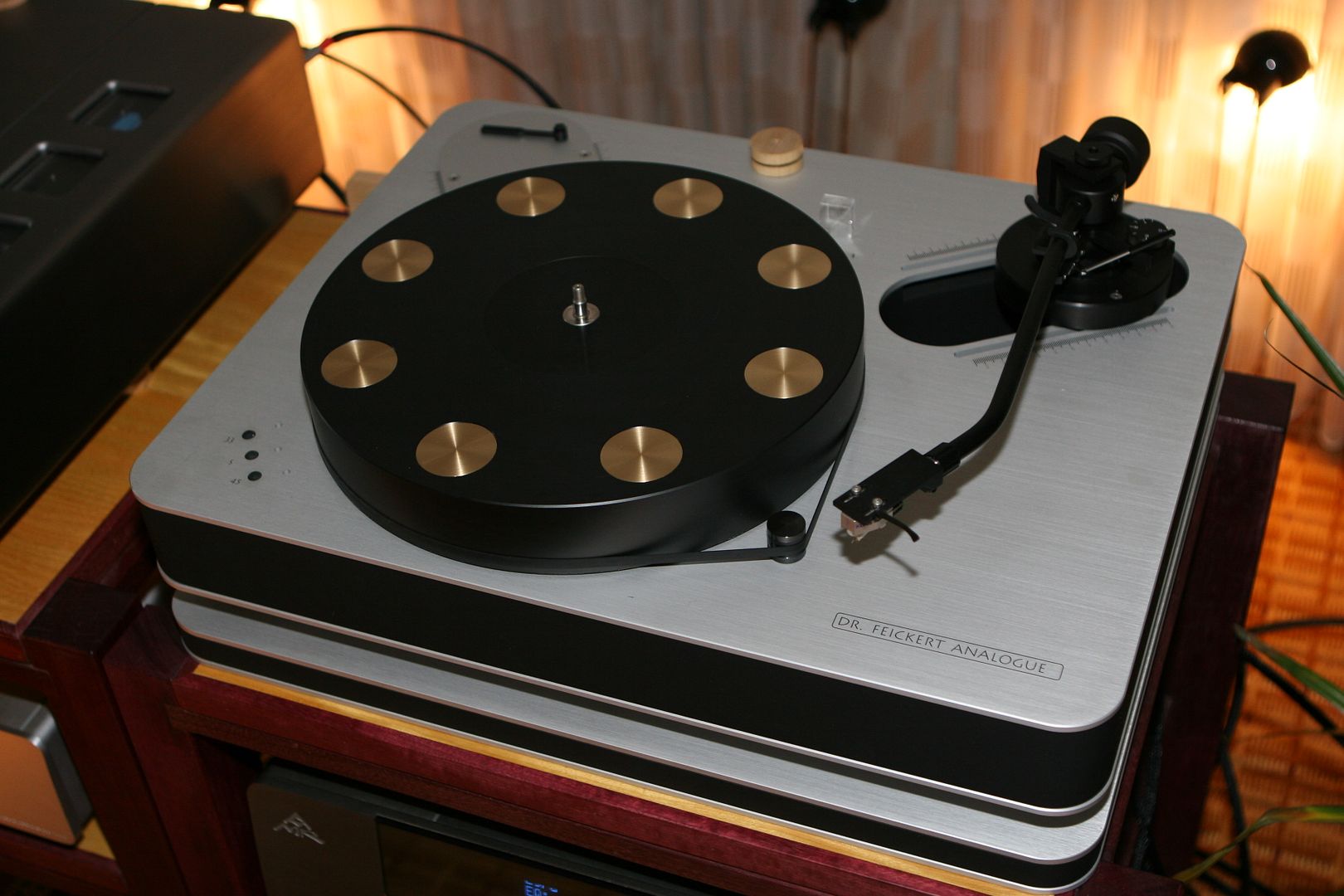 Most of these upgrades are actually available to current owners of the lower end Feickert models, the Blackbird and the Woodpecker. Pricing is still TBD on the bearing, but that's a drop-in replacement for all existing tables, and for the motors and controllers, which will need to be shipped back to Avatar for the upgrade. The POM+ platter, however, is priced and as an upgrade on new and existing tables, it will set you back $1,000 — however, it ships as standard on the Firebird.
The DFA 12.0, which is an s-shaped 12″ tonearm, is an add-on, too, and adds an additional $1500 to the cost of any 'table. On this particular arm, both here and at RMAF, is the lovely little Lyra Kleos.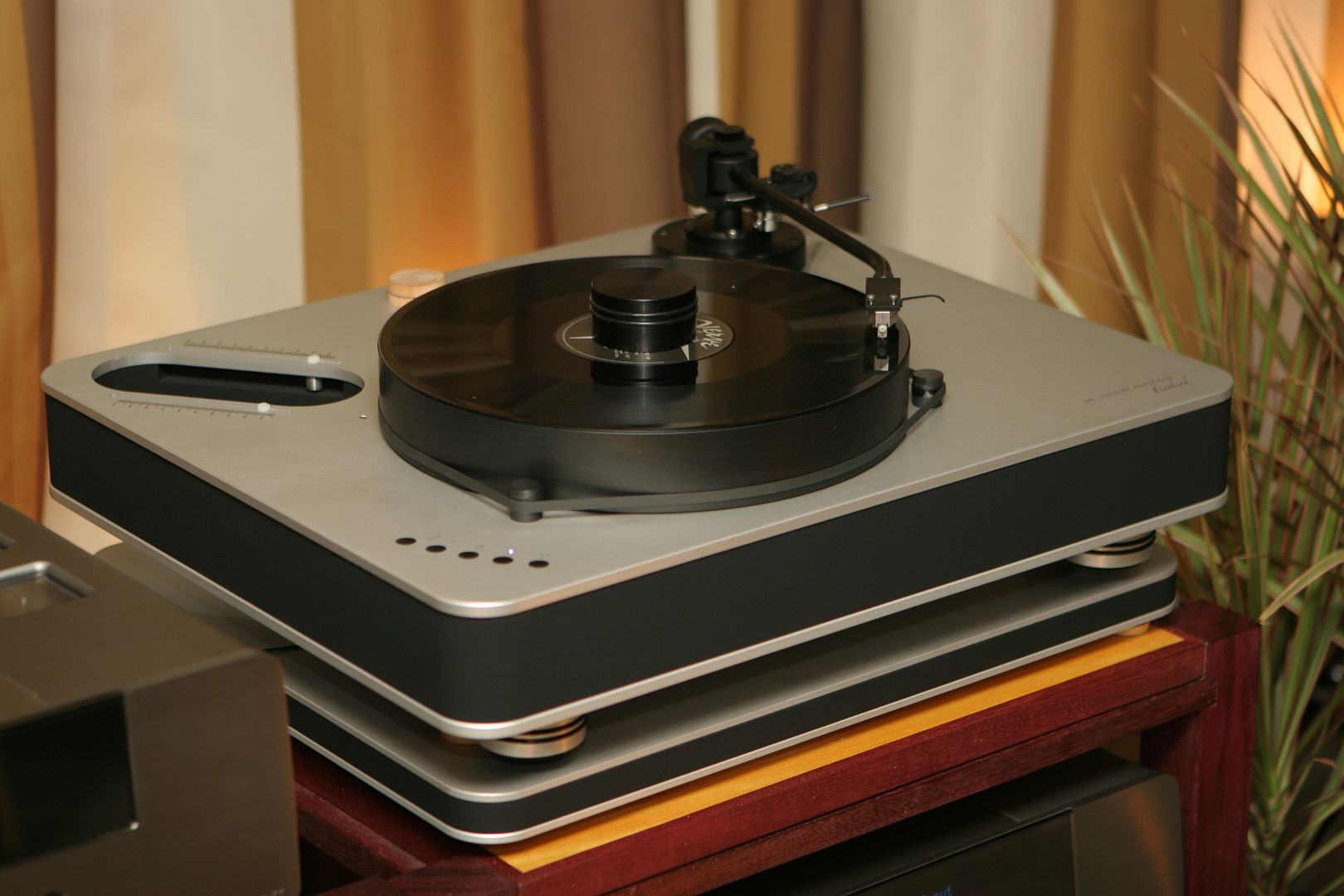 Comparing the Blackbird with the Firebird is pretty straightforward — the Firebird is bigger. That's it. Not a ton bigger. But bigger. Since the Firebird isn't on the website yet, I can't tell you how much bigger, but I'm guessing it's a couple of inches both wider and deeper.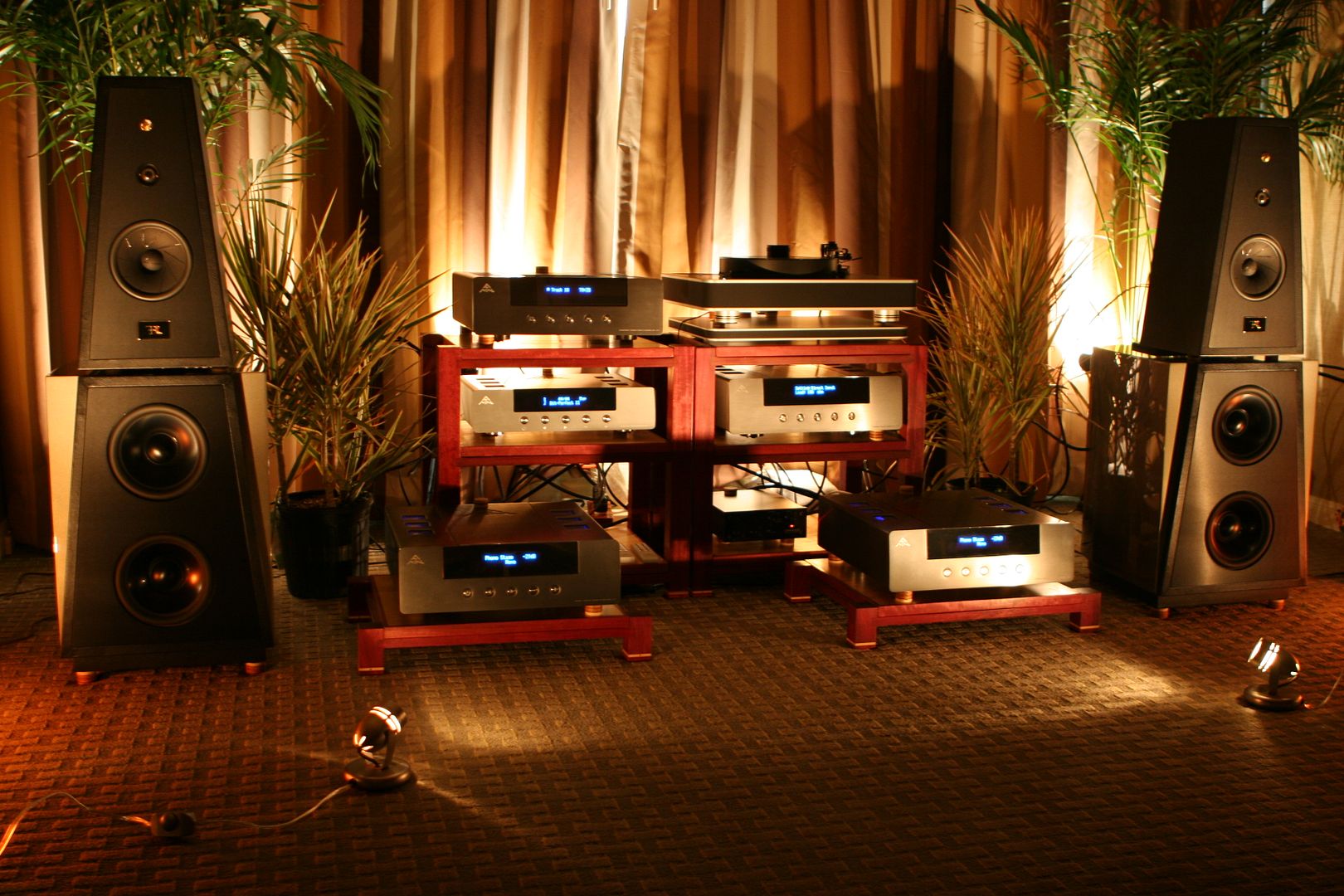 Darren always tricks out his rooms. Light shone through huge lumps of Himalayan rock salt. Vanilla scented candles. Big, leafy plants (diffuse, baby, diffuse). Low, elegant and tasteful lighting. This is some serious groove thing he's got going on here.
A word about these speakers. At RMAF, I referenced some bass issues the room had and the tendency of the powerful Sienna speakers to overload it. Here at AXPONA, it was as if we were talking of different speakers and different systems entirely. No issues here. Everything was full and explosive and while the bass did bloom, I never felt that it was anything but tuneful, purposeful, and exhilarating.
This was world-class, folks. Talk about careful matching of system to room. Just suite. 😉
"There's fine Corinthian leather on these speakers!" Darren cackled at me on Day 2. I had to laugh and admit that every time I got close to them, I had to run my dirty little hands up and down the sides. Up. And down. Up … and … down. Okay, moving on.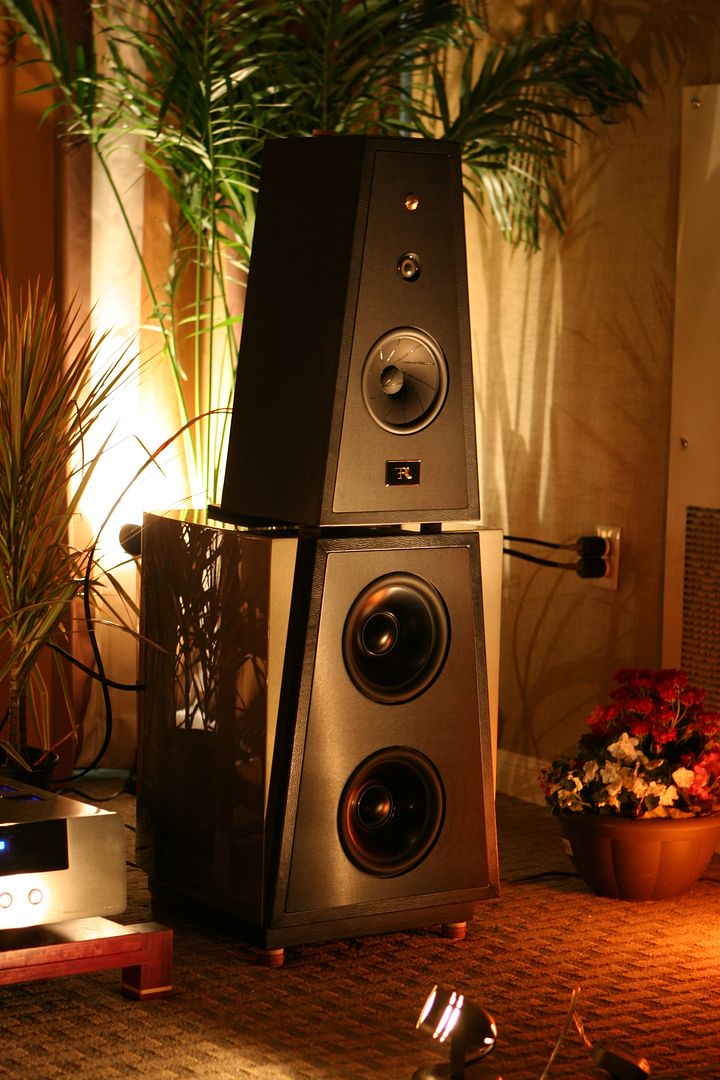 While only rated to 35Hz, this beautiful speaker from Italian Rosso Fiorentino, makes a very elegant point about bass performance. Some times, enough is enough. And with this speaker, it's hard to argue the point. More of anything would have been offensive. More mid-range liquidity? Bah — idiocy! More treble purity? Are you mad? More bass? What for? Here, everythingfit.
I would be honored, thrilled even, to have these statement pieces sitting up in the living room of my bespoke home where all my loaded friends and neighbors could come in, witness them, be seduced by their sound and driven green by their fine looks.
A guy can dream, can't he?