Mark Conti and Vytas Viesulas of Veloce Audio were on hand over the weekend to showcase their new, and newly refreshed, battery-powered product line.
What's new? Well, the LS-1 Linestage is new. That is, this version is new — for 2012. The linestage looks remarkably like the one that preceded it (har har — it's exactly the same on the outside), but this pre has all-new guts and some very different tubes. Now using the Russian "supertube", the 6H30, the Veloce guys say that this tube is more linear and more extended than the outgoing tubes, are used less harshly and therefore are more reliable, have a longer life, and in the new implementation, just sound better. Tubes use a proprietary biasing technique for a no-fuss approach and the whole of it runs, yes, on batteries – now lithium-based on all their products — making your blacks ever so much … blacker.
MSRP on the LS-1 is $18,000.
Back at RMAF2011, I saw the Veloce V-6 monos for the first time — they were back, here, at NYAV12. They're still a work in progress, though, and they're targeting a Q3 release. Pricing targets the $16,000 mark.
So, what are we in for? How about 400wpc and a tube stage? And did I mention they're also battery-driven? Oh, yes! Oh yes, indeed.
Mark was guarding the $10,000 Accuphase DP-600 with his very life. Okay, not really, but he was definitely running the discs. That is, until Stereophile's Ariel Bitran whipped out a demo CD of his own material — seemed like a great time to duck out.
All cabling came from Kubala-Sosna.
Right up until Ariel seized control, the sound in the room was, in a word, impressive. Two words? Very impressive.
The bass was shockingly clear and deeply impactful. In your chest, rattling your guts — that kind of impactful. Not boomy, either, a nice testament to the room setup.
The mid-range? Immediate. Immersive. Luxurious. Totally linear.
These are Class D amps, so if you're expecting the treble to be "the trouble spot", the part of the frequency response where the wheels came off the bus, where we all went over the edge of the bridge, screaming? Well.  Guess what.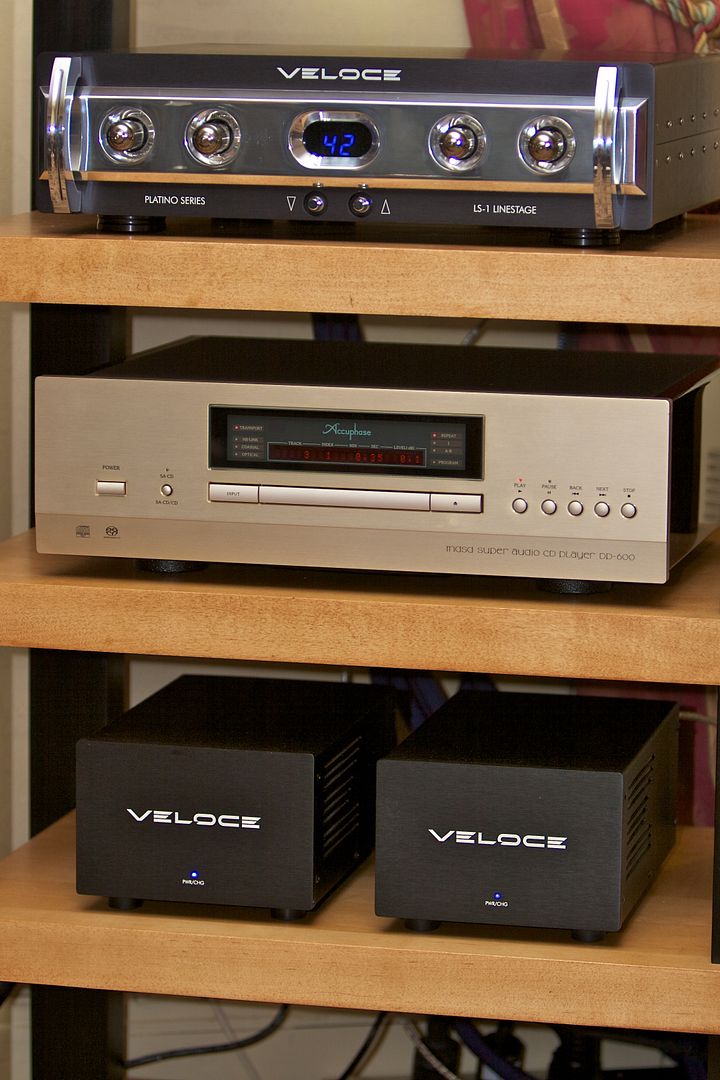 It didn't happen.
The fact is, the $49,000 YG Kipod II Signature speakers on demo here sounded fantastic, maybe the best I've heard YG at any show. This was as good as it gets at an audio show, kids. Powerful? Dynamic? Explosive? Linear? Transparent? Extended?
Yes. All that. And some healthy bit of "more" besides.
Great work — and kudos to the guys at Veloce.