You ever walk into a show room, just knowing that you're going to have your heart sucked out through your ears?
Okay, so that's a little graphic, please forgive me — but you get where I'm coming from, right? Well, that's how I feel every time I walk into a demo room put together by Jeff Catalano of High Water Sound.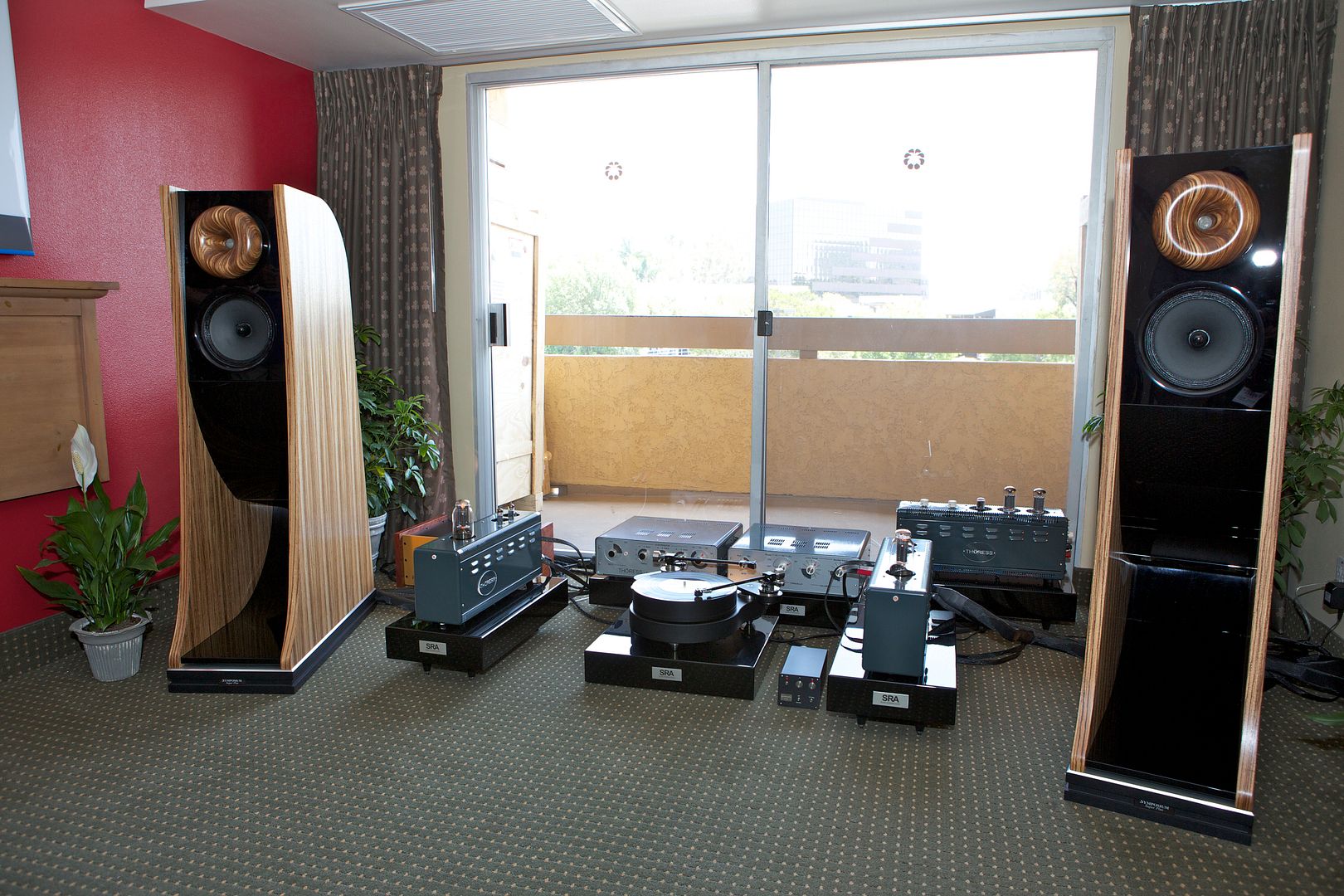 If you've never had the pleasure of meeting this wiry Manhattan-ite, make sure you ask him about "digital". It's worth it — no one else I've met will give you quite the same earnest look, as if he's trying to decide whether to simply pity you or pound your thick, stupid head against the wall.
No, with Jeff, it's all about analog — played with tubes, through high-sensitivity speakers. To hear him tell it, the sound isn't for everyone, and not everyone will "get it". He's perfectly fine with that, too.
Me, I don't get it. No, not the sound — what I don't get is why someone wouldn't come into this room, here at the Atrium Hotel in Orange County, CA and not fall in love. Whassamaddayou?
Jeff was showing off the $40,000 Chopin speakers from Cessaro, a 97dB 2-way with a 1″ TAD compression driver hidden in a wooden horn and a 10″ driver.
The horn is obscenely polished, buffed, and eye-catchingly pretty. It also looks a bit like a huge marbled-rye bagel.
I really need to remember to eat something before launching into the showrooms.
The speakers look hand-made. Lovingly so. Someone very obviously cared and painstakingly put these together. There's simply no mistaking this speaker for something that came from any sort of factory. This came from an artisan's work bench.
Electronics were the familiar High Water stable of Thöress electronics. $14,000 845 SE monoblocks, a $9000 preamp, the $9,000 Phono Enhancer (aka, phono preamp).
What's new is the TW Acustic GT turntable. This $10,000 entry sits between the One and the AC, and looks quite a bit like One. The plinth is a CNC'd down from a solid billet of aluminum, with the motor integrated into the plinth itself.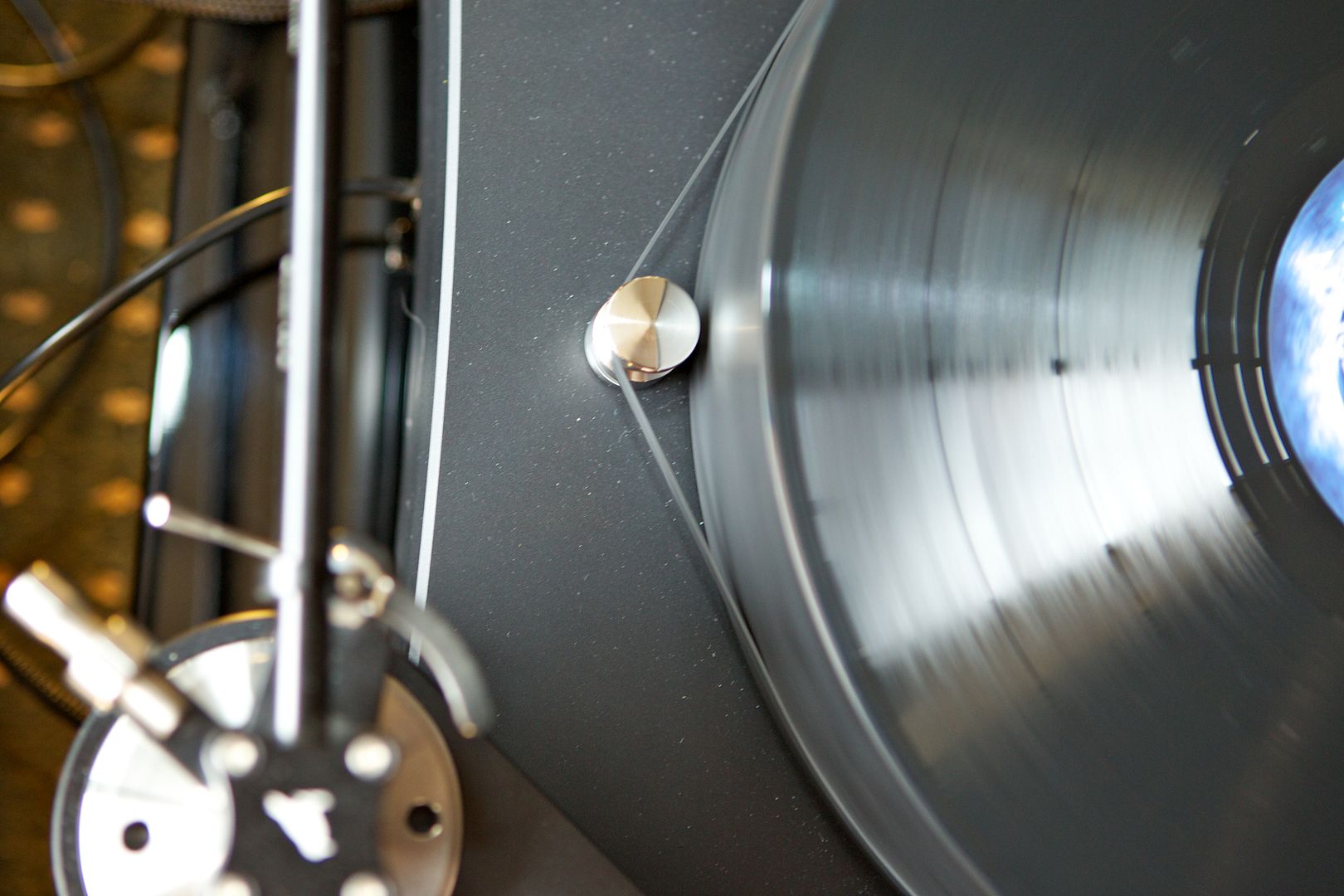 The motor controller is new, but essentially an AC controller jammed into a Raven One housing, which works out as the GT can only be used with the one integrated motor, while the AC can be used with up to three external ones.
Here, the turntable is fitted out for two armboards, each carrying a TW Acustic Raven 10.5 tonearm. A pair of Miyajima cartridges are doing duty here, a Shilabe for all those stereo discs and a Premium Mono SE for all those other ones. You know. So you're covered for all kinds of music.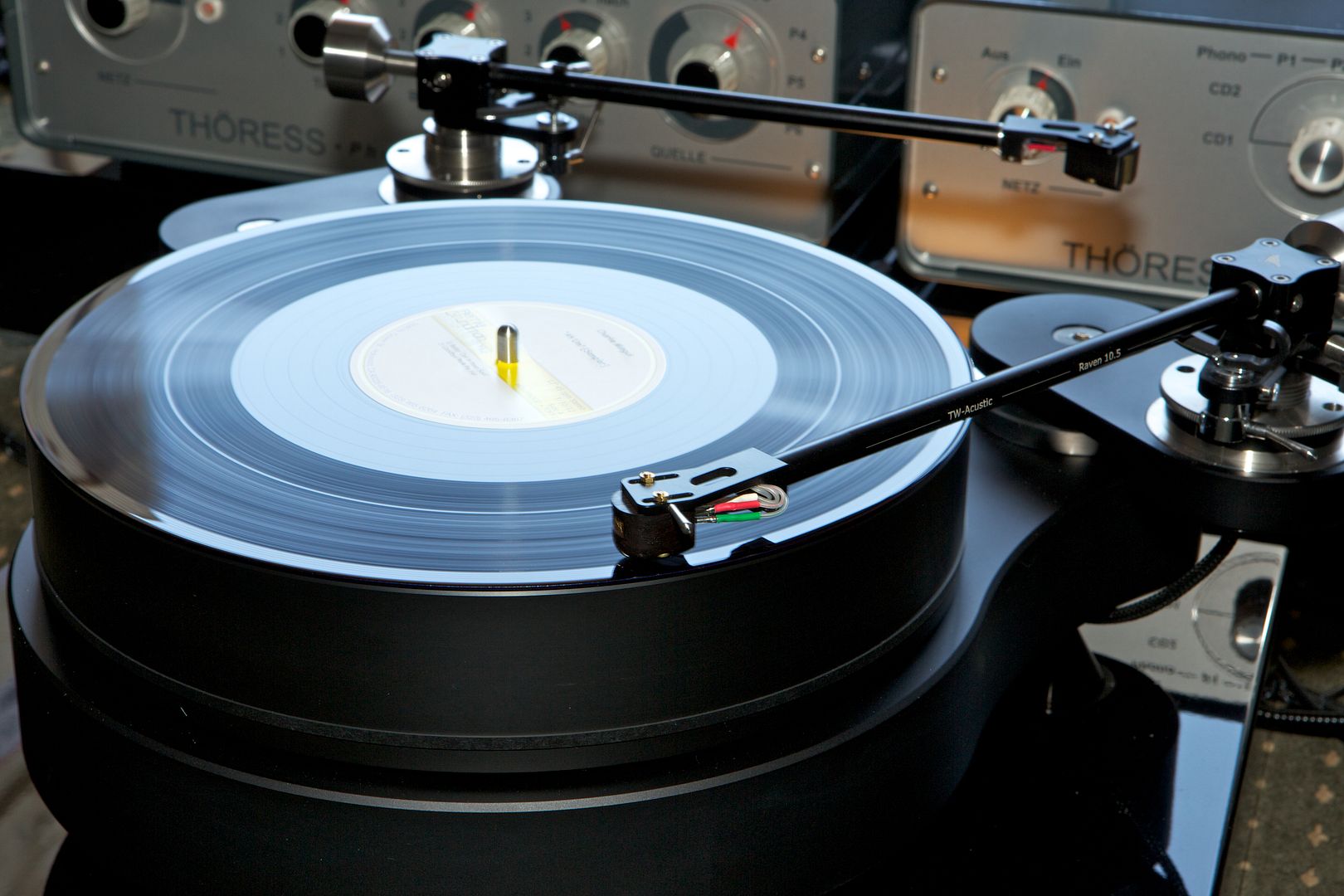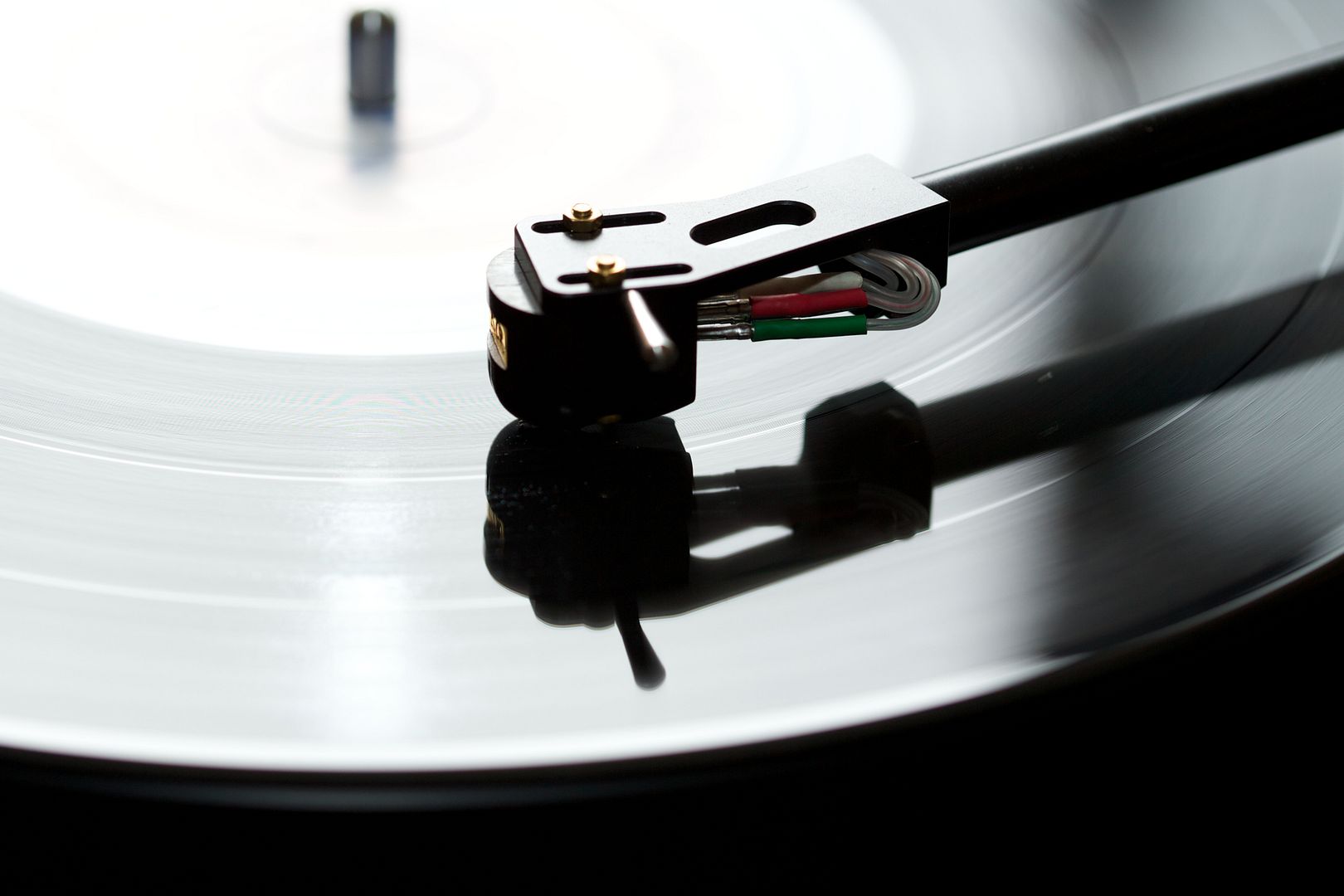 Other bits: there were Silent Running Audio Ohio XL bases under just about everything. Silver Circle Audio's $7,500 Pure Power One 5.0 SE provided the power. Pranawire speaker cables and High Fidelity interconnects rounded out the package.
Okay, so let's talk about what was going on during my visit. Ying Tan (pictured above, sitting, while Jeff is holding up the wall lest in come crashing down — you never know) of the Original Recordings Group had a couple of LPs on hand. This is the same guy that showed up at RMAF with the discs that stunned the house, so I was as giddy as a little schoolgirl when he slowly pulled out a couple of LPs from his magic bag. The first was Blood, Sweat and Tears' self-titled classic, of which we got treated to some super-funky "Spinning Wheel". Hello, childhood! I was floored. Ying is a pretty sober guy, so it was a bit inappropriate … but if I'd had this sound at home, I'd have been dancing. Spasmodically, probably, and in a way that would most likely have earned me a trip to the ER. Realizing this, I decided to not make an utter fool of myself (or at least, not even more of one), so I held up the wall while sweating my balls off in the tube-heated hotel room — but I bet I was grinning like total jackass. This is such a fun tune, and a sweet sounding recording of it. The dynamics were enough to launch you out of your seat, and the tone was rich, full and bursting with juicy flavor. Then we switched up to another ORG pressing of Mingus Ah Um and all I have to say is this:
Oh. My. God.
Man, oh man, I need friends like this to send me LPs! Somebody? Helloooo?