I'm not sure what it is. Every time I walk into a Soundsmith room, I have the eerie feeling that I've been there before. It's … familiar. Comfortable. A lot like pulling on a favorite jacket. Or digging into a favorite meal.
At the risk of pounding on a cliché, Peter Ledermann's Soundsmith audio-show rooms are an audio oasis. I know, going in, that I'm going to hear great things. And I always do.
I like that. It makes me happy.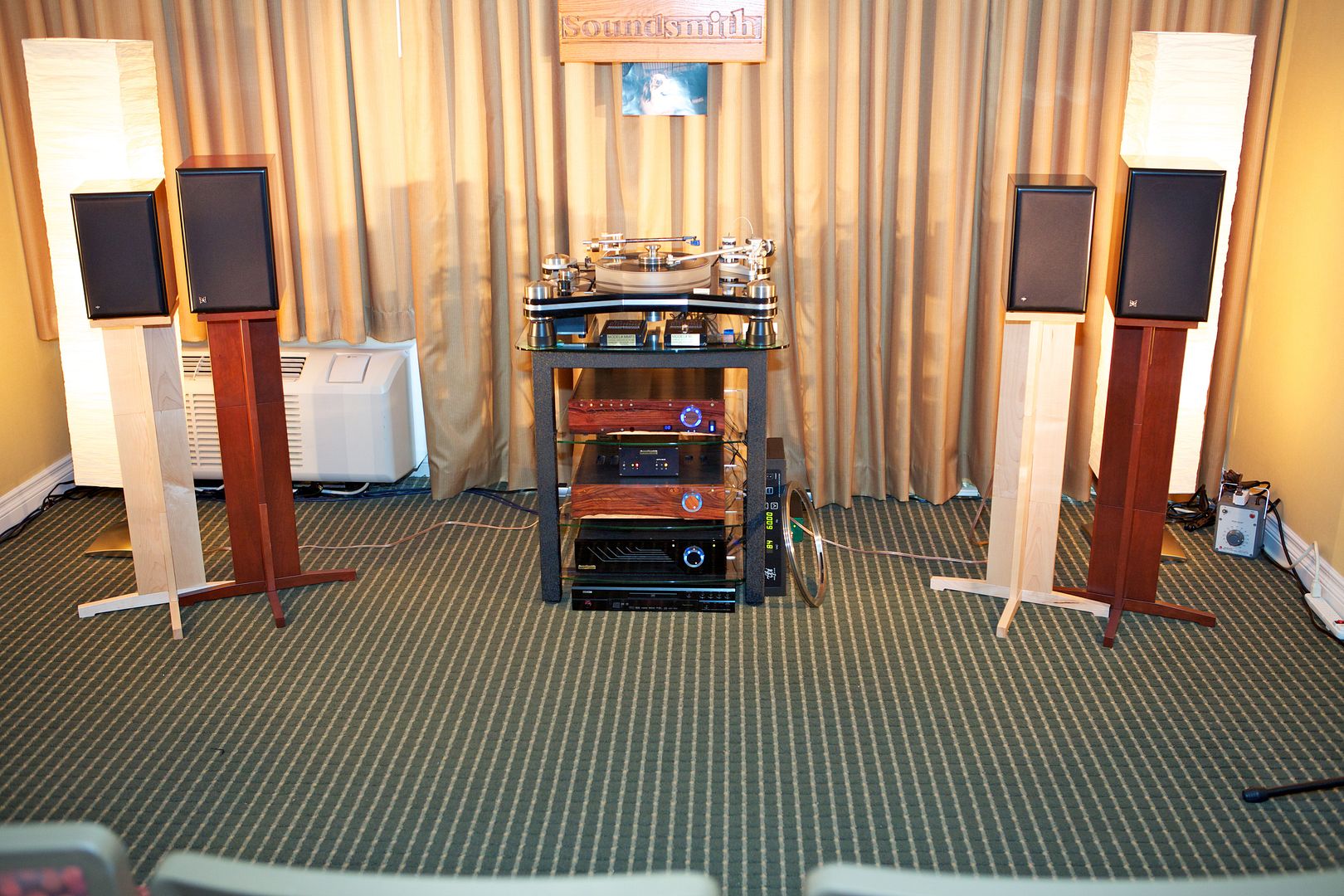 The setup here in Newport was a replica of the room at the Waldorf-Astoria for the NYAV show, so all the bits were familiar. A top-shelf VPI HRX turntable with all the trimmings ($~20k, as configured) was fitted out with a Strain Gauge system on the back arm and a $7,000 Hyperion on the front. The Hyperion was wired into an $700 MCP2 phono preamp. Both arms were connected to the Strain Gauge 810 preamp, which in turn, connected to the HE-150 amplifiers, run bridged for about 440wpc total output into a pair of $2,000 Firefly speakers — and yes, all of that is available from, and made by, Soundsmith.
If you're not impressed by that, you may be in a coma.
I think it's insane. The level of fit and finish is excellent, the sound quality is outstanding, and it all comes from the creative genius of one guy. This is why being an audiophile is so cool.
This room. This gear. This guy.
It's humbling.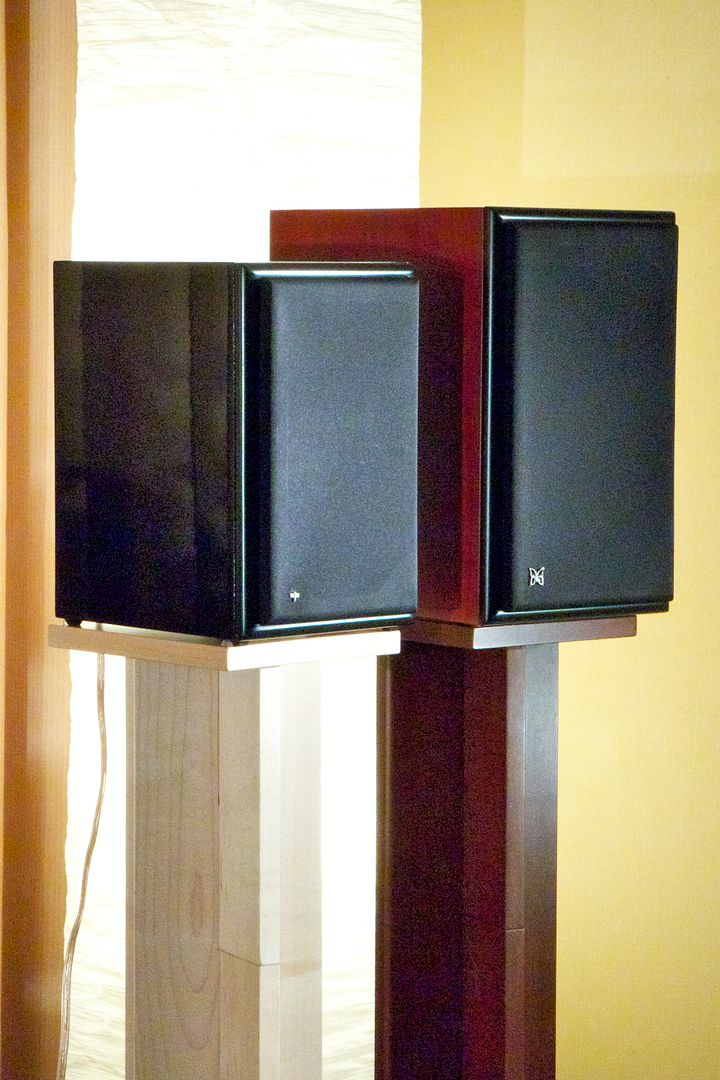 What's new? VPI's Traveler is new. I saw this turntable first at NYAV, and I remember being impressed by a couple of things. One, this is an American-Made turntable. Two, it's offered for something less than an arm and a leg. Three, it includes a tonearm. All you need to make this bad-boy run is a wire, a phono preamp and a cartridge. Here, the Traveler was tricked out with a $600 Soundsmith Carmen cartridge, which is available with the table as part of a package deal. The $500 Soundsmith MMP3 phono preamp is sitting next to it and would make a fine package deal. Quite a vinyl package, all for, what, less than $2,500?
Did I mention that the Traveler has an aluminum platter? I like this a lot — I remember a review that talked about how good this platter is, and to find it as a standard option is, well, music to my ears.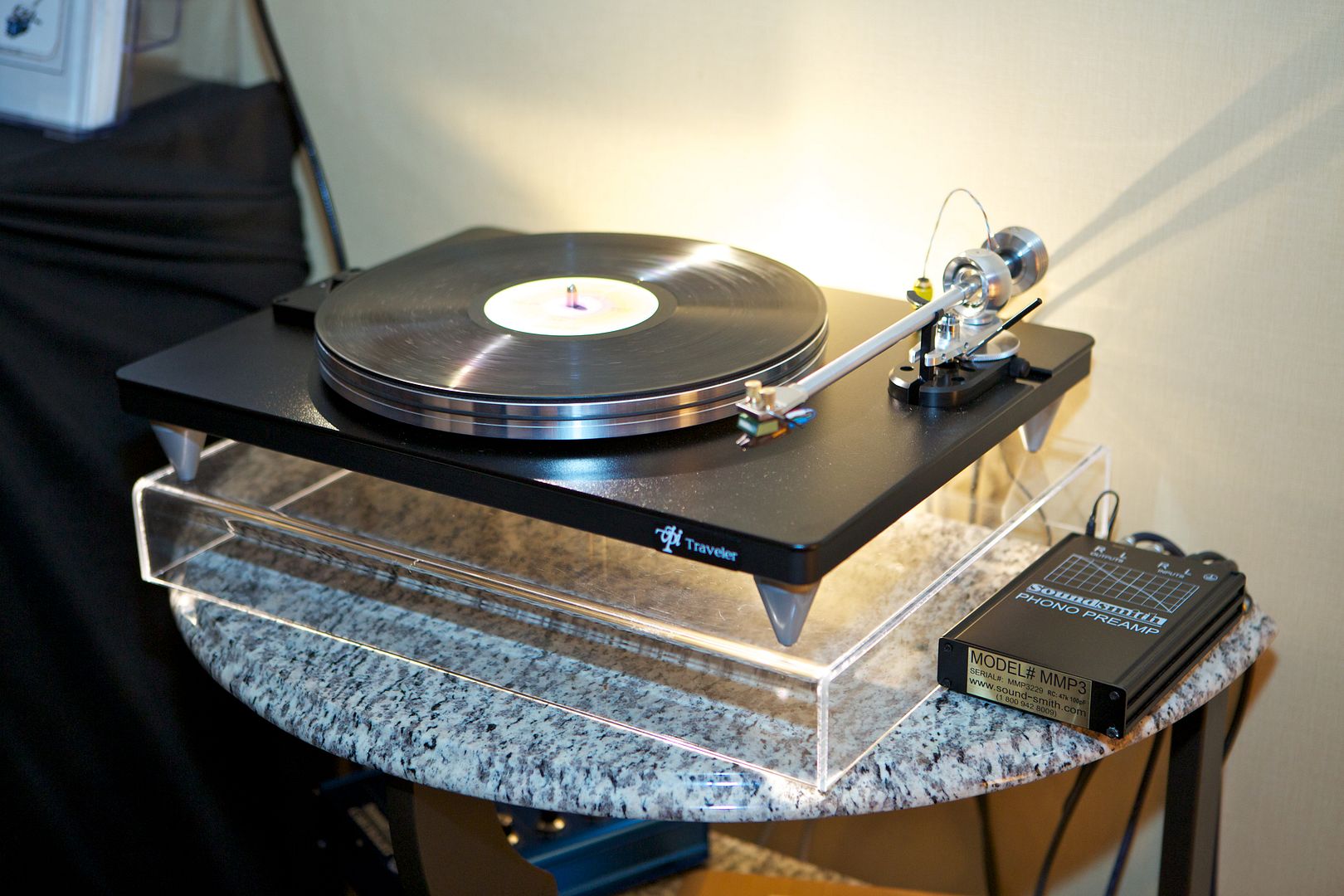 The turntable launched on June 1st, so get in line now if you're interested. Mat told me that there will be some extra finishes available, too, available on July 4th. Wasn't hard to figure out that the new tops will be red, white and blue. Here's the red top — this is the one I'm getting!
Check out http://www.vpiindustries.com/table-traveler.htm for the latest on this table.
VPI's Mat Weisfeld was on hand to shake the hands and kiss the babies. My favorite part of the show coverage came courtesy of this guy, who managed to take his new turntable all over the place. I saw pictures of the Traveler hopping out of the suitcase in arrived in, making the rounds, sipping margaritas by the pool, and generally having a far better time than I did.
I spent way too long in this room, but I just couldn't bring myself to leave. The sound was so enveloping that I found myself repeating the "just one more song" line to myself over and over like some kind of meditative mantra.
I swear, Peter has some serious mojo going on in these rooms. It's hypnotic.
Here's some random pictures I took while hanging out, listening to the demo tracks in the Soundsmith room.
Here's the $7,000 cactus-cantilevered Hyperion cartridge dancing through the grooves on the VPI HRX table. Did I mention that this cartridge has free retipping over the life of the 10 year warranty?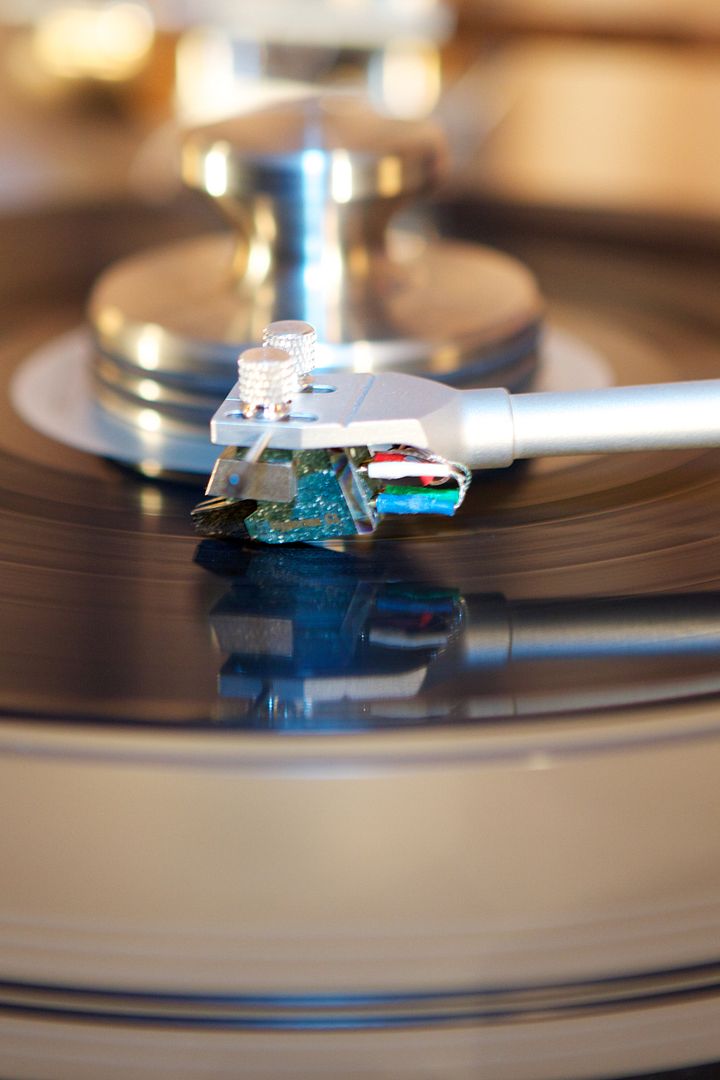 The Strain Gauge system is a cartridge+phono preamp combo. It also has a blue LED on the cartridge. How cool is that?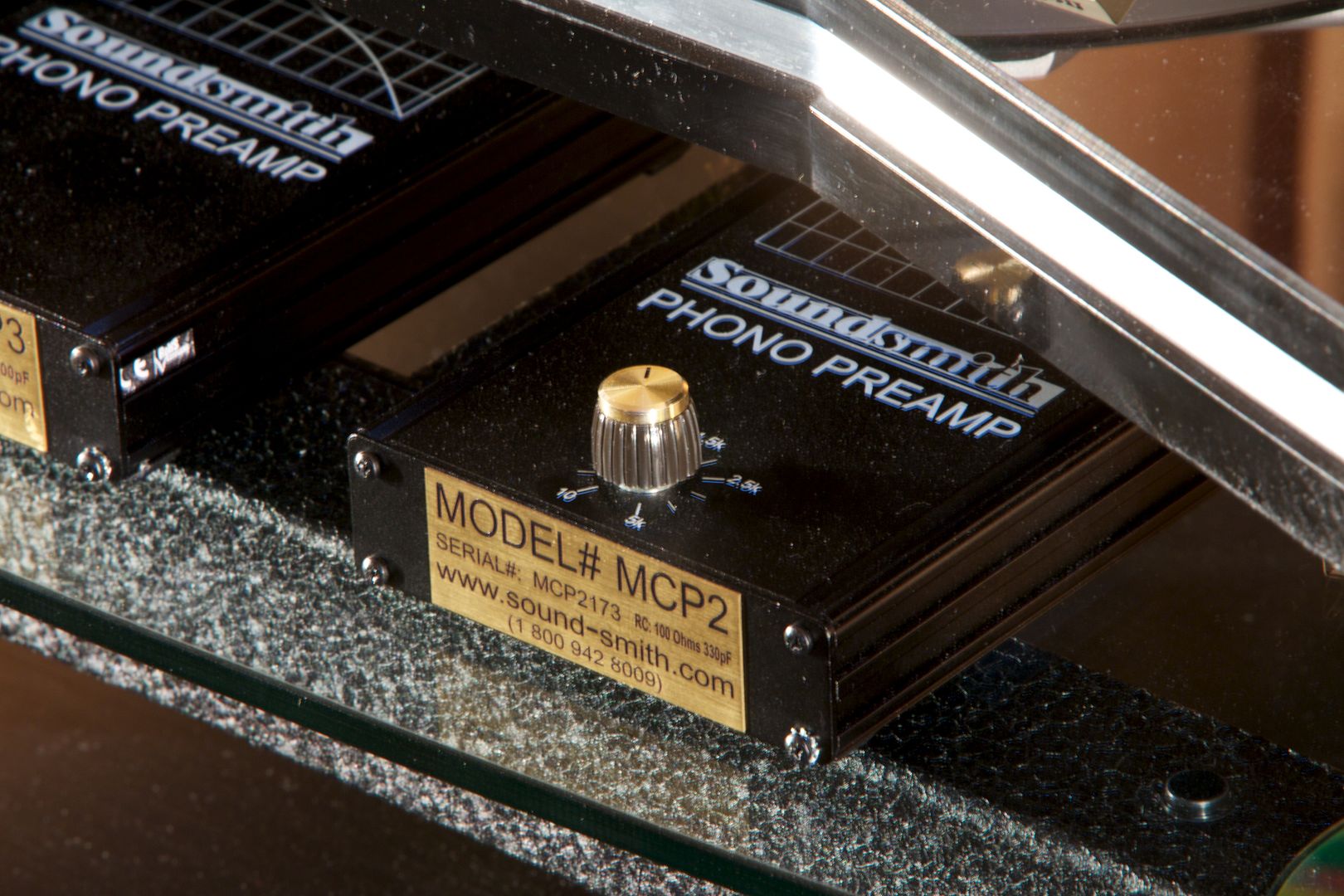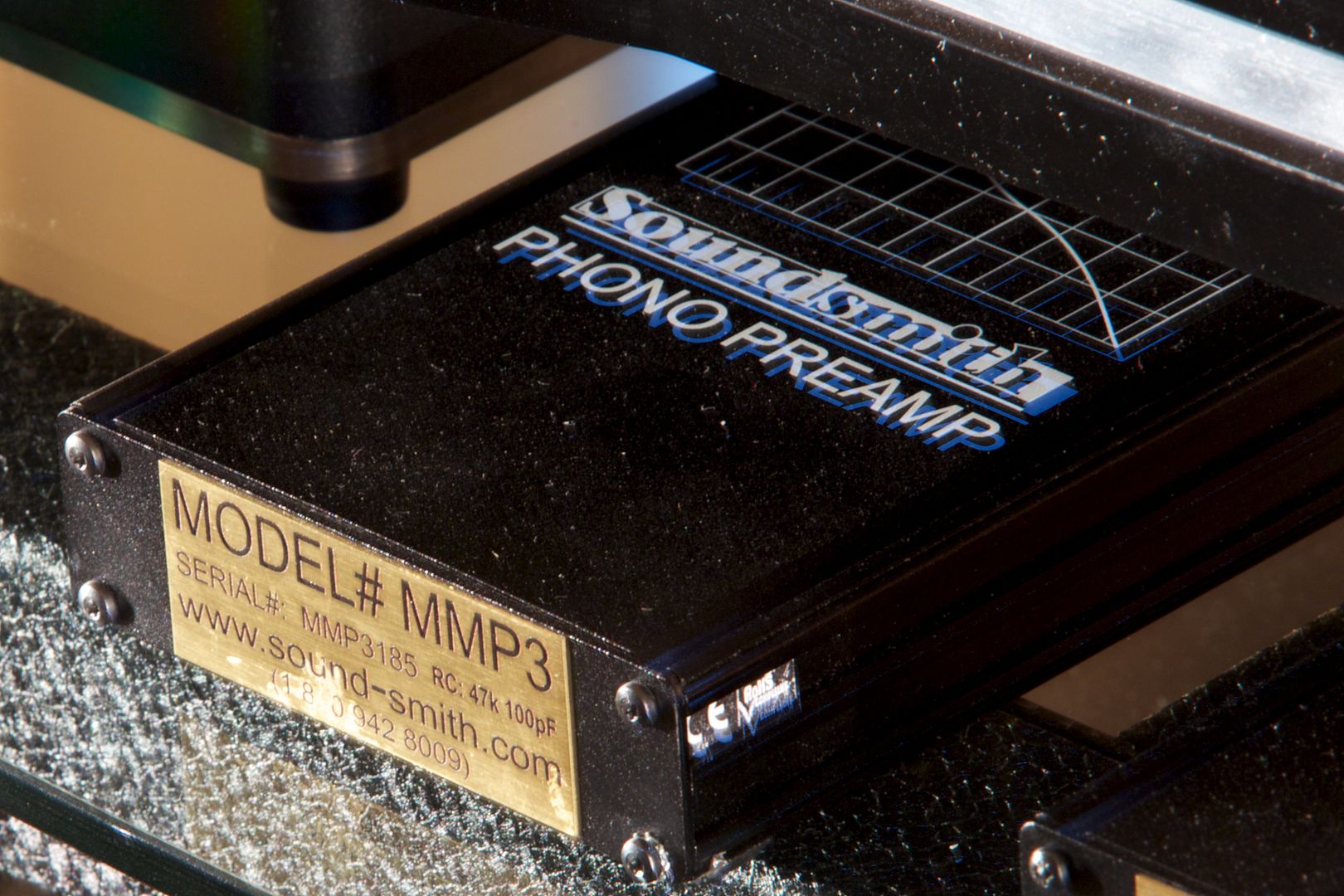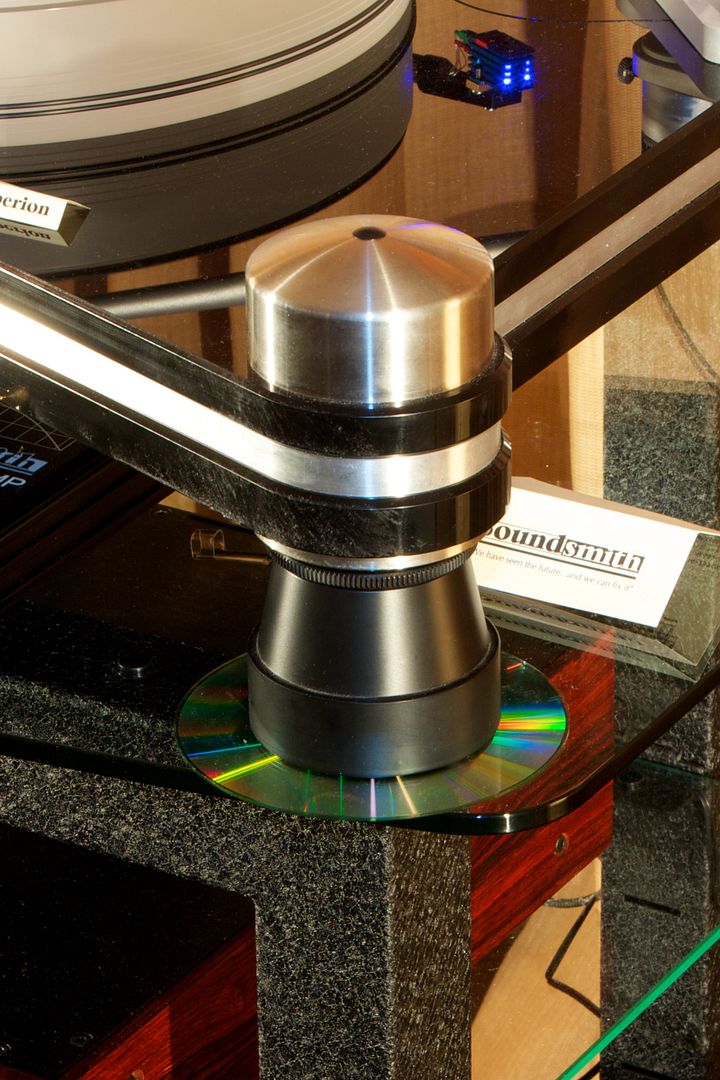 Peter's been doing this for years, but being slow, I just noticed here at Newport. See the CD above? It's wedged under the feet of the big HRX table. The turntable fits just barely on the glass top, but the pressure it exerts on the outermost rim could be problematic — that's a heavy table. So, in a fit of genius, the Soundsmith team came up — finally — with an appropriate use for those shiny silver disks. Yes! Wedged in under the feet, they spread the weight around, providing a much more glass-friendly weight distribution. And the fact that this is an analog room … well.
You wish you were this witty.