I first ran across Estelon at RMAF last year, and I remember being instantly smitten.
And not just by the sound. With three Accuton drivers, the $64,000 X Diamond is lightning fast, with detail retrieval that's best-in-class, and a thunderously ominous bass.
Ray Brown and Laurindo Almeida's Moonlight Serenade was spinning when I came into the room. Lovely LP. But I had my Chris Jones' CD out and in the Esoteric player at the first lull — and not only did this speaker sail through the Cricket Test, "No Sanctuary Here", my favorite track for finding out exactly what a speaker can and can't do "down low", clearly and cleanly shook the living crap out of the room and everyone in it. I'm thinking that next time, they really ought to bring Acoustic Sciences in as a show partner. But room issues aside, what I heard out of this speaker shook me.
I oh-so-want a pair of these. Oh yes. Yes, indeedy. Aspirational speakers to be sure, but if you ask me how I want to spend my Lottery money, this is my first call. Now, where is that Lotto Fairy, anyway?
I'm going to grant you that the aesthetics aren't for everyone, especially if you're an idiot. They're organic, with flowing suggestive lines and the all-white finish shown here at Newport is extraordinary.
I love them!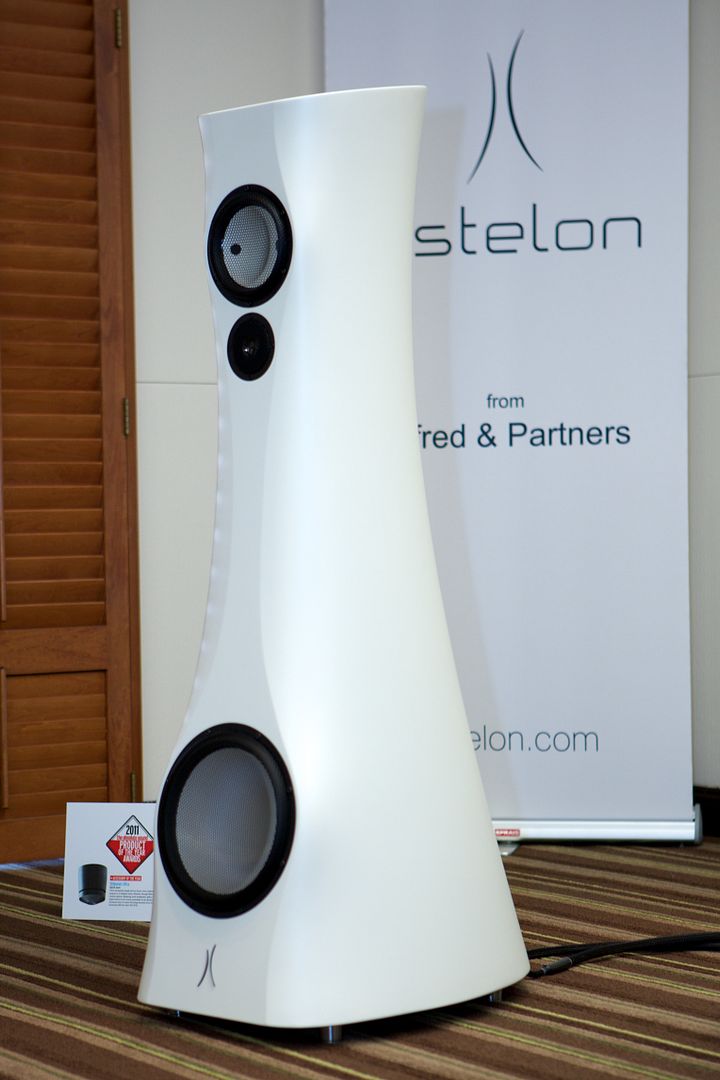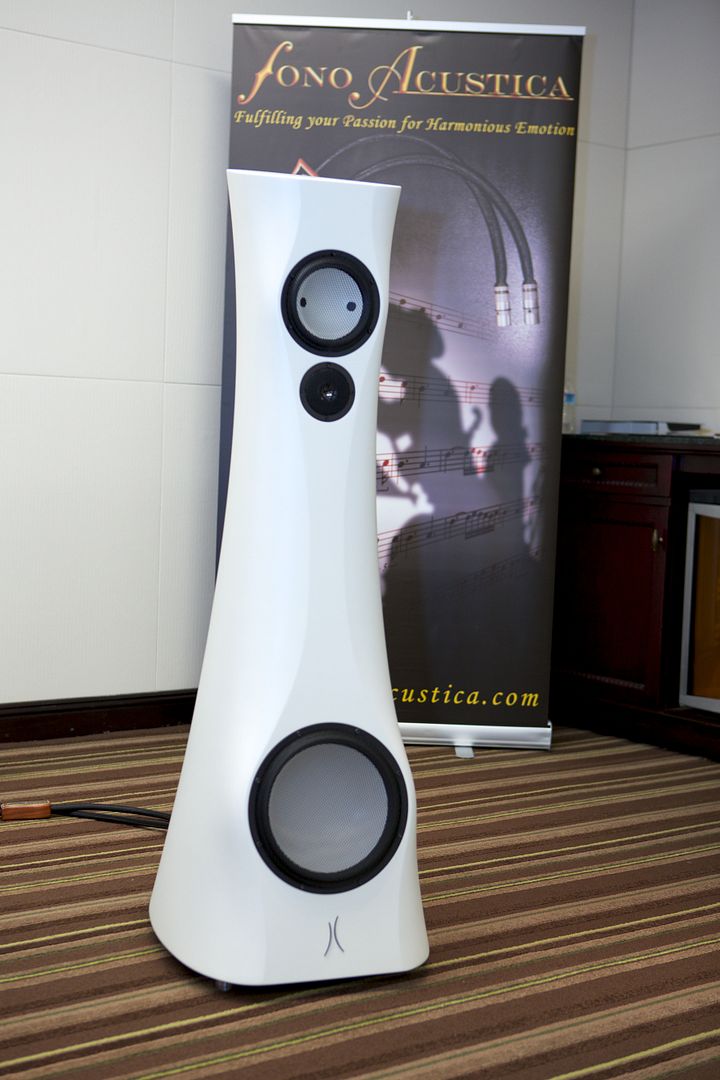 I almost forgot to look around the rest of the room. Hmm. Glad I did.
A pair of $34k Concert Fidelity ZL-120V2 120wpc monoblocks were paired with a matching $24,000 CF-090LSX2 tube-hybrid preamplifier. The Denon sported an Ultra Eminent Bc phono cartridge by My Sonic Lab.
A modified Denon direct-drive turntable fed into a $14,000 Concert Fidelity SPA-4C phono stage. A $20,000 Esoteric X01 D2 SACD player may have been doing transport-only duties, wired into a $12,000 NOS/16-bit tubed Concert Fidelity DAC-040.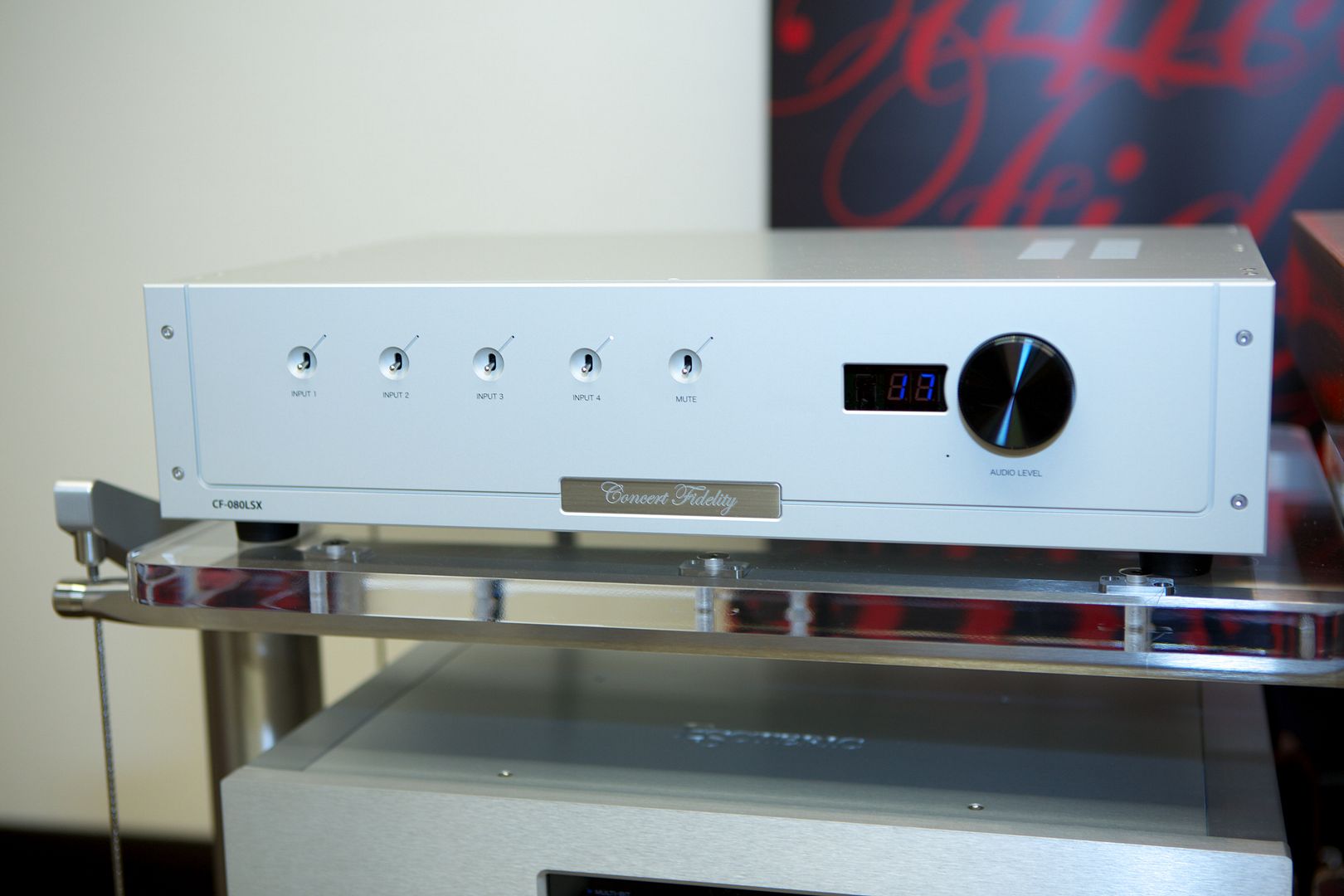 Fono Acustica's Sinfo power distribution and Armonica cables were used throughout.