Whoa.
That's kinda how I feel whenever I run across speakers from Rockport Technologies. I dunno why. I think the first model I ever heard of was the Arrakis, and that speaker may have scarred me. $200k+ and a 1,000lbs each — holy sweet Jesus that is a huge speaker. See? I still get a little shaken, even just thinking about it. Heaven forbid one of these monsters should fall out of the sky and into my listening room. I mean, well. Hmm. Now that I think about it, I think I would just wet myself. Promptly. From fear. And … lust. Yeah, okay, I'm not too proud to admit it, so fine. Now, go away. I need a moment to collect myself. Whew!
Anyway, back to the program. Here at Newport, Rockport was showing the new Avior, offered at $29,500. Yes, you read that right, and no, I didn't lose a zero. Thirty grand. For a Rockport. I KNOW. Crazy, am I right? I couldn't believe it — I think I asked three times, just to be sure.
The Avior is about 220lbs each, so think "hefty", and sports three Rockport-designed carbon-sandwich drivers and a Scanspeak Illuminator beryllium tweeter. The front baffle? 6″ thick. Yeah — whoa, indeed. The speaker is a 3-way, four driver, with a raked-back design that looks very … Rockport. It's actually, instantly, recognizable.
The sound here at Newport was a bit of a challenge, as the guys from Cake Audio readily admitted. This speaker was just way too beefcake for this long-wall setup — it probably would have been more at home down in the main Sony demo room. Nevertheless, I trotted out my handy-dandy Chris Jones CD, Roadhouses and Automobiles, for my quick one-two demo run-through, and while the resolution in-room was only "good" — better than average, but not Accuton-clear — the bass performance was staggering. In the right room, this speaker will be Monstrously Good. I really, really want to hear these speakers set up somewhere else. Like my room. Hook me up! Hey! Anybody out there?
Bueller?
[tap, tap] Is this thing on?
[crickets]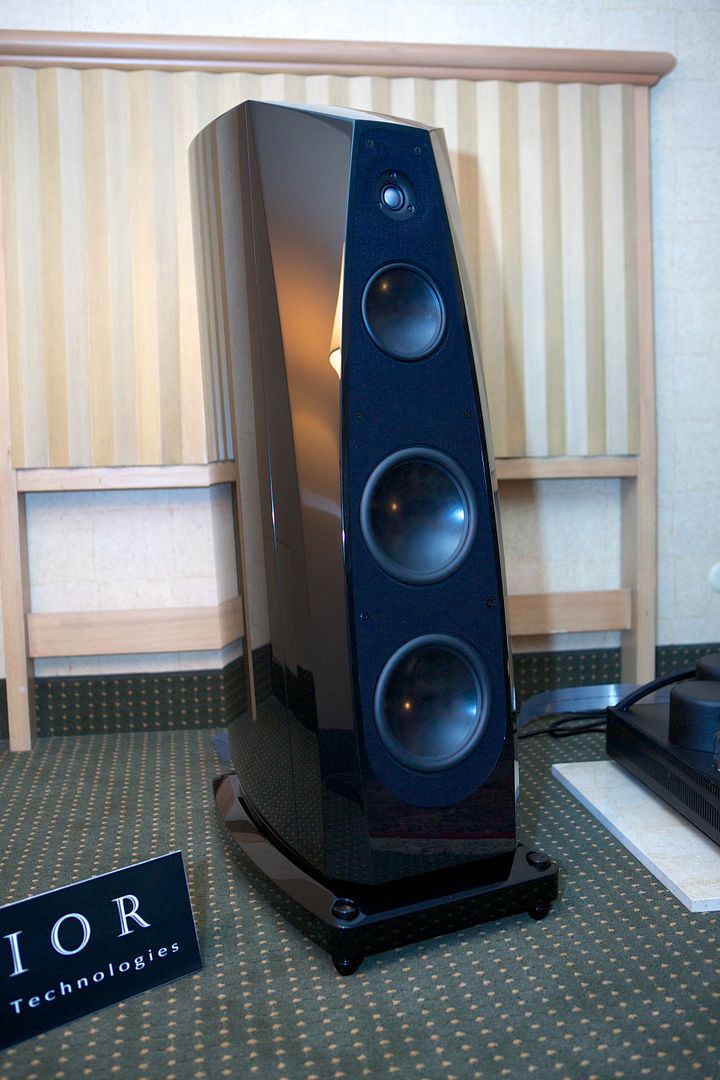 The rest of the cast:
Amplifiers: Balanced Audio Technology – REX Tube Mono Blocks, $30,000.00 pair
Pre Amplifier: Balanced Audio Technology – REX Pre Amplifier, $20,000.00
CD Player / Processor: Audio Aero – LaSource, $44,000.00
Turntable: Brinkmann – Bardo II, $9500
Tonearm: Brinkmann – 9.6, $4000
Cartridge: Brinkmann – Pi, $2700
Phono Preamplifier: Luxman E-1, $4,000
Cabling came courtesy of the top of Nordost's Norse line of cables, the Tyr. Distribution was via a Nordost Qv2 Line Harmonizer and Qb4 Power Distribution setup.