Well, things are winding down now, at least for me. It's been a couple of weeks since the doors closed on the Capital Audiofest for 2012, and since I'm not planning to head out to San Francisco for the Dagogo Show this year, and I've got a bit of time before my next road trip — RMAF — I thought I'd take the opportunity and dig in a bit beyond the coverage I did for Enjoy The Music. I mean, I've got all these extra photos and they've gotta go somewhere, right?
So, rather than starting at the beginning, as we've already done that, let's start instead with a note from Gary Gill, organizer of the Capital Audiofest, to John Atkinson, Editor for Stereophile.
Dear Mr. Atkinson,

I thank you for attending the Capital Audiofest for the second year in a row and for the dead on commentary. I would like to add to your story by giving you a bit of insight about the CAF. The CAF arose from a gathering of audiophiles at a local friend's house, Dr. Ijaz Khan, over live music, food, beverage, cigars and of course lots of audio banter. (By the way Ijaz has the best system on the planet hands down as far as I am concerned but that is another story and by the way he is the owner of the highly modified Garrard turntables). With Ijaz, Frank Schroeder of Schroeder Tonearms, Terry O'Sullivan of Loricraft, Dave Slagle, Pierre Sprey of Mapleshade and many other audiophiles standing around, we noticed how many people were in Ijaz's house in the name of music and audio, and was mentioned that there hadn't been an audio show in the DC area since the 1980s. We all agreed that there should be a DC show and several even agreed to help set it up. But as most conversations go with alcohol involved, very few positive things resulted from it except this time I was determined to make it happen with or without anyone's help. So I took it upon myself to apply the "Build it and they will come" approach and put down my wallet on a five-figure venue in the City of Rockville Maryland named the Glenview Mansion for the inaugural event.

Besides the monetary aspect of putting on a show, I had other hurdles to overcome including: 1) Being an audio hobbyist with a lean towards vintage and not an audio insider. 2) No significant players in the industry know me. 3) No connections with any significant audio manufacturers or retailers. 4) No connections with any media in audio or non-audio arenas. 5) My background and experience is in land development/construction and have never done anything like this before. 6) Other challenges included how do I build a website, do I have the time, how much will it cost, what to name it, etc? I truly took on this event as a construction manager would approach a building project and even built the website on my own! After many visits, calls and emails it appeared as though I was able to attract some vendors to fill the rooms…….and sure enough the listeners came!

I have to thank those vendors who took a chance on me at the first show and are still with the CAF of which the list includes: High Water Sound, United Home Audio, Polk, Border Patrol, Philharmonic Speakers, Dynamic Sounds, Luminous Audio, Command AV, Cathedral, Sonist Speakers and of course those crazy vintage and used vinyl guys!

As you stated, the quantity of rooms has grown (Approximately 25% increase from last year) and relates to the number of quality vendors. This year the list included notables of the likes of: Legacy, VPI, Audio Note, The Voice That Is, Woo Audio, MBL, Polk, Classic Audio Loudspeakers, Daedalus with Bob Carver, MA Recordings, The Cable Co, AIX Records, Sophia Electric, The Signal Collection, Zu Audio, Audio Power Labs, Robert Lighton, Swap Meet Audio, Déjà vu Audio, Lowther America, Volti Audio, Soundfield Audio, Mojo Audio, Benchmark and several more. In addition to the retailers and manufacturers with their names on the rooms, there are many manufacturers that are directly associated with the rooms including notables like: Bel Canto, dCS, Joseph Audio, Leben, JC Verdier, MIT, Sherbourn, Thoress, T-W Acoustic, Sonist, Snake River, WyWires, Devore, Audience and many others so do not think there is a shortage of quality audio in the show no matter how you look at it.

I have to say that I am extremely pleased with the vendors that have been with me for the last three years, added several new vendors this year, and am betting that I will continue to attract more each following year. Are some of them 'Ma and Pa' operations, maybe, but how else does one get started? I think that if you look back at the history of many brands, including many reviewed and advertising in Stereophile, you will see similar pathways although not all. These dealers, designers and manufacturers come to the CAF to get feedback and exposure for a cost effective rate, no union fees, no moving charges and all less than most other shows I am told. Some tell me that they even sell product at the CAF and do not at the other shows. At larger shows smaller companies may get overlooked but at a modest sized show like the CAF you are guaranteed that almost every attendee will visit every room. Note that the DC metro area has some of the strongest demographics in the US and yet it is under or unrepresented by many audio brands. I am proud to have newcomers come to the CAF including innovative Oasis Speakers, hybrid/planer speaker designer GT Speakers, local speaker and amp builder Paolo Audio (Who by the way once was an engineer at the Svetlana plant in Russia), and upstart Virginia retailer Appalachian Audio Royale. The CAF may be a modest audio show, but it has plenty of potential to grow and truly feel a kinship with all of these vendors.

The attendance was not as high as last year but have determined it to be around 750-800. We are not sure why this is the case and yet have received accolades from many vendors and attendees. We advertised in all the right places including Stereophile both on-line and paper format. We also advertised with other on-line audio and social media sites and furthermore placed a season long advertisement in the nationally known Strathmore local concert venue publication. Do we know why the traffic was less than last year? No, but can assume it was likely due to several factors including the economy and most importantly the horrible storms in our local area the week before that knocked out power for millions all over the DC and Baltimore region. I received several emails from vendors and registrants concerned about this issue and note that a few vendors mentioned that several of the folks that contacted them didn't come because of storm related issues. Who knows? What I do know is that I am going to do it again next year and promise you that I will take your comments to heart and will work hard to make the show better! Thanks again for attending the CAF and will surely see you next year!

Gary Gill
Capital Audiofest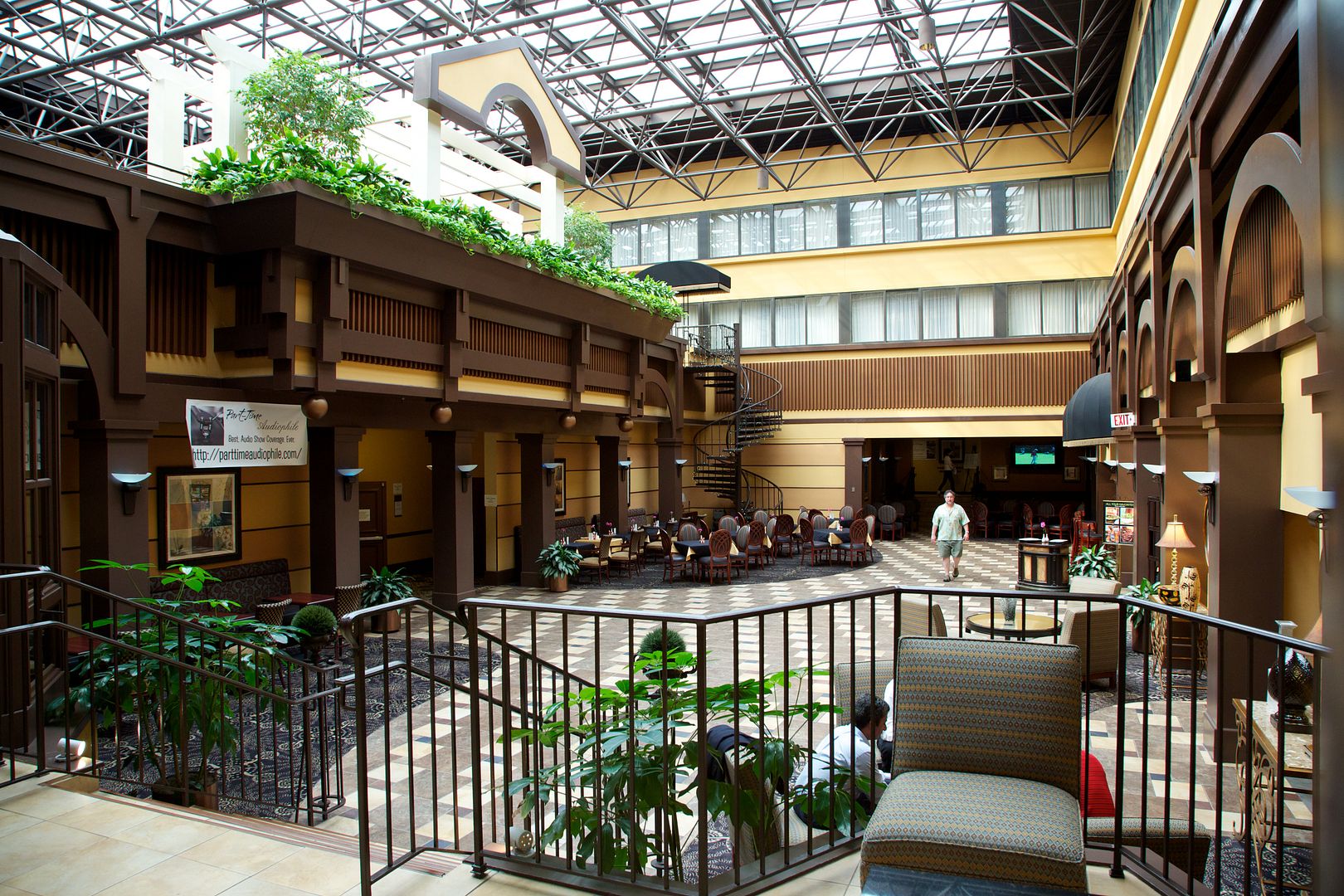 Crowne Plaza, during setup. Nice venue. Lots of light and space here in the lobby, without a lot of odd hotel clutter.
Hey, nice banner! The Cable Company made me move it, but whatever.
This was the first audio show I actually advertised at. Like the banners? I had several, scattered throughout the show.
And that's where they stayed. Scattered throughout the show. Gah. Rookie mistake! The cleaning crew must have swept them up and binned them. Grrr.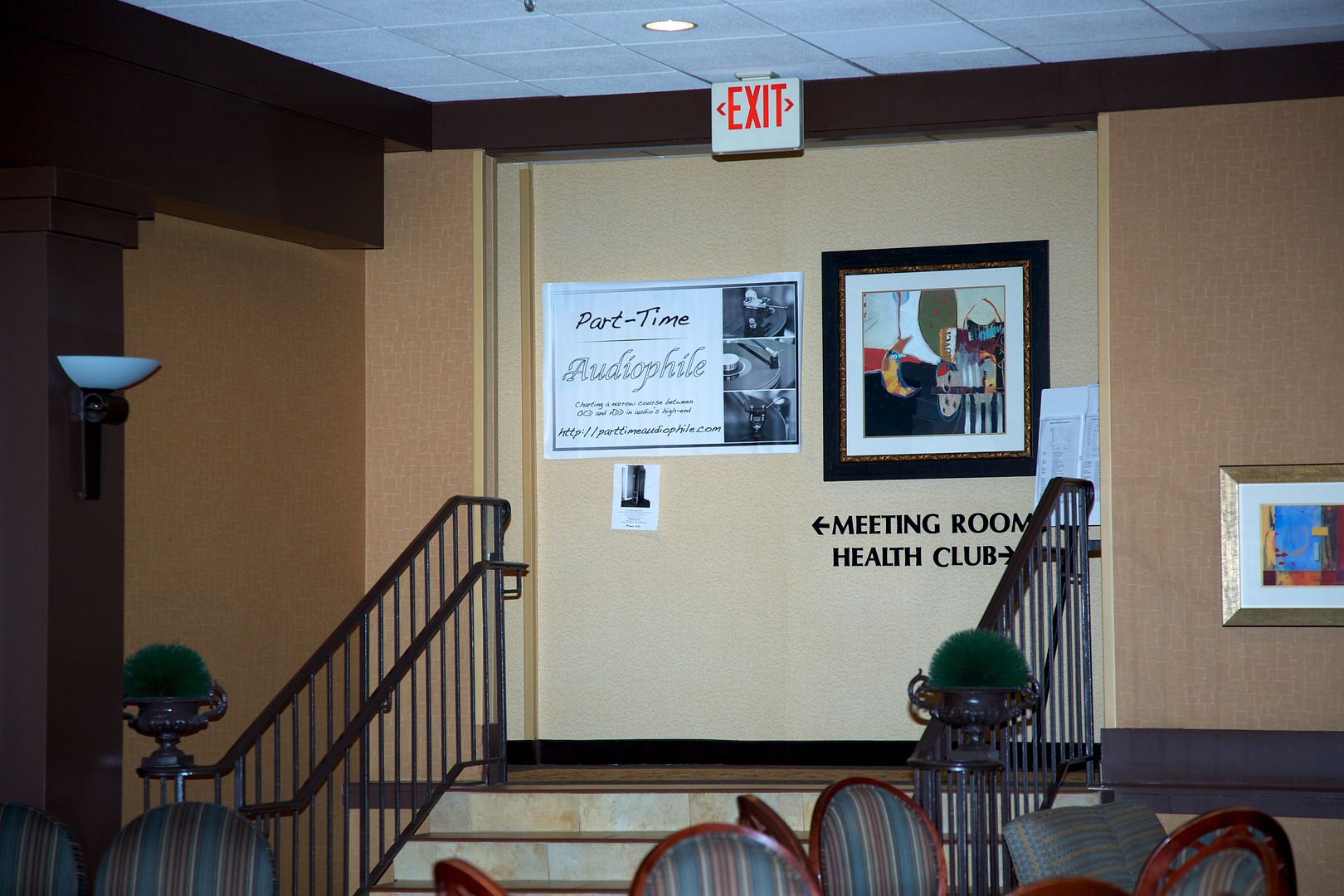 Some of the placements were better than others. This one at the stair = good.
This one, directly over the Cable Company's table = not so good. Apparently. Hmm.
I thought it was funny. While it lasted. Well, truth be told, I still think it's funny, but it was especially funny while it lasted.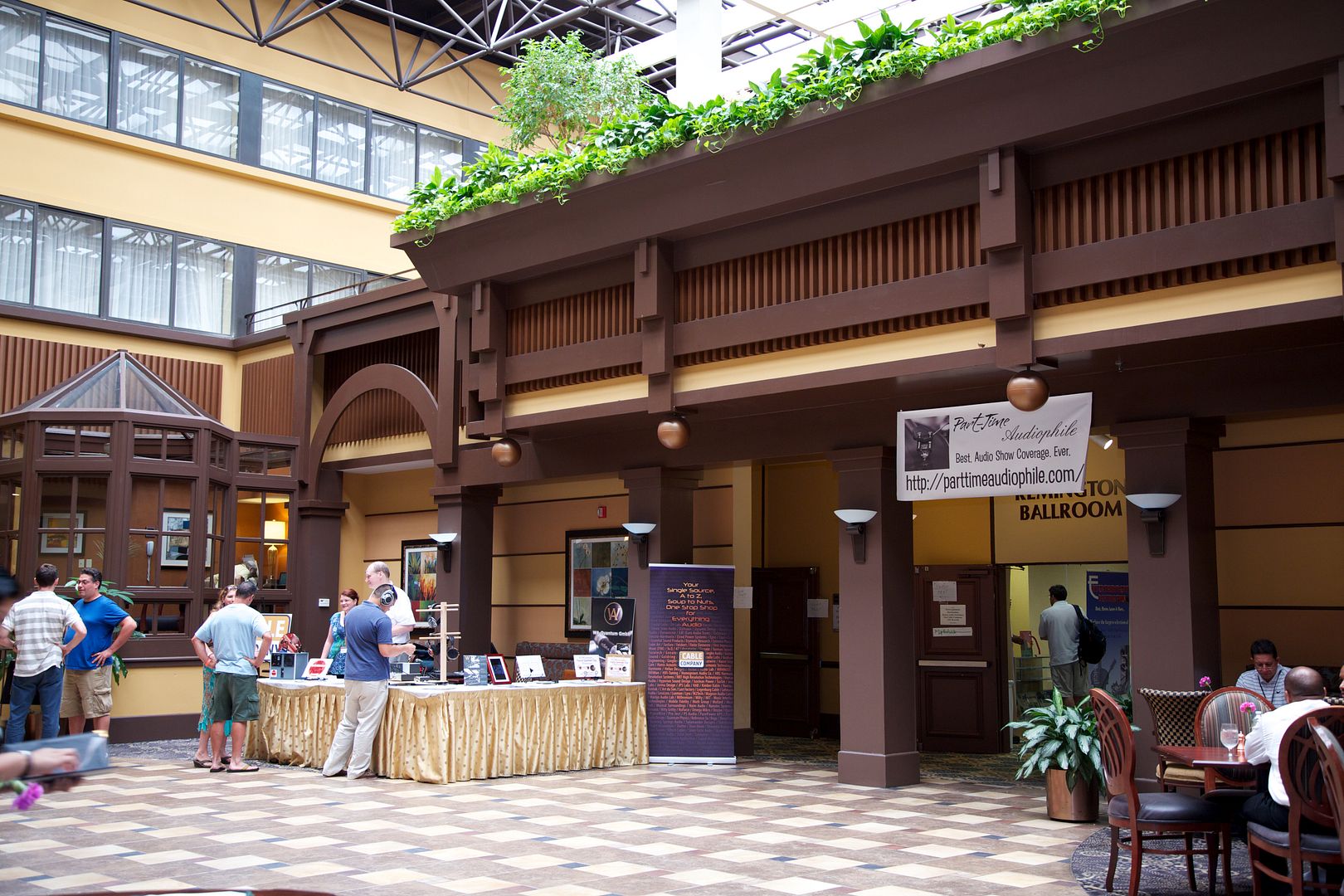 My big banner's new, final, unobjected location? AWAY.
Every day at the close, Gary gave away a pile of shit. Like a DAC from Benchmark. Sweet!
There was quite a throng. Good thing the fire department didn't show up. We had a couple hundred people milling about, looking for swag.
John Atkinson, looking over the seething crowed gathered for their nightly chumming.
I've said before that this was the best sound at the show. Okay, that's not exactly what I said, but I may have been the most pleasantly surprising. Not for the quality of the audio, but rather, for owner Mike Baird, who was very obviously having way more fun than everyone else at the show.
Honorable mention goes to these megahorns.  I'm thinking … low WAF. Just saying.
Another thing I don't really do at audio shows — buy music. I should, maybe, but I don't want to haul it around. Or leave it in the car — it was 100+ degrees outside, not "vinyl friendly".
Some pretty good live music from Janel & Anthony all three days. I still need to get me a CD, but it's on the list.
Lost Civilizations took the stage and clearly Went Somewhere Else. Totally "in the zone". Or something.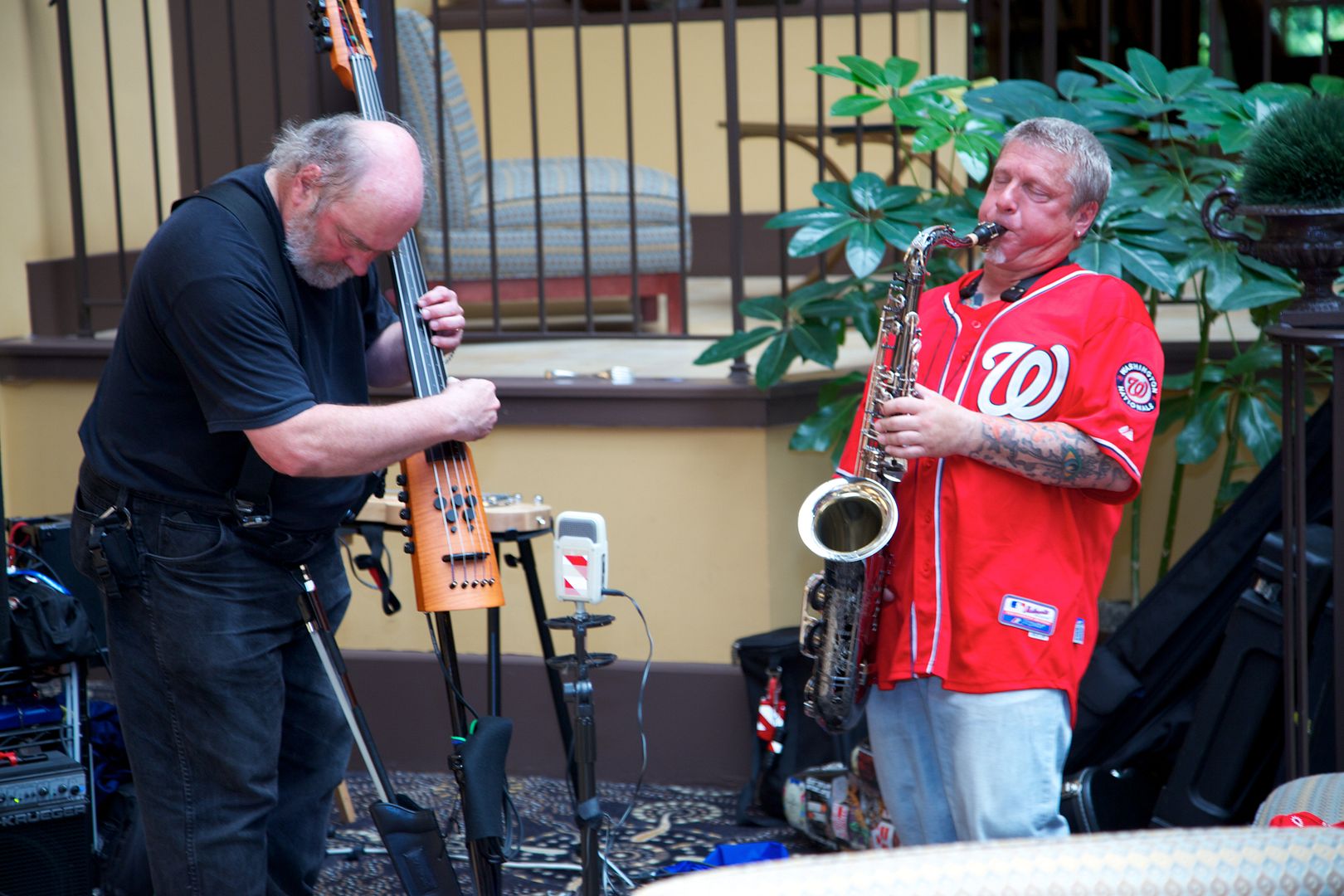 Honestly, I don't know why audio shows don't do more live music. It's cool, it's relaxing (sometimes) and at an audio show, it's a nice break.
I think the only thing I wanted was better food selection and service. I heard that folks spent up to an hour to get served, which I'm sure was fun for them, but I think a bulgogi truck or something would have kicked ass. Maybe a Mayorga coffee cart. Something with Dim Sum. Mmm. I'm hungry….
Anyway. More soon.