I feel like I owe you (and Lou Hinkley of Daedalus) an explanation. At CAF, I might have had a bit of fun at Lou's expense, but in all fairness, I blame Bill Baker of Purity Audio. I had come back through the Daedalus room to do some listening but Lou wasn't around. When I asked when he was coming back, Bill shrugged and made an off-hand comment about Lou out "walking the Earth". Like he was Caine from Kung Fu. And then the wheels started turning. Next thing I knew, I was somewhere near Billy Crystal and Lou was now Jack Palance, running the Iditarod.
Caffeine. Sometimes … it gets away from you ….
"It is by will alone I set my mind in motion. It is by the juice of Sapho that thoughts acquire speed, the lips acquire stains, the stains become a warning. It is by will alone I set my mind in motion."
Ahem. Yeah. Backing away from the coffee ….
RMAF had a couple of surprises for us show-goers. Lou brought two pairs of nifty new loudspeakers. The first was Lou's most expensive offering to date, the $38,500 Orpheus. The Argos, a $12,950 floor stander with a sculpted baffle, is a more traditional tweet-mid-woofer arrangement. I heard both. I enjoyed both greatly. And I have to say, wow. These loudspeakers are embarrassingly well-finished. I'll never look at veneered finishes the same way again. Wow. Just wow.
So, what was here — System One:
KWA 150 Signature Edition amplifiers, run bridged: $8,495
LS 36.5 DM preamplifier w/ external power supply: $9,995
Elyse DAC (pre-production): TBD
Oppo BDP 95 with ModWright Truth mods: $2,995
Orpheus: $38,500
BOW subwoofer: $2,290
Crossover for BOW: $1,290
Daedalus speaker cables: $1,500
Silver interconnects: $995
Blue/Silver/Gold power cords: starting at $249
ModWright Instruments
System Two
KWI 200 integrated: $6,150 ($5,00 w/o DAC)
LS100 preamplifier w/DAC upgrade: $5,095 ($3,495 w/o DAC)
Oppo BDP 95 with ModWright Truth mods
Argos: $12,950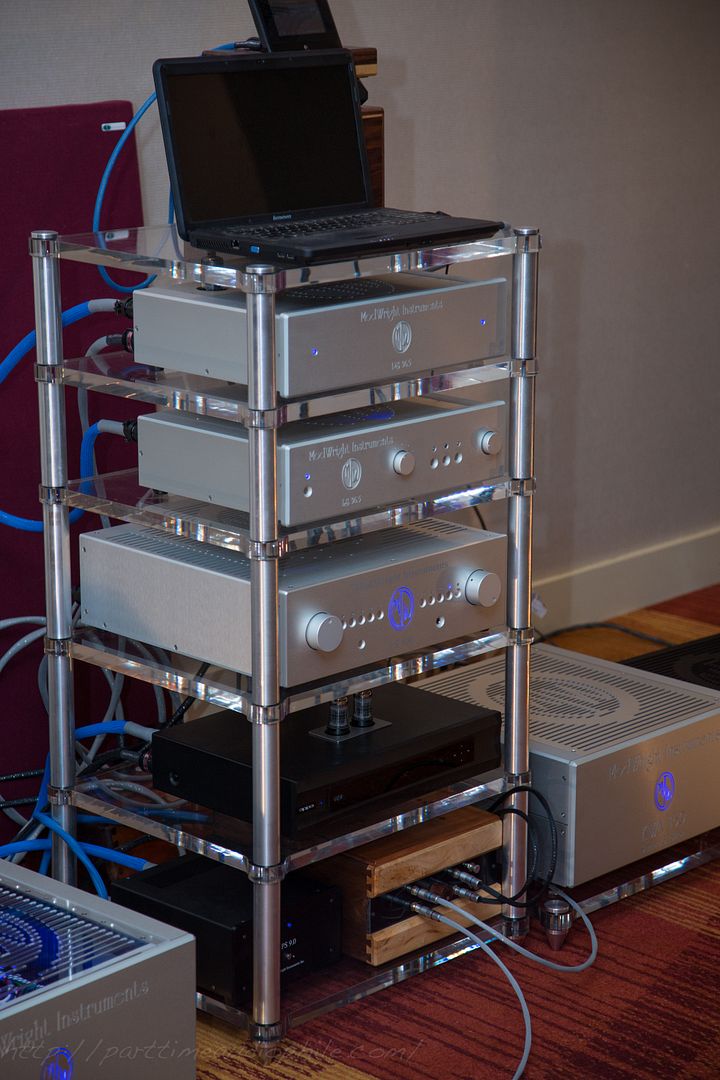 There's a big difference between the Orpheus and the Ulysses, and I'm sure you're curious as to what that is. Well, one, the Orpheus is bigger. Two, it's the wood. There's a lot of it. And it's special wood — specifically, it's instrument grade walnut. Folks make veneers out of it — but using it whole … unheard of. Well, except for now. Here. With Orpheus.
It's a big loudspeaker. Imposing. And gorgeous. It is the nicest finish I have ever seen. Hand rubbed, oil finish, figured walnut. This is love, folks. Love. Ye-gods. Audio, as art.
My visit came very, very late on Day 1, and I ran into Alex Sventitsky of WyWires alone and abandoned in the room. Poor guy. He seemed … ludicrously pleased terribly upset. LOL. Unfortunately, I never got back to the room for a serious listen. But my new friends, Mal Kenny and his wife Kirsten, were all over the show (I kept tripping over them on Friday), and offered that while room integration was a bit of a challenge, the room was huge. Mal says:
The new Argos … was almost completely satisfying. Lou's going to have a hit on his hands. On the Modwright side, what needs to be said? My wife keeps telling me how much we need to get some Modwright gear in the house, and Dan's prototype DAC was making the kind of sounds that tell me Modwright may be coming home sooner rather than later.