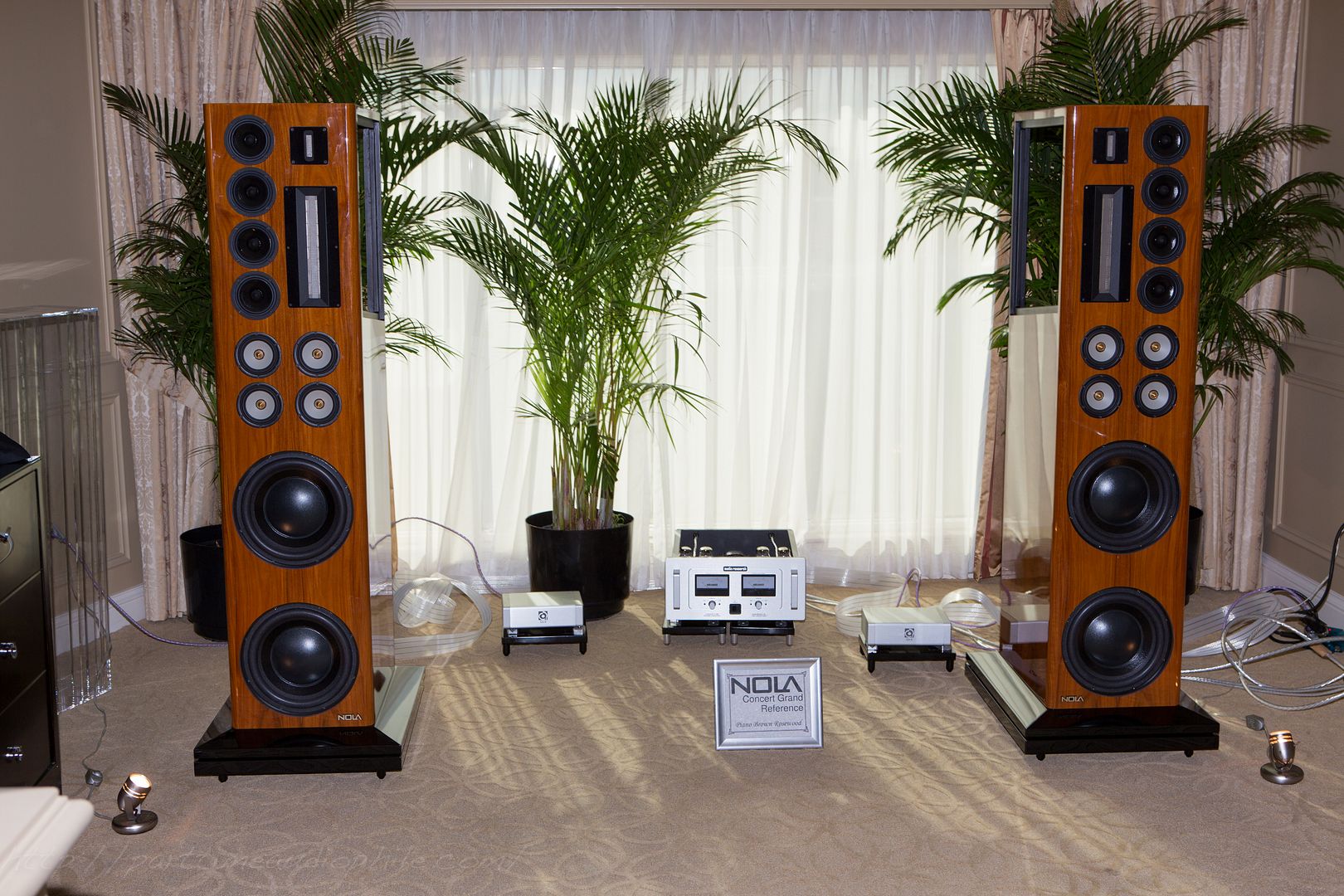 Carl & Marilyn Marchisotto of Nola Audio put on quite a show at CES. The huge guest room at the Venetian was almost not big enough to contain their awesomeness — they'd have been even better in a big ass Presidential suite a floor (or 5) up the Tower. But here, in this room, the 71″ tall monoliths have a thunderous presence that is irresistible. Top to bottom, the seamless coherence is outstanding and the bass … wow … just wow. Detail, power, authority, scale … yes, this was definitely on par with the Best in Show. At any show. Wow! Okay, so the sound field was enormous — but up close and personal listening might not be an option. It's … big. And it deserves space. Just sayin'.
Relevant info: 18Hz to 46kHz, with an 8ohm nominal (4ohm minimum), with a weight of 275lbs — and yes, that's each. Sensitivity is 91dB. The 12″ drivers on the bottom of the cabinet are subwoofers — and there are 4 of them. Four. That explains the bass! There are 8 magnesium 4.5″ mid-bass drivers in the upper, open-baffle, portion of the cabinets. These hand off to eight 4.5″ midrange drivers which in turn hand off to a 12″ long ribbon taking over at 1kHz. A ribbon super-tweeter covers the 10kHz-46kHz portion of the band. "The unique 5-way Unison™ crossover technology, implemented on six separate boards, to allow one pair of amplifiers or one stereo amplifier to drive the system." Price is $197,000/pair.
These monster speakers were driven to tremendous effect by a 75wpc $9,000 Audio Research Ref75 amp. Yep. 75 watts. Ka-pow. Audio Research completed the audio chain and Nordost Odin cabling wired the lot together.