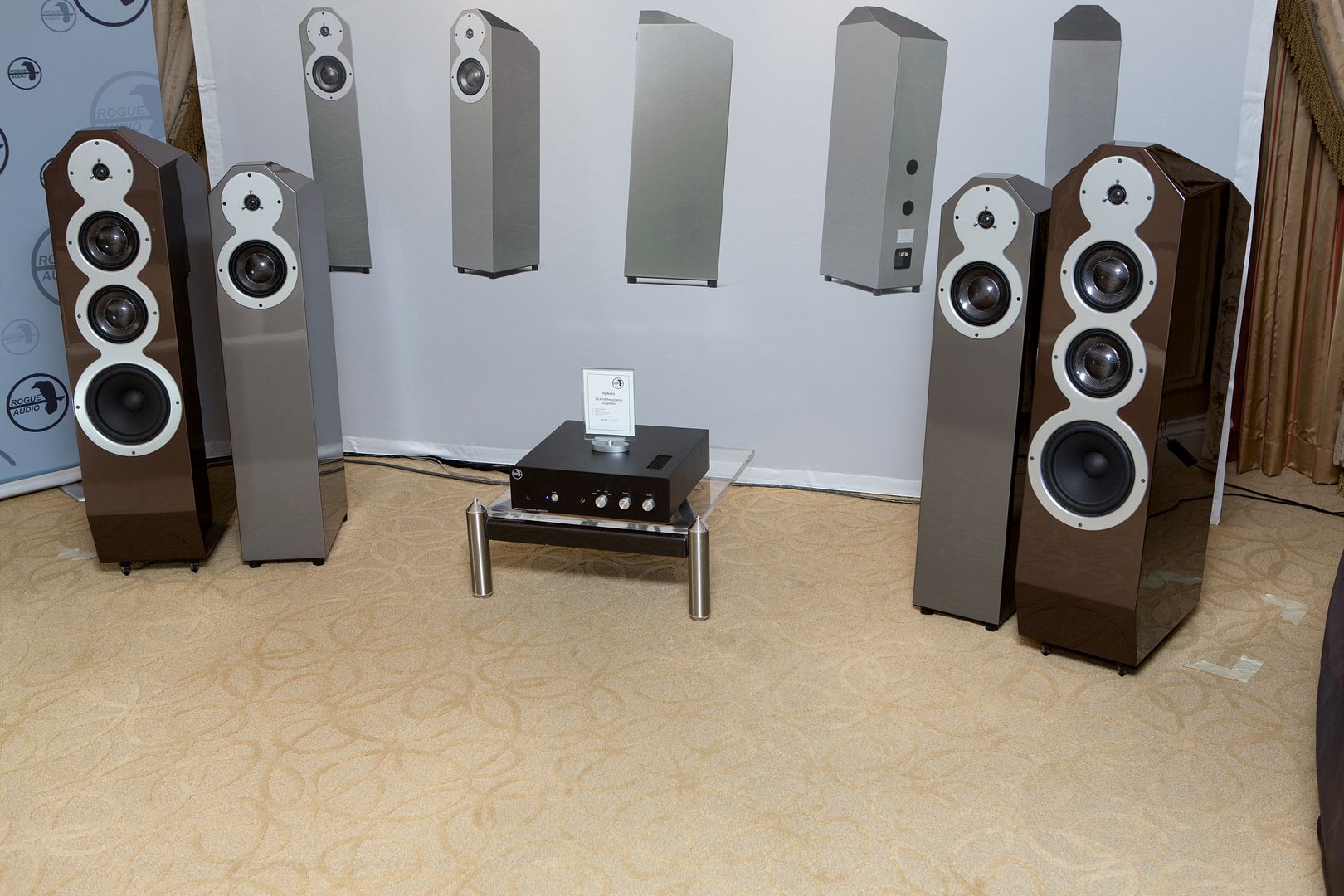 Folks, just so you know, I don't only write about expensive doodads. Okay, correction — all of these doodads are expensive, but that said, I don't only write about the ones that cost more than a Porsche. So there. Case in point, one of my favorite US manufacturers has a brand new integrated that he introduced at CES: say hello to Rogue Audio's newest, The Sphinx.
Priced at a rather reasonable $1,295 (add $100 for the remote control system), The Sphinx is a full-function hybrid tube/solid-state amp. The amp section is Class D, fed by a big linear PSU (not a switching power supply), putting out 100wpc into 8ohms and 200wpc into 4ohms. There are four inputs, one of which is a phono input, and a three outputs, one of which is a headphone jack. Of the other two outputs, one is variable and one is fixed.
Also new is the Pharaoh ($3,495), an addition to the Medusa line. "The Pharaoh boasts a 175 WPC amplifier section based on the same tubeD™ technology used in our Medusa amplifier. Pharaoh has an MM/MC phono section with adjustable gain and loading as well as a home theater bypass and a host of other desireable features."
Shown at CES with loudspeakers from Eggleston Works.
The sound in this room was a bit hard to judge — it was quite popular, sitting directly off the main hub, directly adjacent to the elevator, and the foot traffic was boisterous and chatty. From what I was able to hear, the sound coming out of those big Egglestons was really quite good — the 150lb newly-rechambered Nine Signatures ($18,000/pair) are very capable loudspeakers, and The Sphinx was making them dance in a very convincing way. If that thought makes you go "hmmm …", you'd not be the only one scratching their head. Rogue Audio does great work up there in Pennsylvania. And yes, the guts, sheet-metal and design are all done here at home. Honestly, that one is the fact that leaves me wondering at some of the general excuses I hear about US-based manufacturing and the "need" for outsourcing. O'Brien just gets it done — with his home team. "Hmm", indeed.
Anyway, great room.