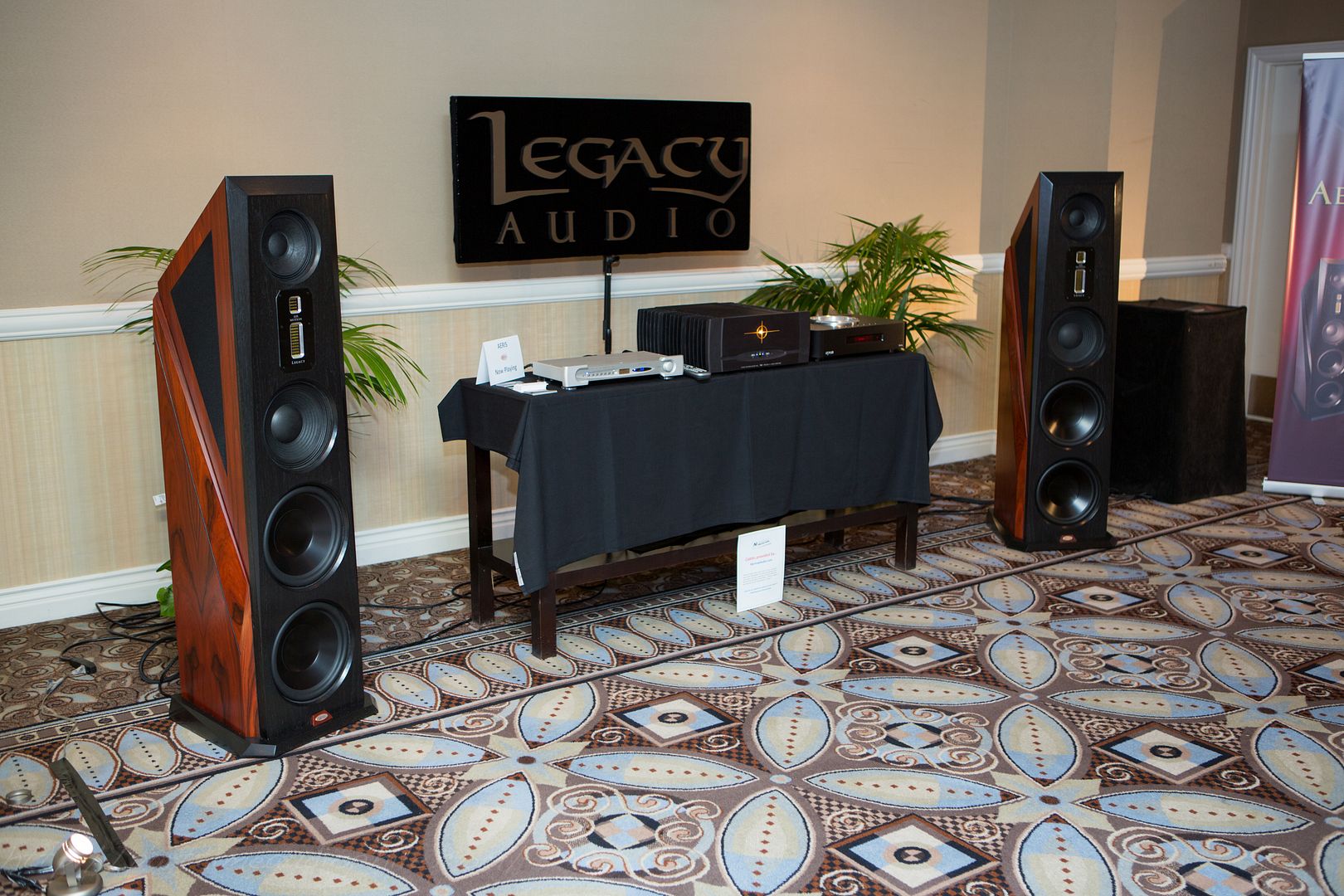 Legacy Audio's Bill Dudleston brought a ready-for-primetime version of the company's new Aeris loudspeakers that I was so struck with back in Denver. This was an incredible demo, and I was happy (if unsurprised) to see them here. The new finish is a bit more understated that the copper-bling on display at RMAF, which is probably a good thing.
In case you missed it, the $17,750/pair Aeris (exotic finishes can add $1,000) is the first Legacy Audio loudspeaker to carry the new dual-AMT tweeter units. The dual 12″ bass drivers are actually powered via an integral 500wpc ICE-power amplifier and are DSP-controlled to best enable you to get that 16Hz frequency response tailored to your room. The mid/treble drivers are all open-baffle. The result? Ha ha ha.
Legacy shared a room with CODA Technolgies including the 15.0 Stereo Amplifier ($10,000) and a CODA 07 Preamp ($6,500). An Ayon CD 2S ($6,350) provided the tunes. Bill Dudleston walked me over to introduce the source of all the cabling he was using, Morrow Audio — to say Bill is a fan is a bit of an understatement.
Morrow Audio is actually an audio dealer in Kentucky carrying a variety of high-end audio brands, and Mike Morrow himself was on hand to show off the entire suite of cables he makes under his own name and label. Prices vary with performance, but the cables used here were the following:
Speaker Cables SP7 2 meter pair ($1,499)
Power Cords MAP3 1 meter ($369)
Interconnects 1 meter MA3 ($199), MA6 ($899)