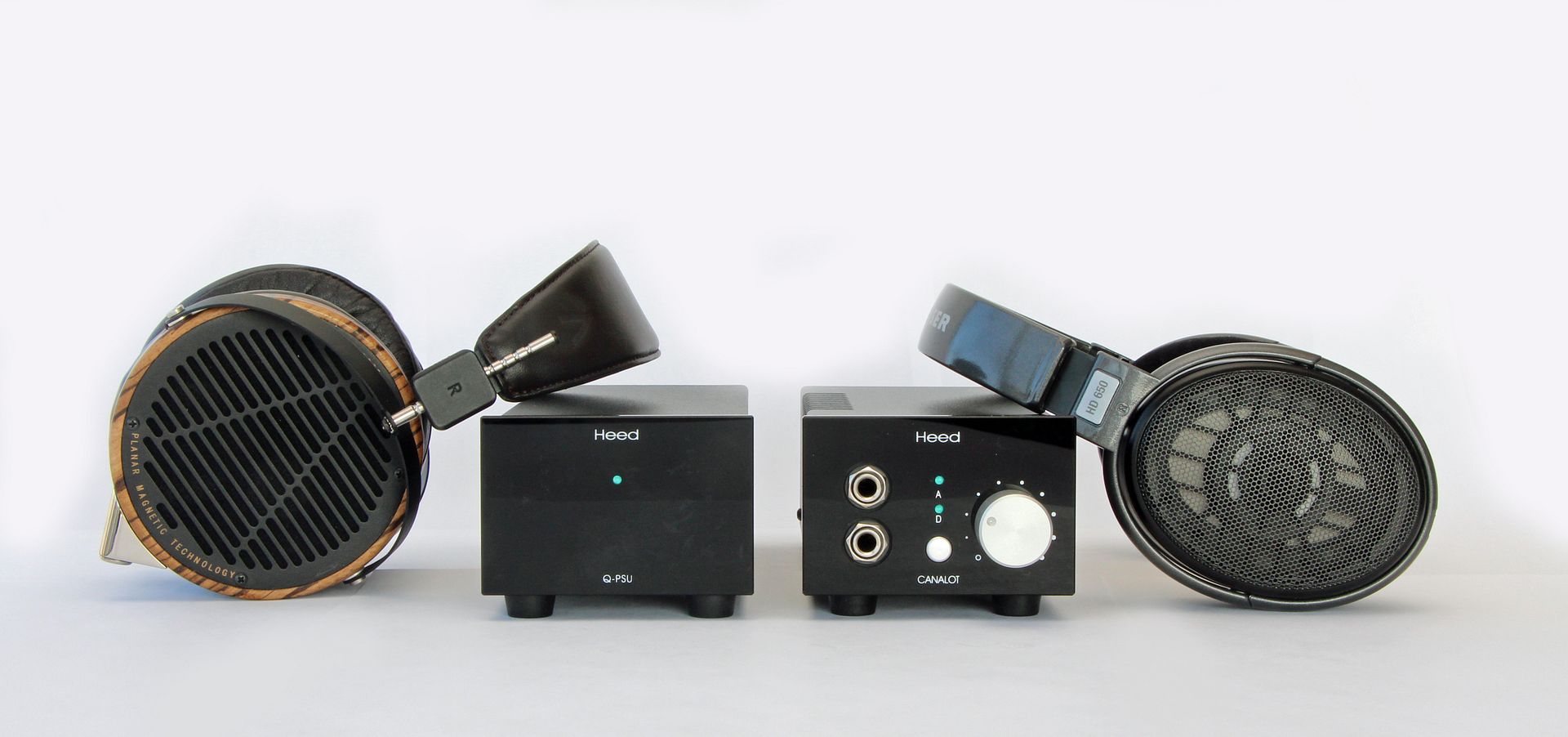 New Voices
This Heed Audio Canalot review marks the introduction of a new voice here on Part-Time Audiophile — everyone, say hello to Brian at Audio-Head.
(Hello. Brian!)
Brian's been building up his site, devoted to personal audio, over the last year and I for one can't be more thrilled to see him hit the scene. He brings a couple of interesting things to the table — one, he's got some serious familiarity with head-fi, not one of my stronger suits if I have to confess. Second, he's actually a trained videographer and photographer. Shows, doesn't it? It's a little embarrassing to publish his work anywhere near mine. Urp. Well, if nothing else, hopefully he'll encourage me to level up my game.
If we're lucky, I'll be able to talk Brian into more contributions! I'm very excited to be working with him — there's a huge field of products to cover in this space, and quite the appetite for it. Adding Brian will allow me to dig in, both deeper and faster, so you can shovel more tasty-bits into that voracious vicarious hunger for all things audio. That's me. The enabler. That's how I roll. You're welcome.
The Heed Audio Canalot
High fidelity audio component design is a wonderful thing. So much time, thought and money go into such a small, (usually) indiscreet box. Quite often, components are designed with a specific priority in mind, especially when it comes to the choice of inputs and outputs and non-priority uses get treated like an appendix. Take the inclusion of headphone amplifiers in audio equipment. That little hole on the front any consumer HT amplifier, high-end tube amp and even modern day DACs (which are even encroaching more and more on the preamp domain) is easy to find. But does the inclusion of headphone amplification in these situations do justice to our portable audio brethren? Far too often I'll run into a product that simply outperforms in its main task, but just falls down on headphone use.
Enthusiasts know that there are lots of options with personal audio, and simply including a little ¼" jack is not necessarily a one-size-fits-all solution. A solid, dedicated, headphone amplifier can ice even the tastiest cake, and while I'm not saying that I haven't heard all-in-one units with a headphone output that makes me hold on to my socks (for fear of getting blown off), it's just when something is specifically designed to stand on it's own (rather than a bolt-on afterthought), it almost always gets me closer to the ultimate goal of better sound. Enter the Heed Canalot headphone amplifier. It's a dedicated headphone amplifier intended to bring out the best in your headphones. When paired with a high-end DAC or your favorite source it is designed to bring you that much closer to audio bliss.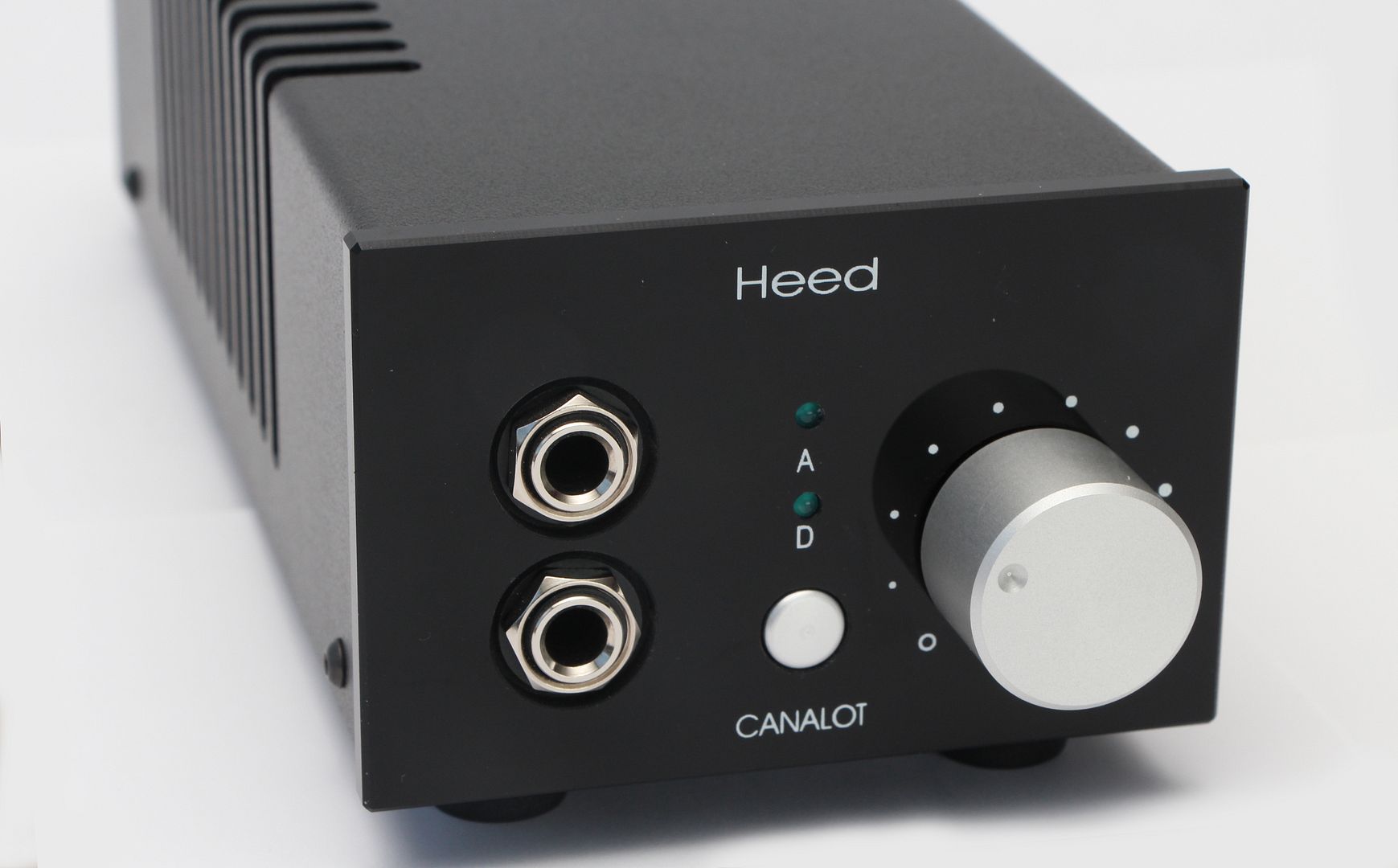 Are separate components better? Depends on your situation, needs and priorities. But one thing that can't be denied is the versatility and upgradability it allows. If you have the room and the spare change, your best bet for full size headphones is always a dedicated headphone amp, especially with all the changes/upgrades happening in computer audio. Yesterday's DAC darling is today's expensive paperweight.
So who is Heed Audio? The brand saw some early success with their original AKG 701-friendly Canamp ($480). The new Canalot has taken that original design and updated it with some serious renovations. The new creation is now a US exclusive, and offered via US distributor Profundo through dealerships across the country, including the good folks over at Blackbird Audio (the source of this particular amp).  The Canalot includes a separate outboard power supply called the Q-PSU as well as an additional headphone output (two total) and retails for $1,200. The unit I reviewed also included the Dactilus DAC card option ($400 add-on, $1600 total) with a digital coaxial S/PDIF input.
The Build
The Canalot exterior design is a somewhat unusual shape compared to almost everything else out there. The casing is actually somewhat smaller than how it appears in most photographs. Both the Q-PSU and the amplifier section closely resemble the size and shape of the packaging for a 2 lb. loaf of Velveeta cheese. The sides are covered in common audiophile black aluminum with the front panel constructed from a respectable oversized piece of reflective plastic. When placed side-by-side both pieces should fit comfortably on any desk or A/V rack. The case of the amplifier section of the Canalot is slotted to allow ventilation for the single-ended class-A amplifier, which is good as the unit does get warm. Not to the point where it's something to be concerned about, but I wouldn't set anything on top of it. On my review unit there is a single toggle button that allows switching between the analog and digital inputs (in the Dactil version). As you would expect the Q-PSU section is quite heavy for its size, whereas the actual amplifier doesn't have quite as much heft to it. Overall the build is solid and should last for many years to come. The output of the class-A amp is fairly powerful for a dedicated headphone amplifier. I found listening levels to be quite comfortable around 10 o'clock with a pair of Audeze LCD-3s. The 300 mW (into 100 Ohms) output will deliver the goods for a wide range of headphone variations. I even found acceptable usage with a pair of sensitive In-Ear Monitors. A pair of Jerry Harvey JH16s IEMs revealed a slight channel imbalance at very low levels that quickly dissipated by the time you reach normal listening volumes. Kudos to Heed for headphone versatility. A firm and well represented silver-finish knob rounds out the package for a very pleasing piece of hi-fi equipment.
The Sound
The Canalot delivers music with all the authority your cans deserve to sound their best. Out of the box I gave the Heed plenty of burn in time before critical listening. I find that burn in is important during the winter months, especially when listening to equipment that has just been exposed to the frigid winter climate of the northern Americas during its delivery. Anyway, one of the first things that struck me upon listening to the Canalot is the fullness and body it conveys. Not just power (which is does have in spades) but also finesse and grace across a wide swath of musical genres, with a slight nod of recognition to the collection of songs we lovingly call "rock music." I particularly enjoyed the nuanced energy of the pairing. The Heed brought a slight tendency for tenderness and warmth to recordings that can occasionally seem brittle and biting. Bass drum beats were offered up with equal parts texture and slam. Fast and articulate, the low-end sound of many recordings was coupled with a significant sense of believability. The Canalot makes it easy for you to close your eyes and see the foot pedal rhythmically pulsing against the drumhead. Listening to Death Cab for Cutie's recent Codes and Keys album revealed a bass section that is noticeably present, but never overbearing. With the Audeze LCD-3, the Heed got the feeling just right by allowing Nick Harmers melodic bass passages to properly dance around the driving force of the drums without ever sounding smeared or foggy. While perhaps not the end-all-be-all in low-end resolution, the Canalot hits the bass texture nail on the head for a very pleasing presentation.
Likewise I found the mids to have a nice rich overall timbre to them. Vocals sounded very natural and organic. They were not artificially pushed forward or back in the mix, but rather sat very inconspicuously where they should. Diana Krall's Cry Me a River conveyed a sense of ripe dynamics and immediacy throughout the subtle passages and did not get harsh or shouty during dynamic peaks. Moving to the treble, the musical, full-bodied appeal is firmly secured to non-fatiguing delivery that makes it very easy to listen for long periods of time. Not so much the chatter of a new acquaintance amongst the din of a crowded bar, but more the familiar tone of your grandfathers voice as he retells you your favorite childhood story. While the former may very well be more exciting at times, the latter shares a tendency for comfort and reliability.
As a whole, the Canalot offers a rich canvas without any tonal shift. Additionally it presents the same clarity and articulation that you would expect from good solid-state. While comparisons to headphone outputs from traditional budget amplifiers and source components provided an easy win for the Heed in both musicality and overall appeal, other similar priced all-in-one packages offered some additional perspective.
The Zodiac Silver DAC by Antelope ($1,900) offers a set of headphone outputs to compliment its digital desktop capabilities. While both packages offer excellent solutions, I did find the Zodiacs internal headphone amplifier sounded a bit thinner than the Heed by comparison. The Heed produced a heartier tone, while the Zodiac leaned closer to the analytical. If the two were hit men, the Zodiac's specialty would be knives, while the Heed's is a baseball bat. Both are capable of delivering satisfying results, but their technique varies. The Canalot was also capable of driving a higher overall volume to power hungry cans.
To get a better understanding of the Dactilus card option the review unit included, I enlisted the help of the trusty AlgoRhythm Solo –dB balanced DAC ($700). Connecting the digital coaxial output of the Solo into the S/PDIF on the back of the Canalot, I was able to utilize the unit as a USB to S/PDIF converter to connect the Heed to a Macbook Air. Running lossless files via Audirvana Plus (direct/integer mode) yielded competitive results for the $400 price point (for the add on) while still allowing for USB conversion versatility should you want to drop in a V-Link or Audiophilleo. Detail and focus were acceptable though the Dactil card, but the experience didn't put the S/PDIF interface at the top of the heap for digital conversion that I had on hand, suggesting that the Heed is a better value as a headphone amplifier than a full desktop DAC/Amp combo. The combination of the Canalot partnered with the full DAC use (via analog outs) of the Zodiac produced results that were as smooth and pleasing as they were nuanced. Van Morrison's' classic Into the Mystic includes some textured guitar passages to accompany the singer, even though the bass lines on the track are a bit forward in the mix. His warm voice shines with effortlessness and energy throughout the song. The intertwined guitar parts are pinned fairly hard to the sides, but their contribution to the soulful track is undeniable.
On the physical media side of things, a digital coaxial output from the Oppo 105 ($1,200) delivered acceptable quality, but was slightly edged out by the stellar internal Oppo DAC via the dedicated single-ended stereo outs. I found this Oppo/Canalot combination to be right on the money. Billy Joel's The Stranger on SACD delivered detail and dynamics with a fresh coat of liveliness. Piano, Sax, drums and vocals were all served up with firm dose of dimensionality and vigor.
Summary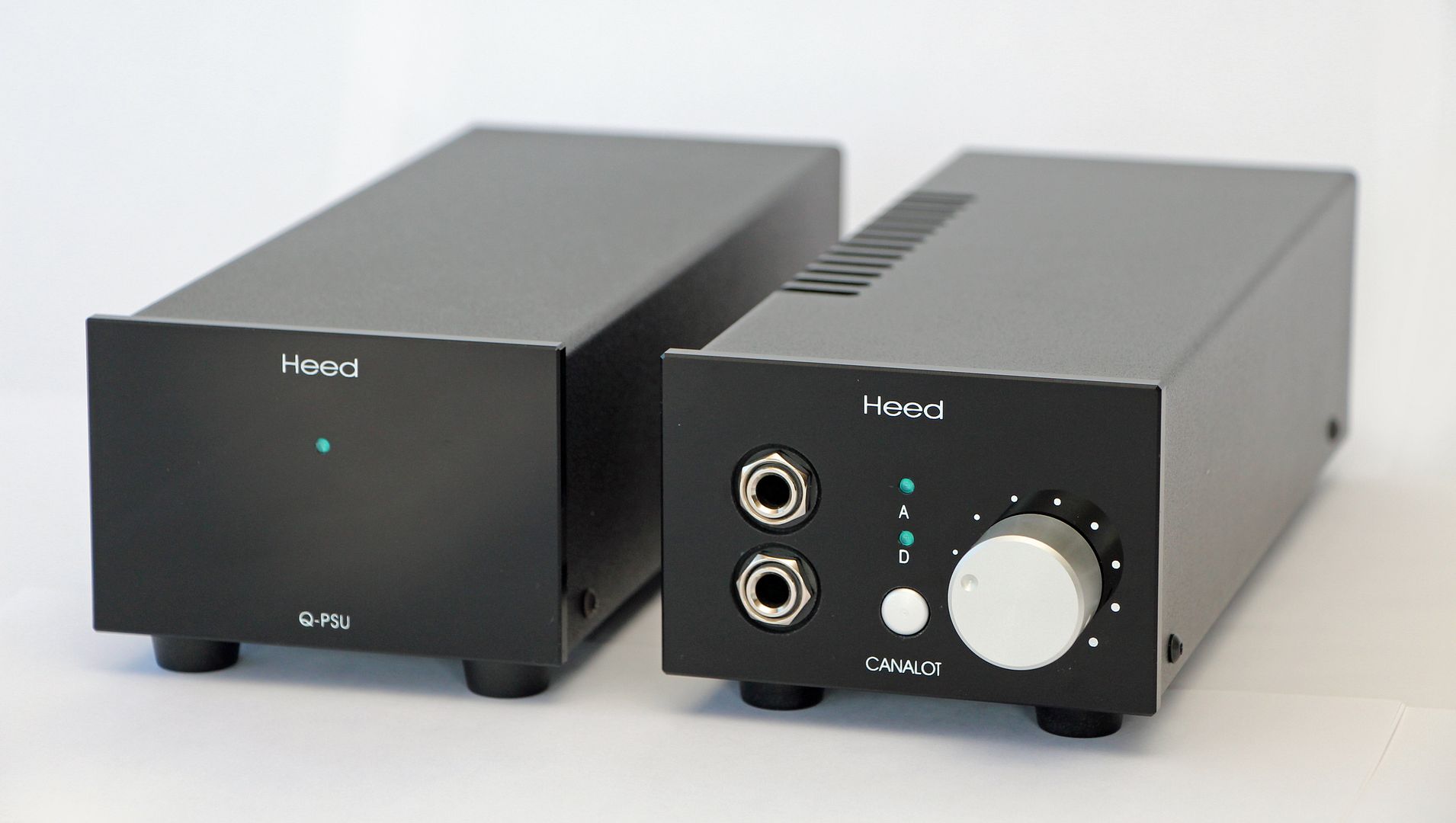 For $1,200 base the Heed Canalot has a quite a bit to contend with. A dark black background helps, as does its likable tone and potent power output. While its roots may be based in the grandeur of AKG synergy, I think the recent updates elevate the Heed's game to loftier goals. More than a mere afterthought, the design of the amplifier leaves you with a sense that careful planning and thought went into its endgame sound and cool-casual build. The Heed brings the meat to personal audio's sometimes vegetarian-like party. It serves up sonics like it is the main course, not the sweet desert that all-to-often calls for a palate cleansing. Imaging, sound staging and dynamics all fall in line behind a solid source. The end results allow for smoother textures and low listener fatigue over long listening sessions. It may not be the last word in micro detail but more often than not, delivers a full-bodied authoritative presentation that demands you give it just one more minute with your favorite tunes.
Associated equipment:
Audeze LCD-3
Jerry Harvey JH16 IEM
Sennheiser HD650
1964 Ears V6 IEM
Sennheiser Momentum
Grado SR80
Zodiac DAC (silver) by Antelope
Cypherlabs Algorythm Solo-dB
ALO International
AudioQuest Dragonfly
Oppo BDP-105
Macbook Air (current model) running:
Audirvana Plus
Decibal
iTunes
AudioQuest Victoria
Custom cables by JE Audio Design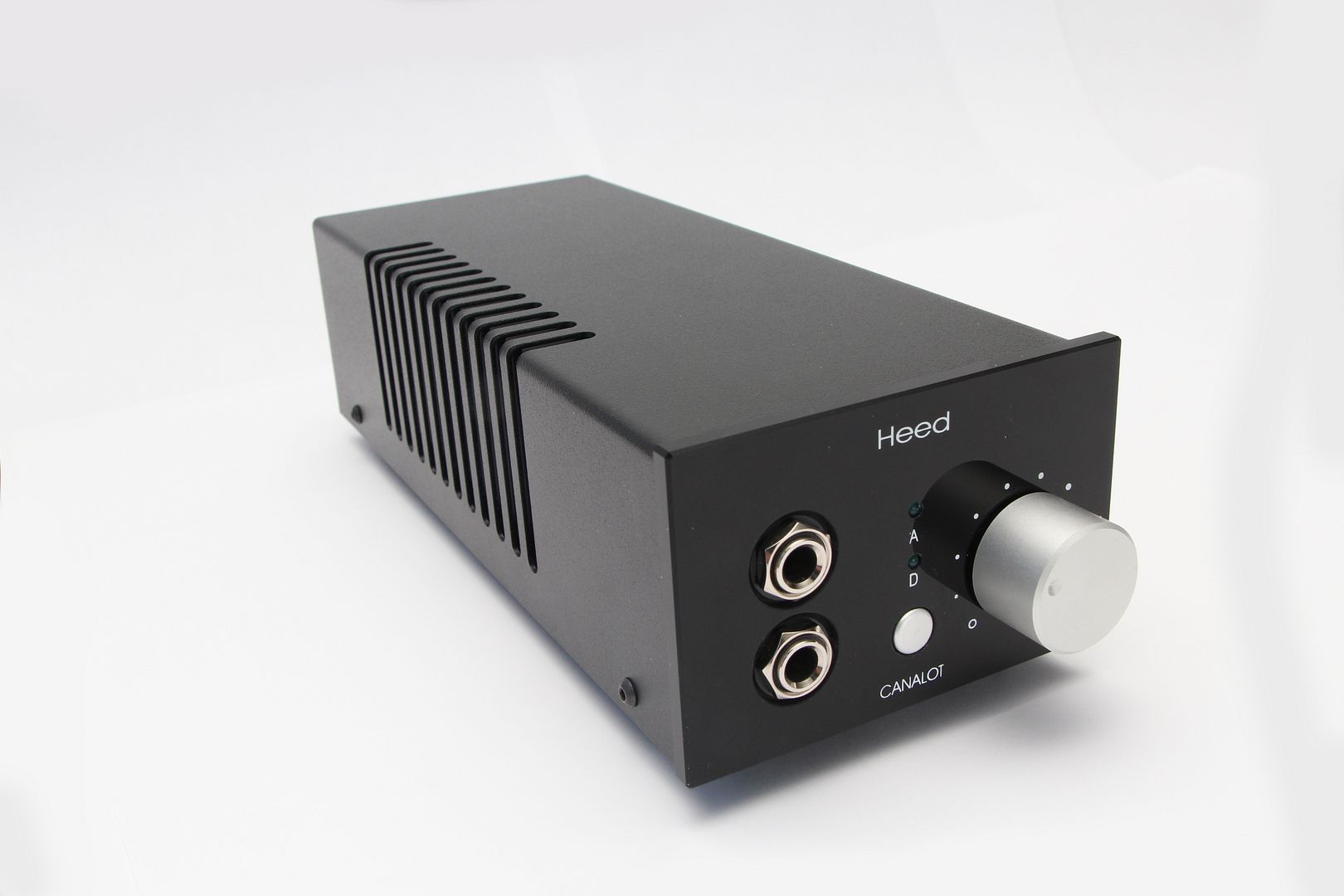 Editor's Comments
Heed Audio Canalot: a follow up
This all started when Dan Muzquiz' of Blackbird Audio suggested I "check it out" which became a "maybe you I should write about it" followed by a distressingly long slide into a "let's get a pinch-hitter in here". Spinning … and … out of control. Bam! Apologies and mea culpa. Dan, I am an ass and I owe you a beer. Maybe two. Okay, three — and an amp. Soon. Promise. No, really!
I think headphone amps are kinda like cruise control on a new car. It's an afterthought at best, and the very idea that it could be a selling point is shrugged off. When was the last time you bought (or failed to buy) a car based on the sole fact that it had cruise control? Or even heard about someone who did? Yeah. Ain't happening. But most head-amps are just like this — they're bolt-ons. Forgettable. Totally forgettable.
Or so I thought. I'm not sure if it was a Luxman, or a Manley, or a Rogue that flipped this particular bit for me, but it's really not surprising that this is where many folks first come across the rabbit hole. Once they've fallen in, something more than a crap-ass after-thought is a must-have. Once you're infected, "cruise control" isn't enough. You're ready for "lane departure warnings and "adaptive cruise control" and anything less is a let-down. So, a real head-amp? Yeah. It's a requirement.
This is where I was when the Canalot came along. Released last summer, the Canalot has an external PSU, which as we all know is audiophile for "awesome". The boxes fit easily on my desk and together, they drive the living piss out of my AKG K701 headphones — which is exactly why Dan sent the amp to me in the first place as he'd heard me whining about those sumbitches. Yes, I was bitching — the AKGs are a PITA to drive, so much so that I had actually given up and gotten somewhat used to the fact that they kinda sucked. Bass was soft or absent and the whole thing just felt tipped over and thin. Now, that can be really useful for detail retrieval — and my AKGs are, in point of fact, the absolutely most resolved "system" I had — or had heard — when I first got 'em, a million years ago. They're insane. And while the phenomena of phenomenal detail isn't unique to these headphones — it's a common trait to the genre, generally — these headphones "did detail" like no other I'd heard. A double-whammy. It's just that they were tonally … off.
Okay, so while the AKGs didn't suddenly doff their boring Clark Kent performance in favor of a sudden appearance of the Man of Steel, the Canalot did rescue my old 'phones from a painfully protracted experience with AudiogoN. The AKGs don't suck! Who knew? Not me! The Canalot brought out a strong and supple mid-bass, and while these cans are never going to be deep-bass champs, they're tonally way more interesting than they'd ever been. Score!
Switching over to my current reference, a pair of LCD-2 headphones from Audez'e, the Heed unfolded … like a … err … flower? Ahem. Anyway, yeah, it was kinda like that. The LCD-2, while not as awesome as Brian's LCD-3, still carry quite a bit of that character so I'm only a little jealous I feel confident in saying that our experiences were likely rather similar.
Tonally, I'd place the Canalot on the warm side of the spectrum, with a phat fulsome and rich bottom end, rich smoothness through the mids, and generally sweet up top. Timbre was distinctly "tube like", which is odd as there aren't any. Said another way, there's a lot of meat on these bones. Man-amp. Yeah! Grr. Ahem. Anyway, I say this because I think this is the single most egregious issue with most of the head-amps that caused me to barf on my AKGs — they sounded thin. But this amp will have you saying "Hey, I'm just big boned!"
Another thing — this is an amp you are going to sit with. Like, all day. And if my headphones didn't feel like they were trying squeeze the jelly out of my eyeballs, I'd have done quite a bit of that. Yes, I have an absurdly large melon. My mom used to tell me it was because I had to have all that extra space to stuff all my smarts. Thanks, Mom.
The optional "Dactilus" is a card that installs in the amp and provides on-board digital-to-analog conversion. This $400 upgrade has a single input, an RCA-based S/PDIF, and is based on the full-chassis Dactilus DAC and 24bit files with up to 192kHz resolution are supported. You'll just need a way to get them there. Time for an outboard USB-to-S/PDIF converter! That's a bit of a shame, these days, as it will then take another box to do that sort of conversion well. Anyway, for whatever it's worth, I found the card more of a convenience than SOTA. You know, if you're looking for a clutter-free and relatively inexpensive way to get audio into your cans, then this might be a good way to do it. Pushing the audio through the analog inputs, however, produced a more nuanced, detailed, and overall more dynamic picture, so that's how I ran it. Your mileage may vary.
As a stand-alone headphone amplifier, the Canalot is clearly better than the stable of afterthought implementations, and I will say that I prefer it to everything in any of my integrated references. I think the Canalot is a hot little number. Nice, tidy footprint, slick look and great sound? Hook it up. Got headphones that lean on the lean side? Yeah. Full stop. And … serve. Bon apétit. You're welcome.
Recommended.