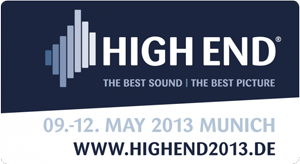 Stuart Smith over at Hifi Pig has "syndicated" (let us reference) his coverage of the High End Show in Munich. Many thanks for letting folks on the wrong side of the pond in on the action!
At the request of a good few people who we met at the Munich High End show Mrs Hifi Pig, otherwise known as Linette, will be taking a greater role in writing for Hifi Pig.
Here she tells her story of her first experience of the Avantgarde Trios and six basshorns. She reckons it was a bit of a religious experience.
 "I have spent the last 3 months working myself into such a state of excitement about getting to grips with some Trios at the show that by the time we got there I was as uncontrollable as a fractious toddler who doesn't know whether to wee themselves or throw their haribo on the floor in a tantrum!
I have lusted after these speakers for some time, I've seen/heard their smaller siblings but I want to get up close and personal with the big, bad trios and their full set of six bass horns;
I've got to the point where all I need to choose is the colour. This wavers from cherry red to the light champagne /bronze finish depending on my mood.
I have even mentally designed my 'lottery winner' house (Bauhaus inspired, open plan) around these speakers…all this amuses the life out of Mr Hifipig! 
The show being the massive beast that it is, the first day (trade) on Thursday vanished with us only having seen a fraction of the exhibitors.I had worked my way into a horn frenzy in the amazing Silbatone room and was starting to think Avantgarde Acoustic had a lot to live up to."
Read what she has to say here.