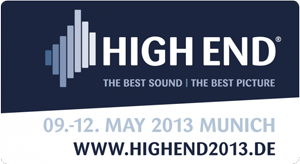 For those of you that don't know Munich High End is the hifi show to attend if you are a manufacturer wanting to get your products noticed in Europe. It's very well attended and takes place at Munich's MOC over 4 days every year. Hifi Pig were there and we have lots of photographs, comments, interviews and much more that we're sure you'll enjoy.The show is so big that it would be impossible to see every room and every exhibitor but we really did try – if we missed you out then we are sorry and we'll make sure we come along next year and see you. This is part one but we have many many more parts to add and will drip feed them over the coming week so keep checking back for all the latest from the Munich High end 2013!
JoSound and Voxativ
Jo Sound is a loudspeaker manufacturer based in Jersey and produces a handful of loudspeakers which interesting are constructed using bamboo. The top models in the company's range come with the very well respected Voxativ full-range drivers installed. We'd heard mention that the company were going to be launching a new model of loudspeaker which had been built in close conjunction with very talented Inès from Voxativ and so were quite keen to have a bit of a snoofle.
The new loudspeaker is called the Ra, deriving its name from its distinctive shape – a disc over a triangle which is indeed reminiscent of the sun (Ra) rising over a pyramid.
It's a downward firing horn design and Inès calls the horn design Acoustic Stealth Technology (AST) which she says is derived from a desire to combine the stealth fighter with the human voice – more of this later when we interview Joe and Inès.

It's not a huge loudspeaker by any stretch of the imagination and we were fully expecting a somewhat bass-light performance as the horn is just so short. We were wrong. First of all the imaging is absolutely great, but then you'd be expecting that as the Ra uses a Voxativ full-range field-coil driver. The second thing that hits you is the amount of bass that this loudspeaker throws out into the room – it is deep and well controlled and really energizes the room.

We loved the sound the new Ra makes and it's as equally comfortable playing the usual plinkity plonk piano and female voice (the usual fodder of the Hifi show) as it is bass heavy house music – this is important to us!
Price for the Ra is €35 000
We didn't have the opportunity to listen to the Voxativ range of electronics and loudspeakers as we were so pushed for time but the range on offer looks very impressive indeed and we did manage to snoofle out a few photographs for you.
Also in this update:
MSB Amplifiers and Eventus Loudspeakers
Avid and Eggleston Works
Siltech and Crystal Cables
The Varios
Read more over at Hifi Pig!