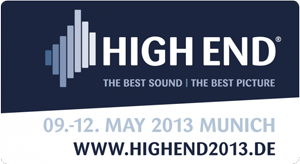 Bird: UK slang meaning a woman/wife/girlfriend, synonyms: broad, chick, dame, girl, lass.
At Hifipig.com we have a lot to say about the Munich 2013 show, but I wanted to give you my views, as a first timer who isn't a techy, doesn't necessarily know all the science bit but knows a good sound when she hears it.I also like my hifi to look great too.
Being the photo monkey of the outfit, I didn't take notes like Mr Hifi Pig who will be giving you a more in depth report of the rooms and exhibits, so my thoughts are very much based on what stood out for me.
Obviously there was a hell of a lot of kit at the show so it did take a lot for things to stand out, some really great hifi that you would be amazed by in someone's home set up, won't even get a mention but please don't take it the wrong way….I just got a bit of hifi fatigued at some points and my brain got a bit overloaded.
Right then, let's buckle up, climb through the wardrobe and down the rabbit hole into the crazy, wonderful world that is the High End show, Munich 2013.
She's got a ticket to ride
Taking the train from North West France to Munich via Paris sounds like a pretty romantic way to travel, but really we settled on this mode of transport as it was the most practical way for us to get there.
We wanted to be there for the Trade day on Thursday 9th of May so we set off, full of high spirits and expectations on Wednesday lunchtime. When I say high spirits, I was actually so excited that I didn't sleep the night before; I had some serious 'night before Christmas' syndrome going on!!
We had about 4 hours in Paris where we had dinner and then boarded the overnight train from the Gare de L'Est across France and Germany to Munich arriving at about 7.15 am on the Thursday morning.
I have to mention the hotel as it was so good it really added to the experience.We had booked the NH München Deutscher Kaiser, as it had good reviews, and was literally opposite the station.They sorted us out with an early check in so we could shower and change and then get breakfast.
It really is breakfast Nirvana at this hotel, there was more choice than I have ever had at a hotel anywhere and it was absolutely delicious, we managed to eat so much each morning that no lunch was needed so we could spend more time chatting to hifi people, result!
The service at the hotel was incredible and we have already decided we will stop there whenever we visit Munich; it really is a no brainer, if you need a hotel in Munich then book this one. The guy that runs the bar is a star!
And so to the show. The MOC is an absolutely enormous space, light and airy with great facilities, much more suited to accommodating the hordes of people that were there than a hotel.I often find hotels shows to leave you a bit hot, bothered and fractious, not the best state for appreciating hifi.
The show was split into 2 halls with stands and listening booths and then 3 areas above with rooms.We tried to do things logically so that we knew where we had been but that kind of went a bit to pot as we would catch sight of something interesting round the corner and stray from the path!
One of the best bits in Halle 3 was the 'Newcomers' stand, of which you can read Mr Hifi Pig's report of HERE; There was a real energy about the exhibitors who were launching their products and businesses here and we had a real synergy with them, being only a year old ourselves.It was a shame that we couldn't really hear the products other than the headphone amps but I am hoping that some of them will be back next year and hopefully with kit we can hear…; and yes the Rike Audio 380,000€ Mono block amps really are top on my list to hear!
I'm also really looking forward to hearing the huge square grey and white prototype horns on the Dynamikks stand, they certainly looked like they meant business and hopefully we will be able to hear these next year too.
Other standouts from Thursday downstairs included the Kondo listening booth, which looked and sounded very classy and the Alkemia Vero omni directional speakers stuck in my head for some reason, perhaps because they were all shiny and Italian and featured the very distinctive Manger driver.
Read more over at Hifi Pig!