Four of Heed Audio's minimal looking Obelisk PM monoblocks ($4200 per pair) were used to biamp Heed's odd, upward firing Enigma speakers ($4250 as shown) for a musical, social sound. The rest of the electronics were furnished by Heed and, as always, impressively liquid. An analog front end featuring a Transfiguration Axia cartridge ($2450) mounted to a Funk Vector III and the killer F-XR tonearm ($4100) fed the black boxes.
I'm never quite sure what to make of the Enigma speakers. Let's be honest: they're small speakers, and they don't try to sound like big speakers. What they seem to do well, though, is fill a room with the right tone, and they reward the right seat with an amazingly spacious presentation. But, man, they're just not big speakers.
Profundo / Blackbird / VivA / Trenner & Friedl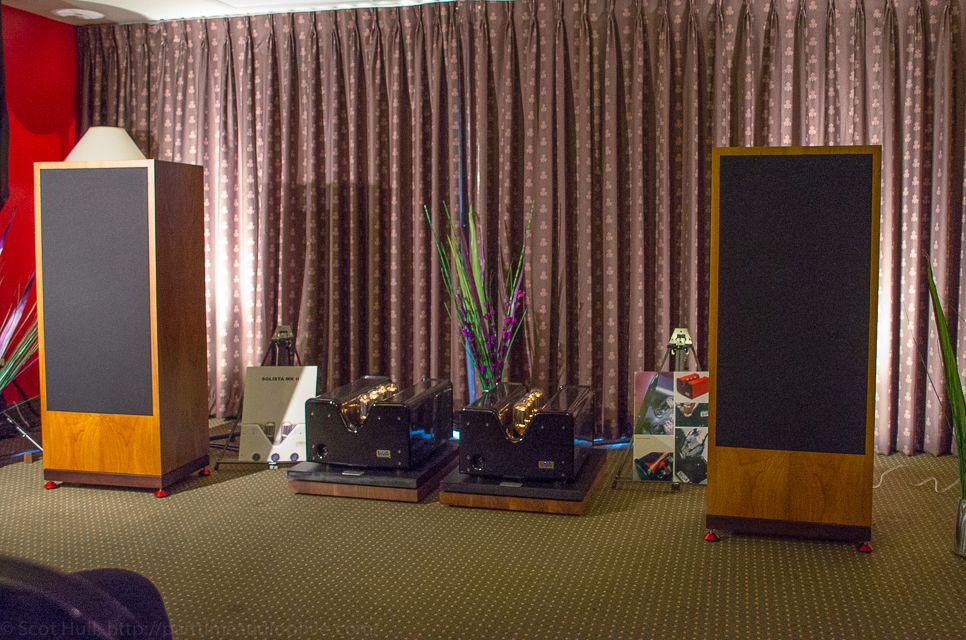 These are big speakers: four feet tall, 140 pounds, 15″ woofers, 8″ midrange, and a compression driver for the top end. The Trenner & Friedl Isis ($40k of lunch money) offered some of the best dynamics on tap at the show with none of the familiar edginess of a compression driver working too low for comfort.
Things were helped along by VivA's Aurora 845 monoblocks ($43,500) and two-box Linea preamplifier ($18,500). The source when I was in the room was a definitely-not-embarrassed-by-the-company Heed Obelisk DT disc spinner and DA dac ($1900 each).
J-Corder
Jeff Jacobs' (J-Corder) custom decks were theoretically the stars of this room, but the massive rack, the vast array of dancing blinkenlights, the oh-so-pretty Vivid K1 speakers, and the permanent horde of stunned onlookers made it impossible for me to get a comfortable seat to settle in and drool. The party in this room spilled out into the hall all weekend.
Exelway
Makeshift scaffolds full of tiny speakers seemed almost out of place in a show with so many perfectionist systems. They were playing their sound bar when we walked in, and it did indeed make sound from what seemed to be a very small bar. Exelway.
True Audiophile
True Audiophile and Aaudio imports teamed up to in the atrium to show a system anchored by the new, 24 watt Audion Sterling 120 integrated amp ($4175). The single ended KT120 was actually making a respectable show of driving the 91db, 4ohm Capriccio Continuo Auralea 309 speakers ($7995).
This room also provided an interesting learning experience. The Human Audio digital Tabla and Muto digital front end ($995 and $1199 respectively) were fed through a $4500 DEQX Mate processor, allowing visitors to hear what digital room correction can do.
It was an educational room.
deHavilland
You'll forgive the even-blurrier-than-usual picture, I hope. As I was trying to remove my thumb from the lens, one of the good folks from Snake River laughingly asked me to take a shot of the power conditioner. He was joking. Now he will pay.
This was a special room. In some ways it was a death-defying room. Sonist Concerto 4 speakers ($6000) were featured in a very special "cigar" color in memory of their creator, the late Randy Bankert. Fortunately, those same good folks who were so proud of their power strip are the good folks who've made sure that Sonist speakers are still coming to us. At 97db, these are some of the more efficient and lively speakers you can find.
This room saw them powered by a full complement of Kara Chaffee's remarkable deHavilland electronics. Power amps were the KE Model 50a monoblocks (around $11k per pair), and the front end was utterly insane 222 Tape Preamp refitted for phono duty. How insane? $2300 insane. It's unbelievable for the price. Kara Chaffee shrugged and said, "it's just a tube circuit."
Possibly even cooler was the Pete Riggle Woody Tonearm ($1600) sitting on the George Warren turntable (starting at $4200). Pete Riggle was nice enough to indulge my tonearm fetish by walking me through the major features of his arm. I think it's enough to say that it seems to have been designed by someone who has been burned too many times. It seems quite possible to adjust every operational parameter while the arm is in use, and the knobs used for those adjustments are easy enough to grab and fiddle with that you could probably do it in the dark. Even the constrained pivot is unusual. I'll just send you to his website for more details. The usually too-familiar Denon 103 sounded superb.
And, of course, the arm is a looker in person. I wish I'd thought to take a picture of it.
But the Snake River cables are super pretty, right?
Magico
Magico was showing off their small S1 speaker ($12,600) driven by a full array of the remarkable Constellation electronics (call it $100k-ish). The S1 in the setup was one of the most convincingly musical small speakers that I've heard — just unbelievably full bodied for their size. If your pockets are deep, but your room is small, there are many worse ways to spend your money.
This room stunned me so hard that I seem to have forgotten to take a picture. Next door, however, Magico had their products on static display. I remembered to shoot something there. Please enjoy this picture of a neglected S5 sitting alone by the doorway.
Einstein / Sonorus / AudioMachina
Einstein teamed their The Source CD player with their The Amp integrated amplifier to power AudioMachina's new CRL monitor ($10,000 per pair). The CRL is the middle monitor in the AudioMachina range, and provided a convincingly dynamic sound when listening to CD. The real treat, though, was the tape deck by Sonorus Audio that was rolling around the side of the room. I hadn't even noticed it until Karl Schuemann gave us a big grin, a wild stare, and said "Let's try this." We stayed for a while.
Audioengine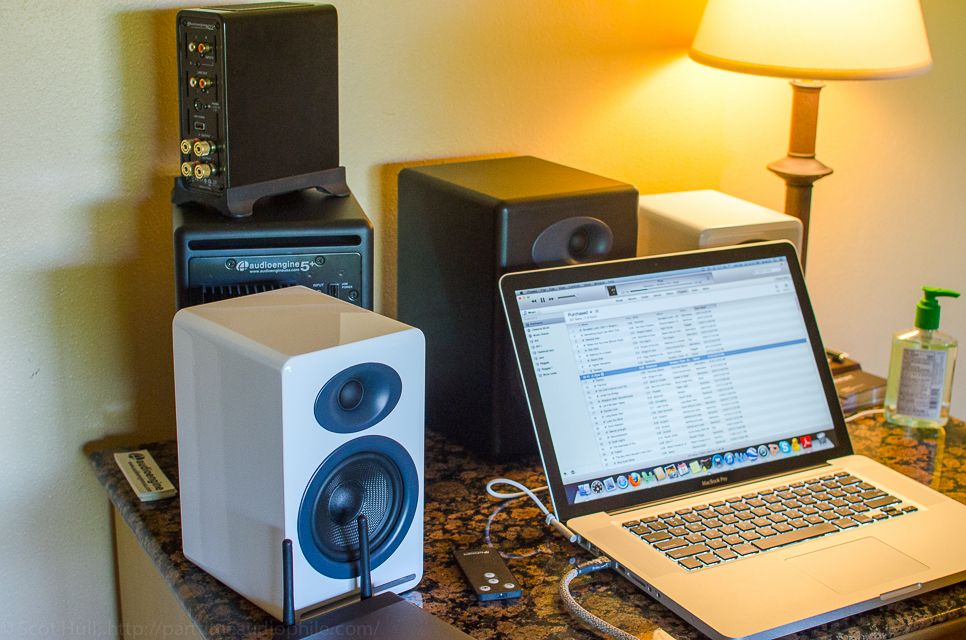 Audioengine had a room filled with their small speakers, tiny products, friendly folks. Everything in their room is listed on their website, and their pictures are better than anything I could take. If you haven't heard these yet, get to it. It shouldn't be hard — they're approaching ubiquity.
Acoustic Zen / Triode Corporation
Anyone who's attended a recent audio show knows what to expect from the the pairing of Acoustic Zen and Triode. The difference this time was the addition of the TRV-DAC ($2500) to the system for a healthy infusion of microdynamics. This is always a fun room.
The table full of integrated amps may have been even more exciting.
— Mal Kenney