An audio show may be the way some of us hear gear, but, after a while, it's the madness and enthusiasm of the people involved that becomes a large part of the draw. A few of those folks were kind enough to stand almost still long enough for me to take a picture of them.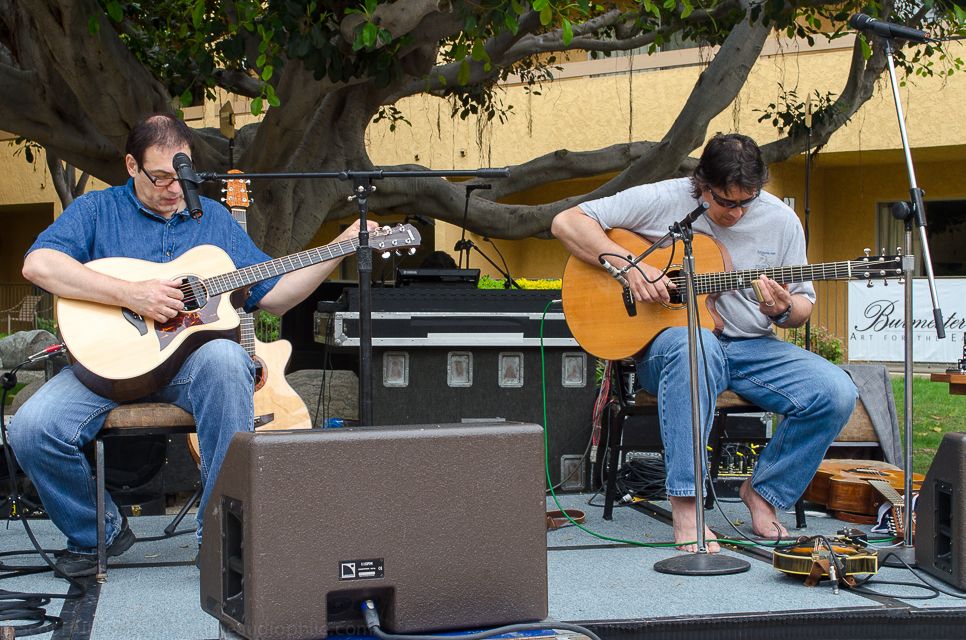 Keith Knight and Don Alder make up the Extreme Guitar Duo. I laughed at the name when I saw it in the program, but then I got sucked into listening to them. These gentlemen definitely made some of the best sound of show.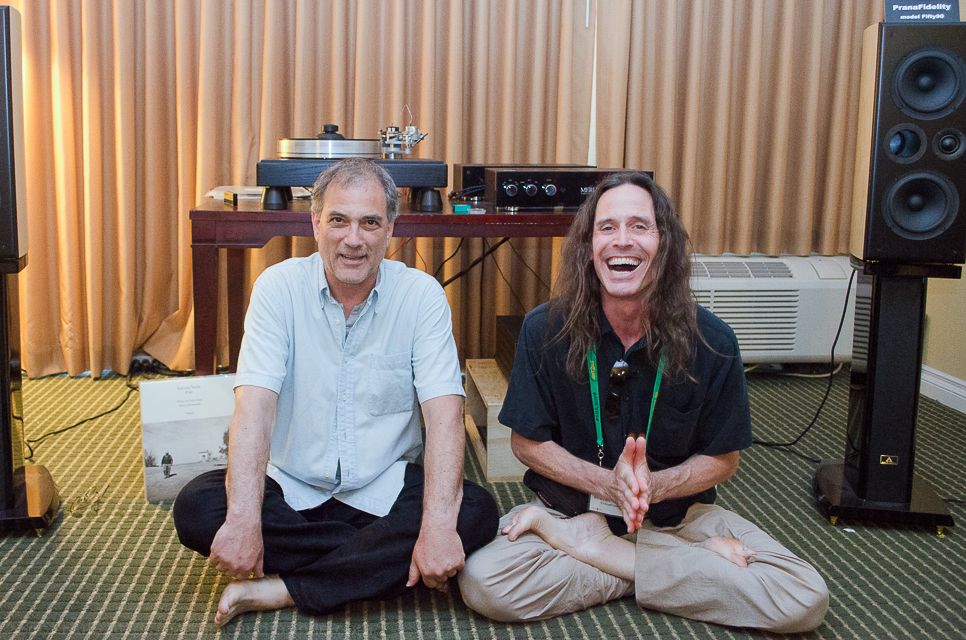 The two gentleman who, at the end of Sunday, were most gleeful about the prospect of sitting down were Todd Garfinkle of MA Recordings and Steve Norber of PranaFidelity. If you wondered why the shot of the equipment in this room was a little… well… awful, it's because there was too much fun to be had watching these two grouse and laugh their way into this statesman-like pose.
Todd spent the weekend hustling around his furnace of a room trying desperately to keep up with the steady stream of audiophiles looking to buy his recordings. The sound in this room made it perfectly clear why they were lining up.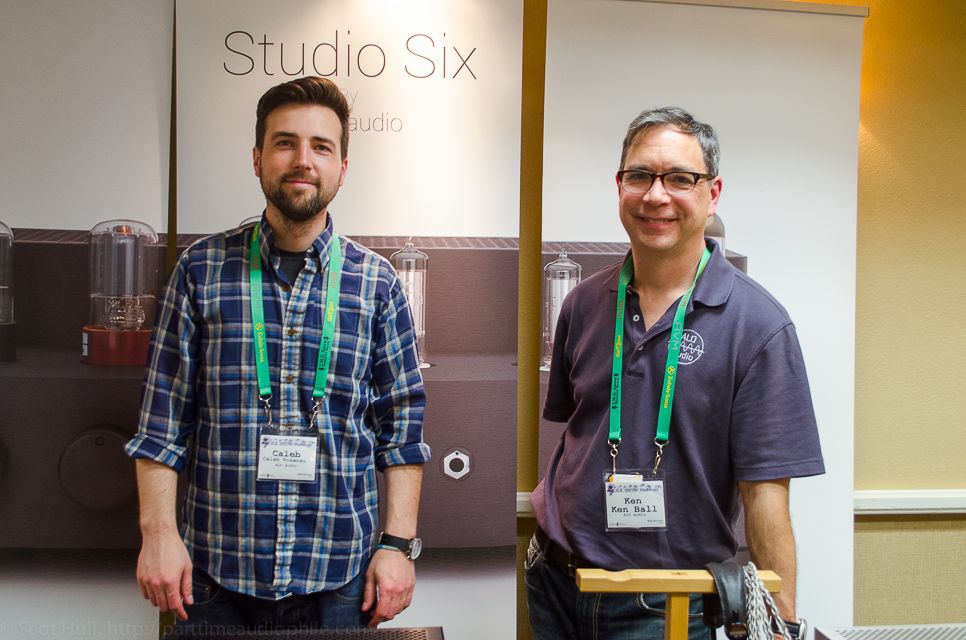 Caleb and Ken of Portland's own ALO Audio were proudly showing off their new Studio Six can amp and gamely suffering a steady stream of Angelinos quoting Portlandia. I sympathized. The amp is a bit of a masterpiece, but Caleb, with characteristic understatement, described it as "pretty good."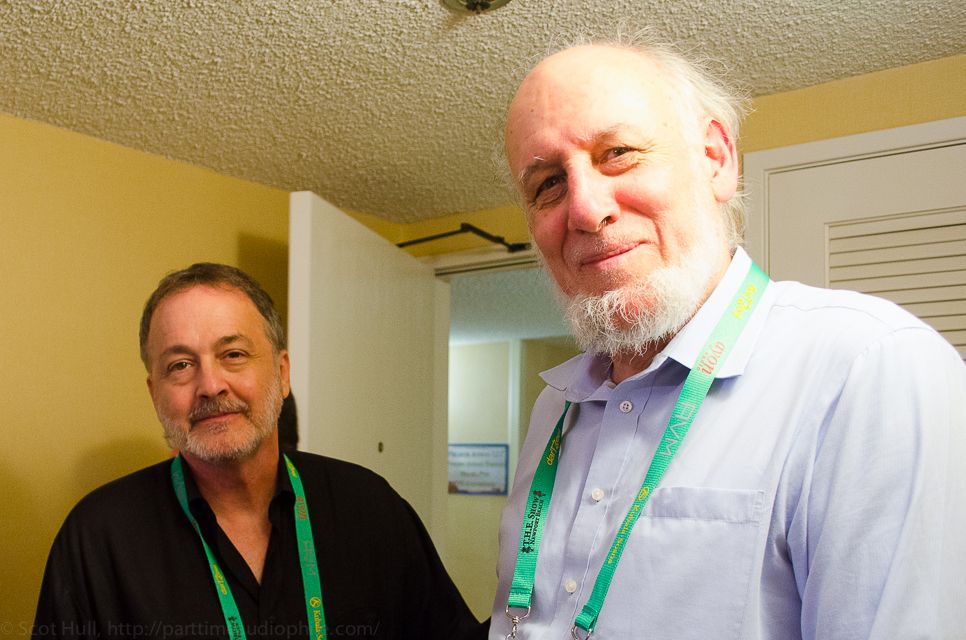 Dan Meinwald and Tim De Paravicini manned the EAR USA room. Tim's creations don't need any introduction, but Dan's efforts to showcase them need to be lauded. The man has a gift for showmanship and the kind of taste that makes it seem easy.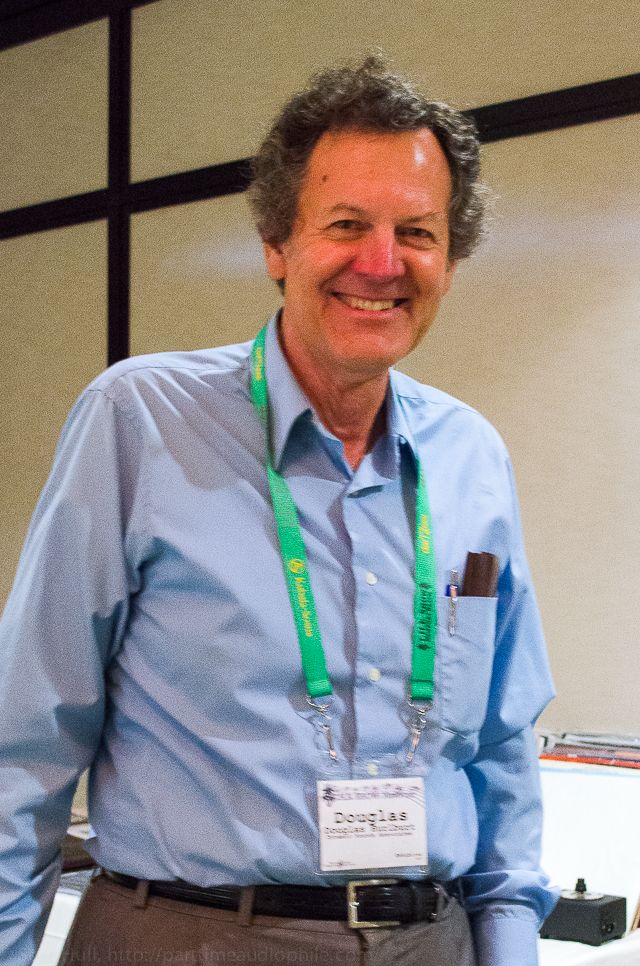 Douglas Hurlburt of DSA stood by his exceptional phono preamp all weekend. Since his preamp was playing through headphones, his only clues to the sound were the expressions on a single listener's face. When concentration gave way to excitement, you could watch him beam a smile from across the room. When he wasn't watching carefully, he was sharing his knowledge with anyone willing to talk. A brief chat with him was one of the high points of the weekend.
The amazing Vanimal Manley dropped by the Atrium — and everywhere else! — to spread the good word.
Jason Stoddard of the infamous Schiit Audio manned his company's booth all weekend, swapping stories and gladly taking the time to teach newcomers about what he does. Seated in the background is the inimitable Mike Moffat. I don't think Mr. Moffat would object to be described as a man with opinions.
These don't seem like the kind of folks capable of resting on their laurels.
KEF Evangelist Johan Coorg might be the most infectiously enthusiastic man at these shows. He's a musical omnivore, an easy conversationalist, and a man who enjoys his fun. It's almost impossible to catch him without a grin on his face. I believe this picture was taken after someone suggested that he play more Diana Krall.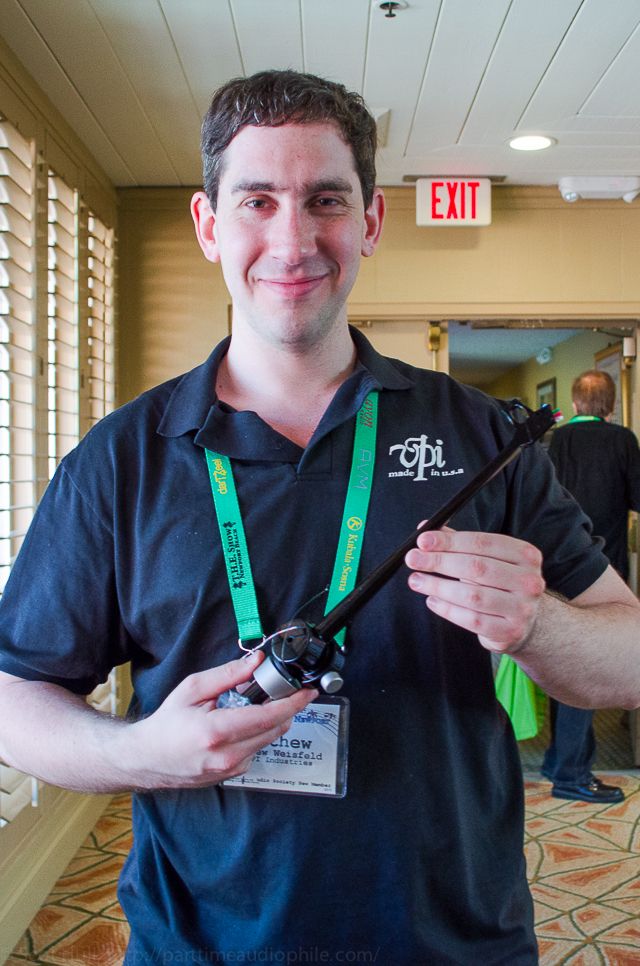 Easily winning this year's "Dave Brubeck Take Five Memorial Award for Ubiquity at a Stereo Show" was Mr. VPI himself, Mat Weisfeld. It was impossible to walk down a hallway without bumping into Mat. If you bumped into Mat, he whipped out his 3D printed tonearm for a quick proud-papa shot. On Friday, it might take him a minute to unpack the thing. By Sunday, the man was a ninja. Before you could blink, you'd be faced with a tonearm and a confident grin.
He was everywhere. It was almost spooky.
— Mal Kenney