— by Paul Ashby
Dedicated to Bill Smith (1959-2013)
Broderick & Broderick (self-titled)
10″+CD, Team Love, US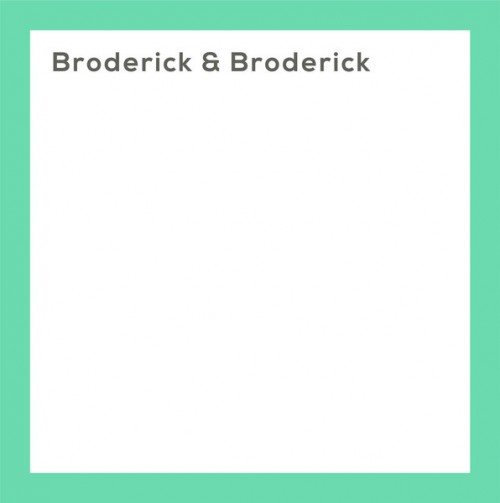 This is one of those rare recordings that appears with little or no fanfare, nestles comfortably onto the turntable and gently bends ears with its understated grace.
Efterklang multi-instrumentalist Peter Broderick is joined by his (hertofore) studio-shy father Steven for these six songs. Instrumentation: nylon-string guitar, violin, viola, bass, organ, piano, banjo, voice and — on the album's opening, the instrumental "Four Cats, Three Dogs, Several Ducks and a Rabbit" — a musical saw. This is fortunate, because an unmusical saw would've marred an otherwise lovely song.
Peter's sister Heather contributes vocals to track two, "Let Me Love You For Free" (you can check it out on SoundCloud, here). The refrain's multitracked descending harmonies are sweet, lyric waterfalls. When Heather's brother sings the last verses, the contrast completes the song and brings it to a touching close.
For all their delicacy, the first two songs are the most structured; the rest of the tracks are relatively unadorned. There's sparingly appropriate use of some airy drones ("Ashokan Farewell") and well-integrated, field-recorded environmental sounds. Side two of the vinyl pleasantly meanders. The album ends with a wordless, muted version of "Let Me Love You For Free" entitled "Let Me Love You Again." It's a melancholy drinking song (I'm taking liberties, here) and a near-perfect conclusion to a perfect-enough album.
I hesitate to call these songs "ditties," but a good portion of the release might qualify, especially during/after a distracted first listen. Me, I like Broderick & Broderick best on long highway journeys. The last time I was on a particularly tough, lengthy stretch of local freeway, I found it necessary to play the CD twice in a row. At the end of the grueling trip, I felt nearly civilized, and the drivers around me seemed less sociopathic– and I was left wanting more (the songs, not the bad driving). I don't often feel that way about a road-trip soundtrack.
The package is as unassuming as its contents: a simple matte-finish white jacket with a light green border. The back cover overflows with Peter's liner notes, which give the listener a familial perspective on the project. The recording quality is erratic — there are, I think, mic-bumps and footfalls that occasionally disorient — and the pressing quality is … okay. Maybe okay-plus. I wouldn't argue with a 24/96 FLAC of the album.
This 6-song EP is only available on 10″ vinyl and conveniently includes a CD, which has the same songs that are on the vinyl. I bought it directly from the label, Team Love. You should, too.
Friedman & Liebezeit, Secret Rhythms 5
2xLP, Nonplace, Germany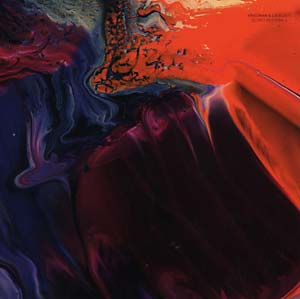 Burnt Friedman is the recording persona of German producer/musician Bernd Friedman. This is the fifth in an ongoing series of instrumental collaborations with Can drummer Jaki Liebezeit.
These songs are blissfully short on melody and lovingly long on rhythm. I can't envision a more appropriate drummer than Liebezeit for this project; along with Neu!'s Klaus Dinger, there's no one else in rock percussion who make the phrase "keeping time" seem like such faint praise. Liebezeit lays down an untouchable blend of meter and feel. The vibe is propulsive, but not relentless. The tracks aren't especially tuneful, but aren't unlistenable. The presentation is starkly attractive; repetitious, yet with no hint of monotony. Well-seasoned. Provocative.
A couple songs make me flash back to the backing track of Tom Waits' "Clap Hands", albeit with a more caffeinated tempo: metal drums. Kalimba. A beat some might venture "lazy" if not for the humanely syncopated mesh of sound. On certain tracks you can barely hear a musician nose-breathing on the right channel. There's something hypnotic and, yeah, pulmonary going on here – Friedman and Liebezeit could probably get away with 45-minute long jams of this sort of thing. It's testament to their restraint and taste that they can bottle this Teutonic voodoo in dosages of four or five minutes.
In terms of pressing quality: made in Germany, two 33rpm discs with two songs on each side. The mastering is much — MUCH better than average. Friedman is very hands-on in this regard. The pressing quality is good, not excellent. Side two had some once-around-the-disk pops on track one. I died a little during those clicks, but I'm better now.
Listening to all of Secret Rhythms 5 in one sitting might be a challenge, especially if you require something hummable now and then. But it's excellent background music, and it stands up to active listening (especially on headphones), as well.
U.S. mailorder: Forced Exposure
EU/world mailorder (Nonplace label)
Locust, You'll Be Safe Forever LP
Editions Mego, Austria
You know how a friend will be talking about a friend, and say something along the lines of "I like the guy, but there's something about him that's a little….off…" …and his voice will trail…off?
You know?
Locust is Mark Van Hoen, he of the UK Van Hoen-alter-ego Locusts (not to be confused with The Locust, they of the San Diego grindcore The Locusts).
I like Mark's music, but there's something about it that's a little…off. And that's the reason I enjoy this new recording of his.
You'll Be Safe Forever is a weird album, bless its heart. It's instrumental and electronic, with rhythm machines, loops, and samples. It's synthetic music with a heart, but that heart maybe has a significant murmur and, probably, some hardening of its arteries and okay, it could probably use a pacemaker, or something. But then it might start sounding like, I dunno, John Tesh. Not a good thing.
So Locust's music pumps along determinedly, but there's an element of dysfunction that lends something unpredictable to the output. And I get the sense that the title of the album is meant to be ironic, because You'll Be Safe Forever's mood stood in line twice when they were handing out "foreboding."
Van Hoen likes brief, disembodied samples of voices, especially female ones. He warps the files, loops them, then uses the altered snippets as topping for backing tracks of analog synth sequences and pads. Sometimes the whole souffle is sopping with doppler echo and spiced with just the right amount of tape hiss. Sometimes the tracks have a hefty helping of dub inspiration – I'm thinking more "Technodelic"-era YMO than Sly & Robbie, though.
There's a lot of this sort of stuff out there. It's easy to do, and difficult to do well. Laptop recording has democratized electronic music to … well, a fault, at times. Van Hoen, however, has a feel for melody and composition missing among many of his peers. After a listen or three the tracks become songs, and the tunes stick with you. The best ones have a dreamlike (maybe even nightmarish) deja-vu quality.
You don't necessarily have to be in an altered state to enjoy You'll Be Safe Forever, but it's not going to hurt. Of course, that's pure speculation on my part. I haven't field-tested this approach. Those of us who're OD'd on life itself might find Locust takes the edge off. Or makes things weirder. This album is as creepy as the universe intended; no more, no less.
Pressing: excellent. Quiet. wonderful bass. Packaging: usual Editions Mego label graphic ohh-ahh joy.
Also: if you can find it, Locust's debut, Weathered Well (Apollo UK, 1994) is worth the search. A partially beatless affair, it was released while an increasingly ambiguous "ambient" dance subgenre was creating an indistinct musical wave. Van Hoen was having none of it; Weathered Well's moody, heavy atmospheres were more unsettling and ominous than twinkly and relaxing. The lead-off track, "Prospero", is ideal for showing off your subwoofer(s) to folks who pine for "deep" instrumental electronic music.
High Spin Zone
Aidan Baker, Already Drowning LP (Gizeh, UK)
Janet Feder, Songs Without Words LP (self-released, US)
Mountains, Centralia 2xLP (Thrill Jockey, US)
William Tyler, Impossible Truth 2xLP (Merge, US)
Peter Jefferies, The Last Great Challenge In A Dull World LP (De Stijl, US – reissue)
Bruce Langhorn, The Hired Hand LP (Scissortail, US – reissue)
Blaze Foley and the Beaver Valley Boys, Cold Cold World LP (Secret Seven, US – reissue)
Codeine, Frigid Stars 2xLP (Numero Group, US – reissue)
About the Author
Paul Ashby spends his days maintaining digital content management, sales and social media at Revolver USA, an independent music distributor. He intermittently dotes upon his blog, Anything But MP3, and has contributed to PS Audio's PS Tracks site and Tower Records'PULSE! magazine.