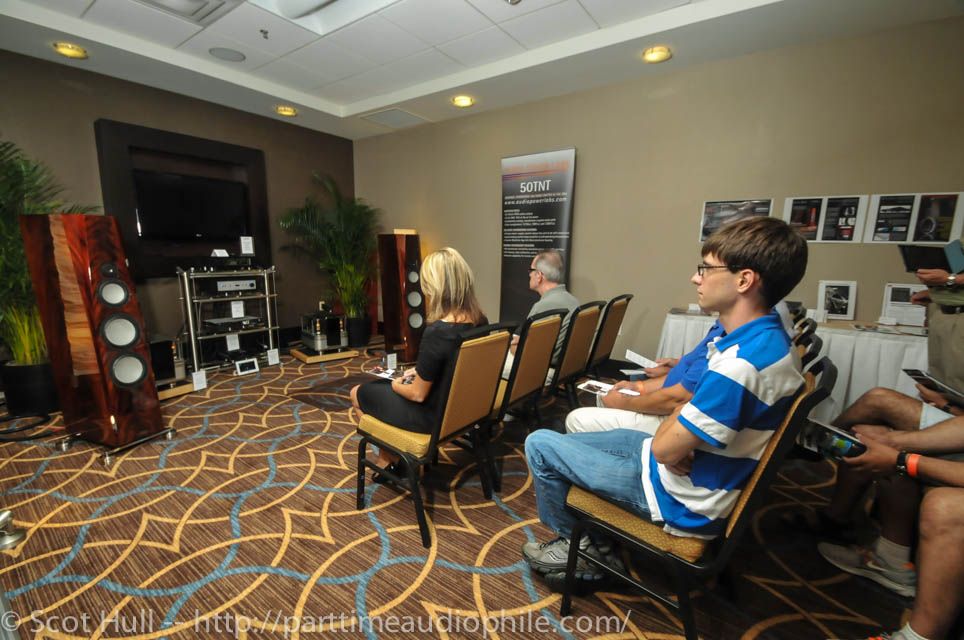 It's nice to see my TIDAL Audio's Contriva Diacera SE loudspeakers ($64,190 with polished veneer) whenever possible! So nice of Doug White of The Voice That Is to bring them down for us to drool on. His extra-special pair were the first ever made (Serial #001 and #002, respectively), and they've got this extra-special, super-duper, ultra-fancy, the-won't-do-it-anymore-because-it-was-too-much-of-a-PITA finish. I think TIDAL designer Jörn Janczak told Doug that if he ever sold them, "bad things would happen". Not that he will — this is the nicest finish I've ever seen, anywhere, on anything. It's astounding. 
Shown here with an Aurender S-10 source, fed into a Bricasti M-1 DAC ($8495) and from thence into an SMc Audio VRE-1c preamplifier ($19,950). The "baby" Audio Power Labs 50TNT amplifiers ($47,500/pair), with their enormous 572B output, tubes put 50 watts into the big TIDALs. Plenty, especially for this absurdly small room. Hopefully, next year we can get these guys some breathing room. Lovely, delicate sound when the room allowed it ….
Purist Audio Design cables used throughout ($14,720 for the set), including a mix of Aqueous Aureus and Corvus interconnects, Corvus XLR and power cords. Aquilla digital AC power cords were on the sources and a Purist 25th Anniversary AES/EBU.