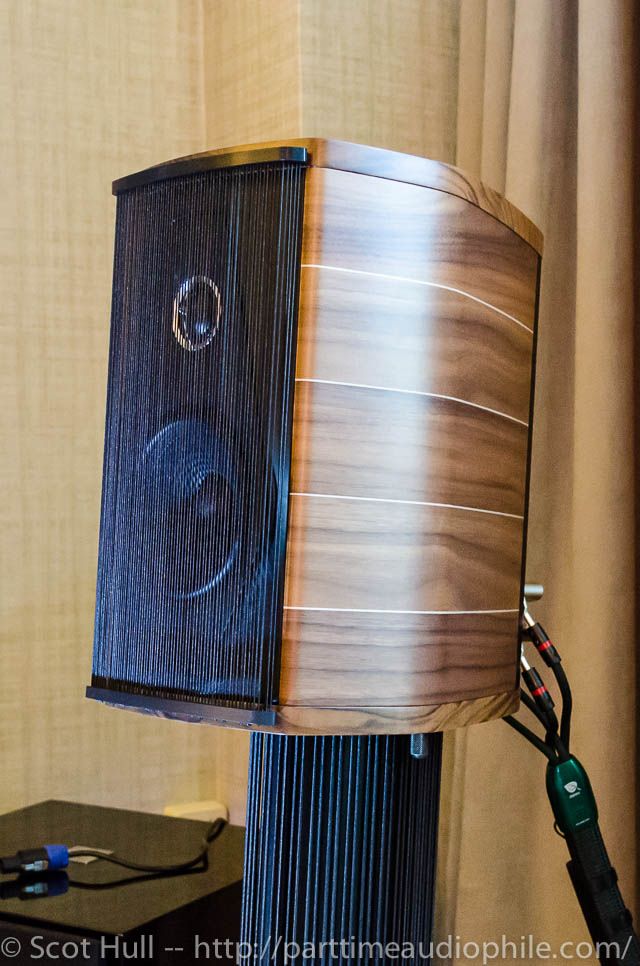 Another from Music Lover's Audio: CAS4 marked the premier of Sonus Faber's beautiful Olympica I standmount speakers ($6,500, or $7,700 with stands). These beautiful speakers were paired with Audio Research's Vsi75 integrated amplifier ($8,000), Audio Research DAC8 ($5,000), Pro-Ject's Stream Box DS ($999), and, for analog purposes, a Pro-Ject Xtension 10 with Blackbird cartridge ($3,699). The Audioquest Dragonfly DAC ($199) was also in use in the room. Cables were by Audioquest.
These speakers are exceptionally good-looking and offer clear treble and mid-range. They sounded a bit lean in this room, but they did not strike me as lightweight or overly tipped up in the treble. The Olympicas and Audio Research are sympatico, allowing the strengths of the speakers to shine without undue coloration. If my writing seems a little vague on this count, it's probably because my recollections are, as well — this room was consistently full enough that we had difficulty in gaining access to take pictures, particularly since I haven't perfected my "Stand aside, I am an Important Journalist!" moves yet. Because of this, my notes are shamefully scanty. Next time: nunchuks.
As well as the buzz surrounding these new standmounts, there was also considerable buzz (if you'll pardon the pun) over the Dragonfly DAC. As at T.H.E. Show in Newport, folks were exhibiting a lot of curiosity and enthusiasm for this mighty mite!