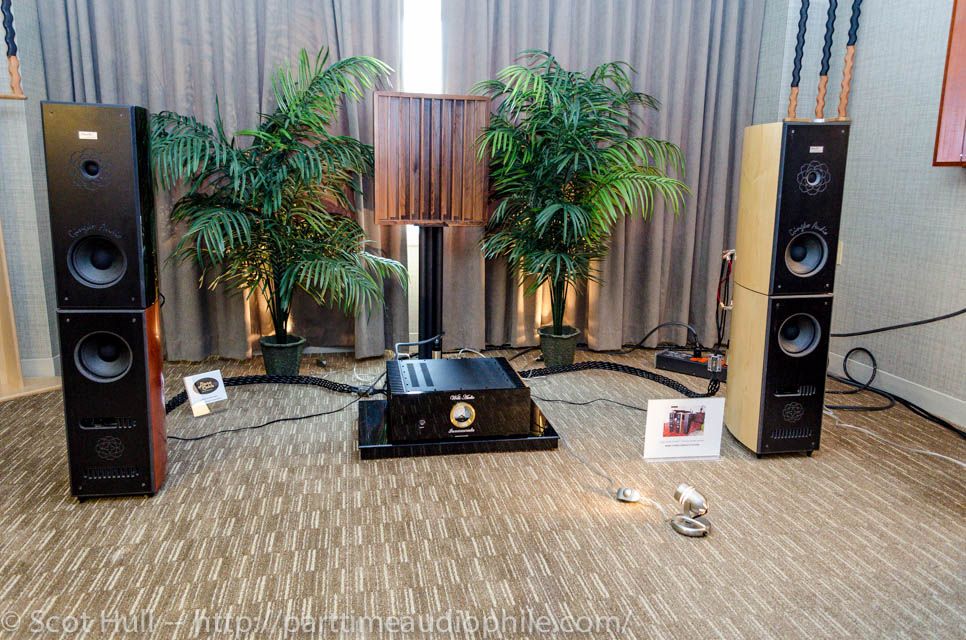 Folks who read my show coverage from T.H.E. Show in Newport Beach this year will remember that I was very favorably impressed by the combination of Chapman Loudspeakers and Wells Inamorata amplification. I was excited, therefore, to revisit the Wells Audio sound.
The Inamorata ($6,500) was paired this go-round with Gingko Audio's ClaraVu 7 modular speakers. These unique speakers consist of monitors ($3995/pair) that can be purchased separately or in combination with matching powered sub modules ($2,990/pair). The rest of the equipment consisted of a modified Jolida Fusion preamp, a modified Music Hall DAC, and a CD player of unknown vintage. The interconnects were by Dana Cables, the power cords by Paragon ACT. Gingko isolation platforms were used throughout.
Jeff Wells, being the gentleman that he is, invited us to put on some music. I imposed on his hospitality by selecting "Bhindi Bhagee" from Joe Strummer & the Mescaleros' Global a Go-Go. While the recording isn't the best (I find the CD a bit "dark" and lacking in clarity, although the LP is excellent) it's a fun test track because there are so many layered musical elements: flute, synthesizer, live percussion, drum machine, guitar, singing, spoken word… you get the idea. The system here easily achieved the propulsiveness I associate with this track, leading to some foot-tapping and head-bobbing from others in the room, and the performance was admirable. I thought I detected a bit of bluntness or thickness on the decay, but that could possibly be chalked up to the less-than-stellar mastering on this CD, since I do not recall noticing this when I have listened to the Inamorata in the past. Clearly the only solution is to listen to this gear as often as possible!
The Wells Inamorata was garnering a lot of buzz at this show, and I think it's well deserved. In addition to the Inamorata and its little sibling, the Akasha, Jeff Wells tells me that he has a preamp in the works. No word yet on when that'll be coming down the pike, but I'll be watching — and listening, of course!