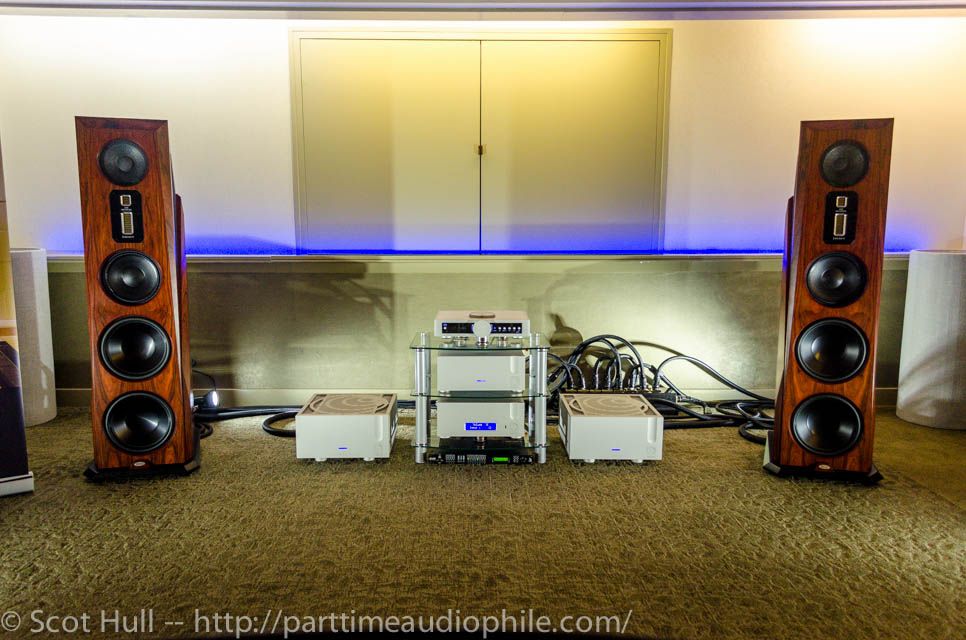 "I want you to go to the Legacy room," Scot said. It was probably midnight on the East Coast. I couldn't imagine why he thought he'd need to tell me that.
"You're high," I said.
Legacy Audio had joined forces with Aaudio Imports to fill a conference room on the second floor. The Legacy Aeris was to be fronted with some primo gear from BMC and Ypsilon. According to the Internet, the truck carting those goodies to the show had encountered some enterprising thieves with fairly esoteric tastes. I had this image in my mind of the Legacy guys being forced to procure a Goodwill Special receiver just to power their system, and of my being forced to write "show conditions" one more time. Either that or the room would be closed, and I'd wind up standing in the hallway taking pictures of a locked door.
"Just go to the damn room, Mal. Take pictures."
As you can see, the room was filled with primo gear from BMC and Ypsilon. Well-broken-in replacements had been obtained. The show would go on. There would be no need for me to write "show conditions," and I could finally learn the true meaning of Christmas.
Or something like that.
The imposing Aeris ($19k) is a partially active speaker. The bass section is self-powered, while a traditional, passive crossover handles the mid-and-up section. Sitting between these two, you'll find a Xilica DSP crossover — a pro model that is, I think, unjustly underrepresented in HiFi forum chatter — to handle the big crossover, room correction, and system tuning.
As for the other electronics, BMC's belt-drive BDCD ($5k) was on hand for disc spinning. DAC duties were handled by Ypsilon's DAC-100 ($29k). The preamp was an Ypsilon PST-100 ($37k). The mids-and-up were powered by Ypsilon's Aelius amps ($36k). Like I said earlier: primo gear.
We finally got a chance to snap some pictures and listen just a few minutes before the show opened on a Sunday morning. I was surprised by how well-integrated the sound was coming from such behemoths, but I was even more surprised by just how lean everything seemed. It came across as a very nimble, very giant standmount. Soundstaging seemed a bit to the larger end of "lifelike," possibly verging on "gargantuan," but that just made it seem a bit more fun that "realistic" would have been that early in the morning. The dual AMT tweeters certainly did justice to the Ypsilon gear's lack of grain, and the grab-and-shake tactility from the 10″ midwoofer almost rivaled the Burwell & Sons horns for immediacy. Still, though, they were so very much leaner than I could have imagined.
"Crap," came the shout, "I forgot to turn the amps back on."
Leanness? Gone. What leanness? This system projected a massive sound front. This was the kind of bass that would make you forget your name. For quantity and impact, this was the most immediately impressive low-frequency performance of the show.
It was pretty easy to see why Legacy has so many fans.