Admittedly, this was the room I was most excited to hear. Why? Well, this would be my first ears-on exposure to Joseph Audio's newest family member, the Perspective. Announced back in January, Jeff Joseph told me yesterday that the Perspectives have a targeted MSRP of $11,800 and first-customer-ship should happen in September. "I've got to get these out. People have already ordered them!", he said. "So, they'll ship in September. Or December." I think he was kidding about that last.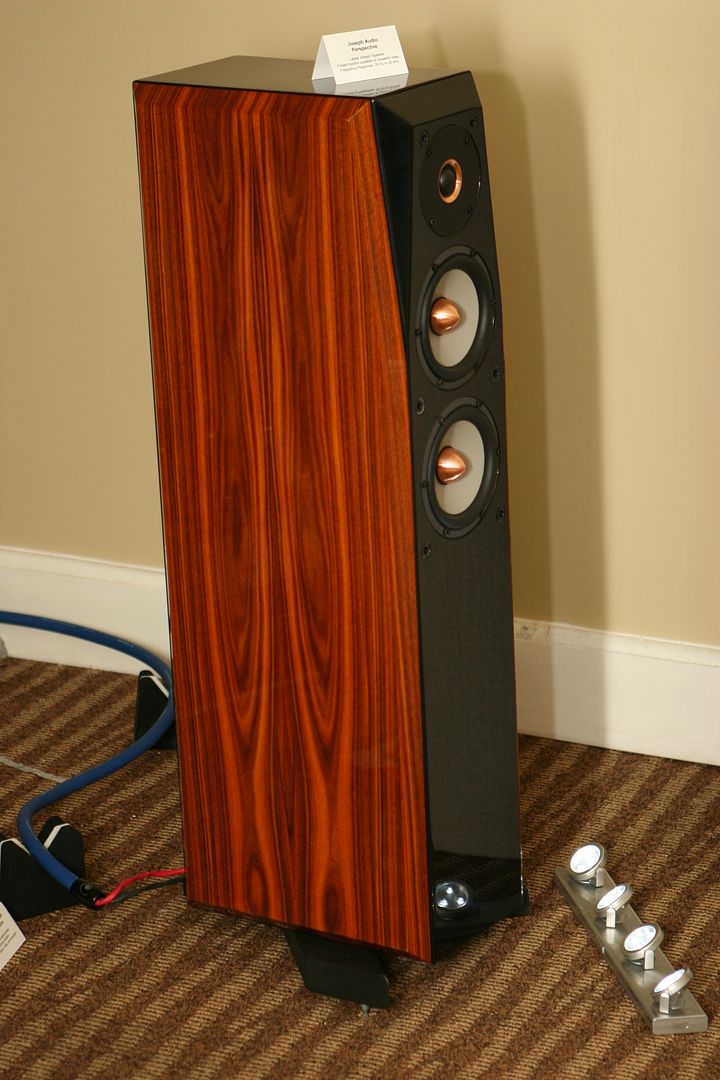 I got a good earful early Friday afternoon. Jeff Joseph was running the room when I got there and I was immediately treated to a bone shaking rendition of "St. James Infirmary" — not SPLs, but bass, and tons of it. The Joseph "house sound" was on full display here, and I was immediately struck as how closely the new Perspective matched the very familiar Pulsars — and added a much more authoritative lower register. Still not reaching anywhere near the depths of the more than 2x expensive flagship, the Pearl 2s, the Perspective, however, has extraordinarily capable bass. Like the rest of the line, the sound from the Perspective is very much a front-row experience, and like it's sibs, it shows great 3-d imaging. Admittedly, I'm a fan, but boy-howdy, this is one sexy sound!
Contributing more than a little to the sultry sexiness in this room were a pair of very well sorted Manley Labs Snapper monoblocks. These 100wpc EL34 amps plumbed each frequency extreme without hiccup, hesitation, or strain and turned out a very immediate, muscled and nuanced presentation. What a powerful combo!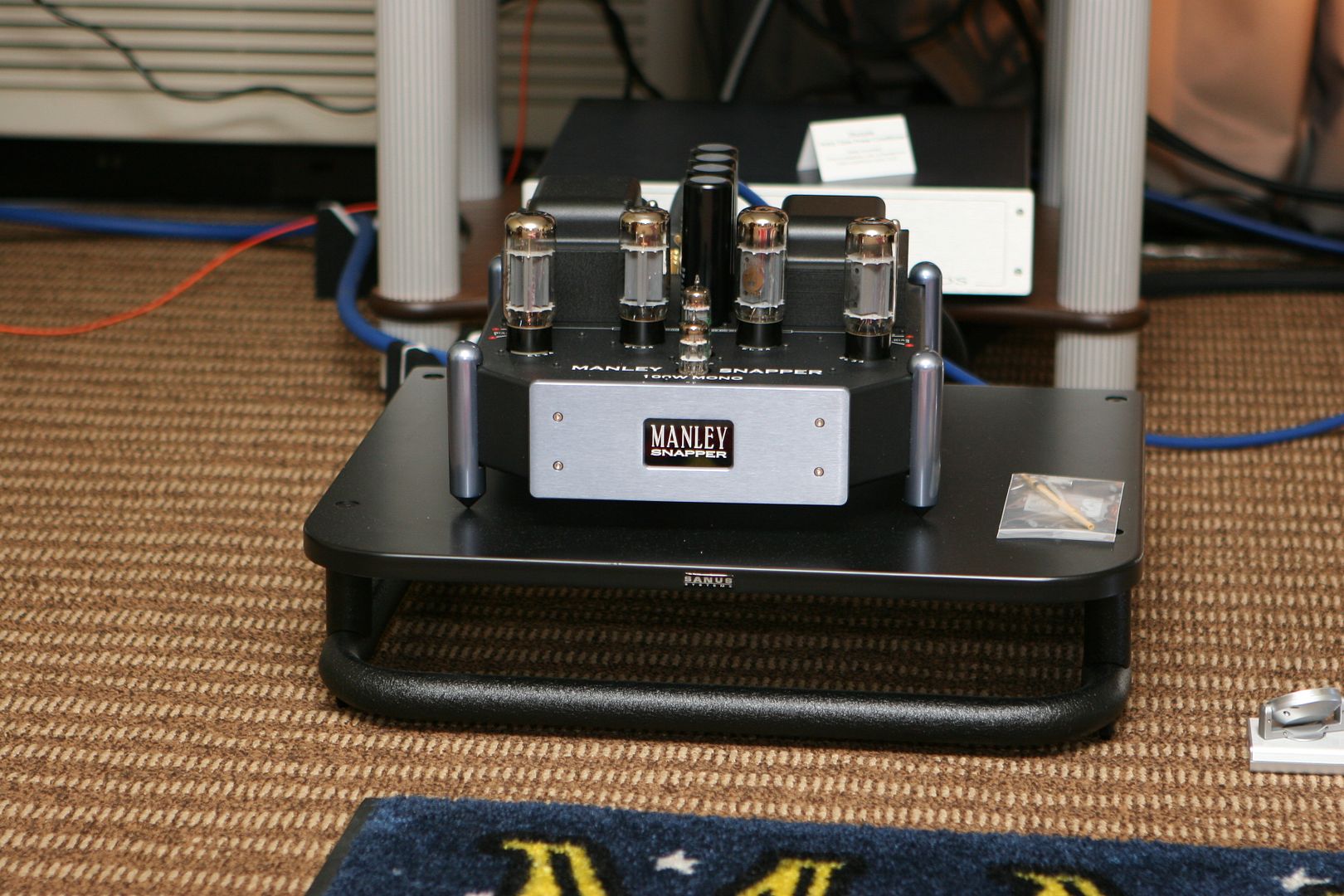 A VPI Classic 3 fed a Manley Steelhead phono stage, which in turn powered one of their Jumbo Shrimp preamps. Everything was wired up with Cardas Clear Light cabling and sat firmly sprung on a Solid-Tech rack.
Check out the Soundsmith Zephyr cartridge, specially made for VPI 'tables!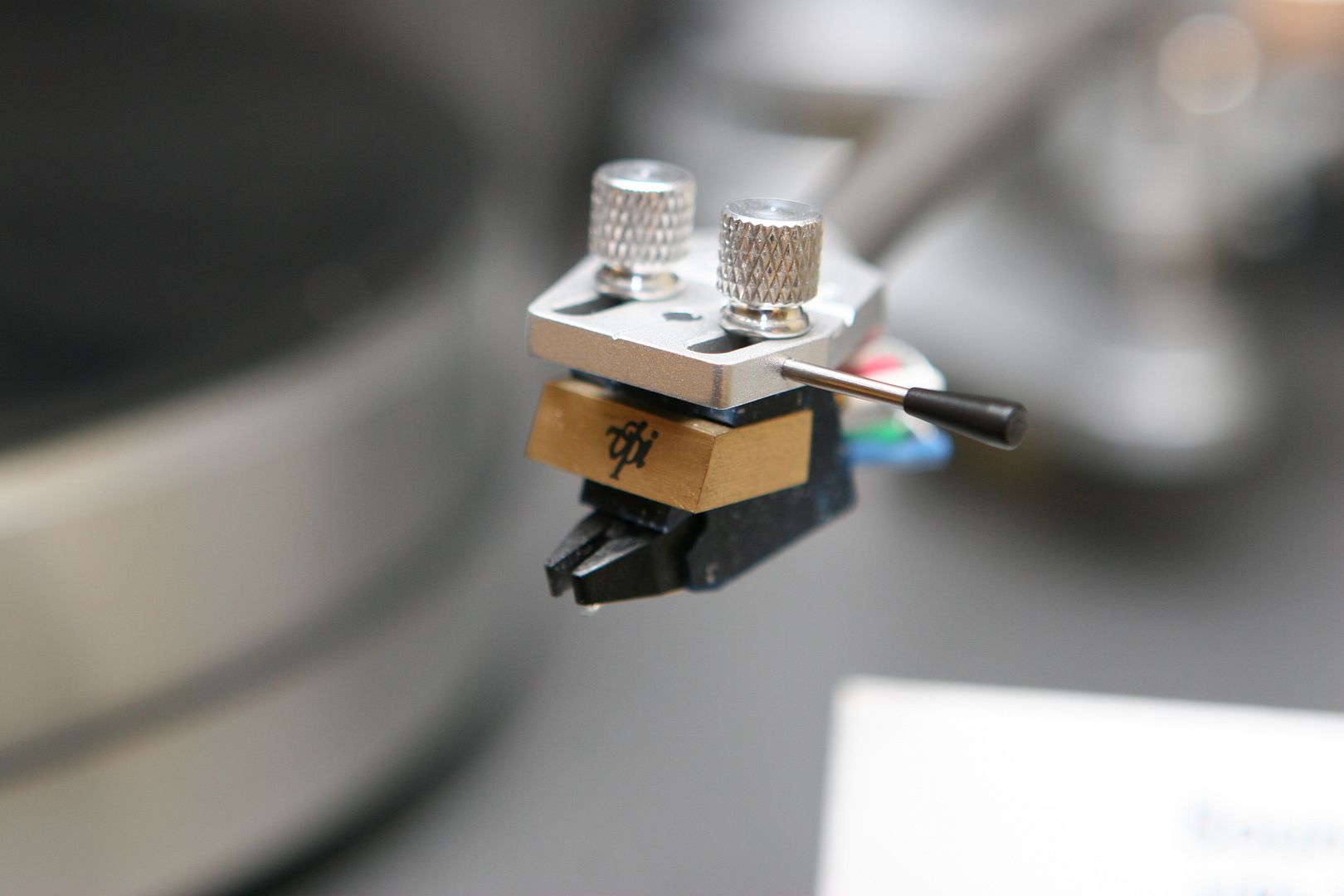 Have you met the JA crew? PJ Zornosa (JA distributor) and Jeff Joseph, below left & right.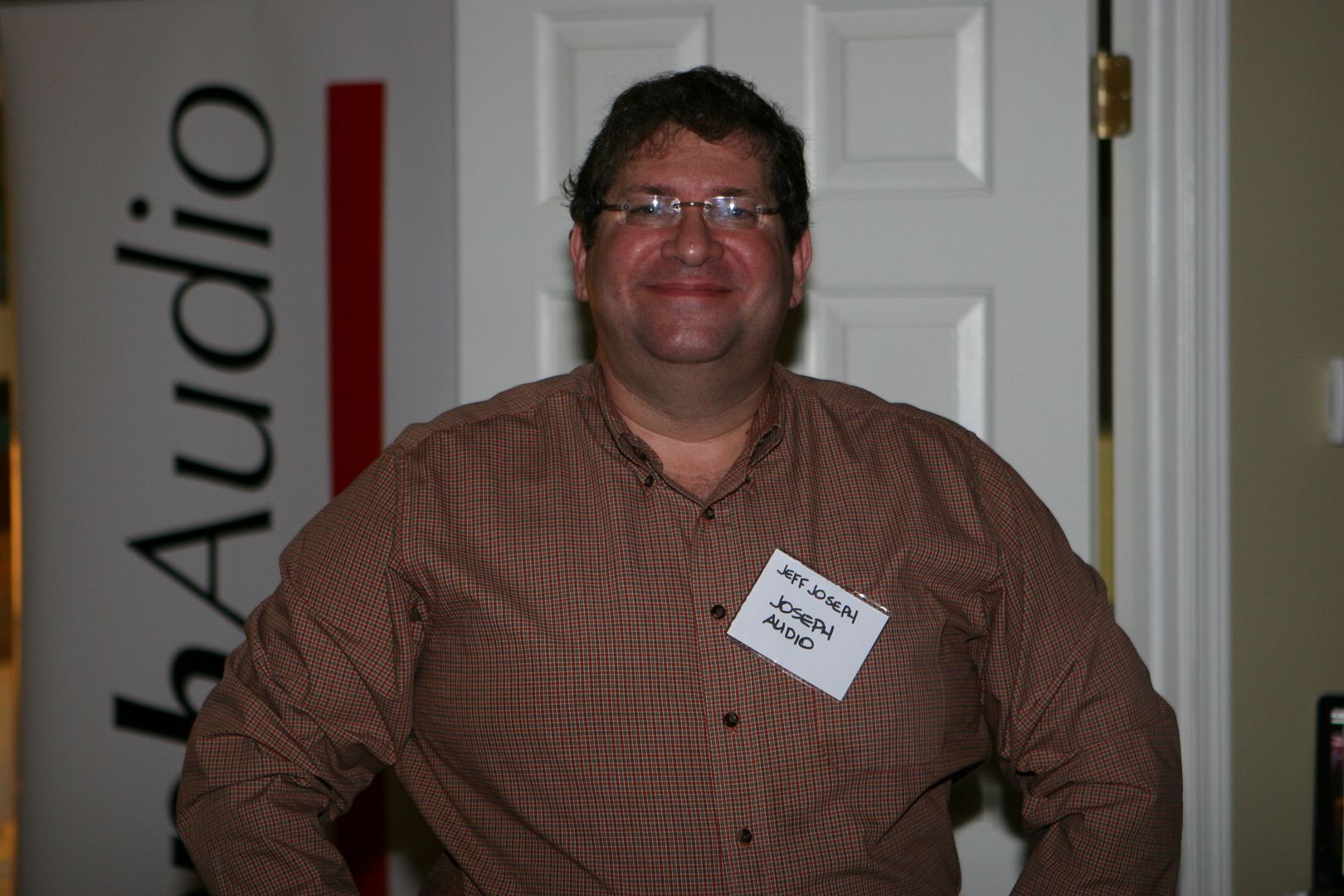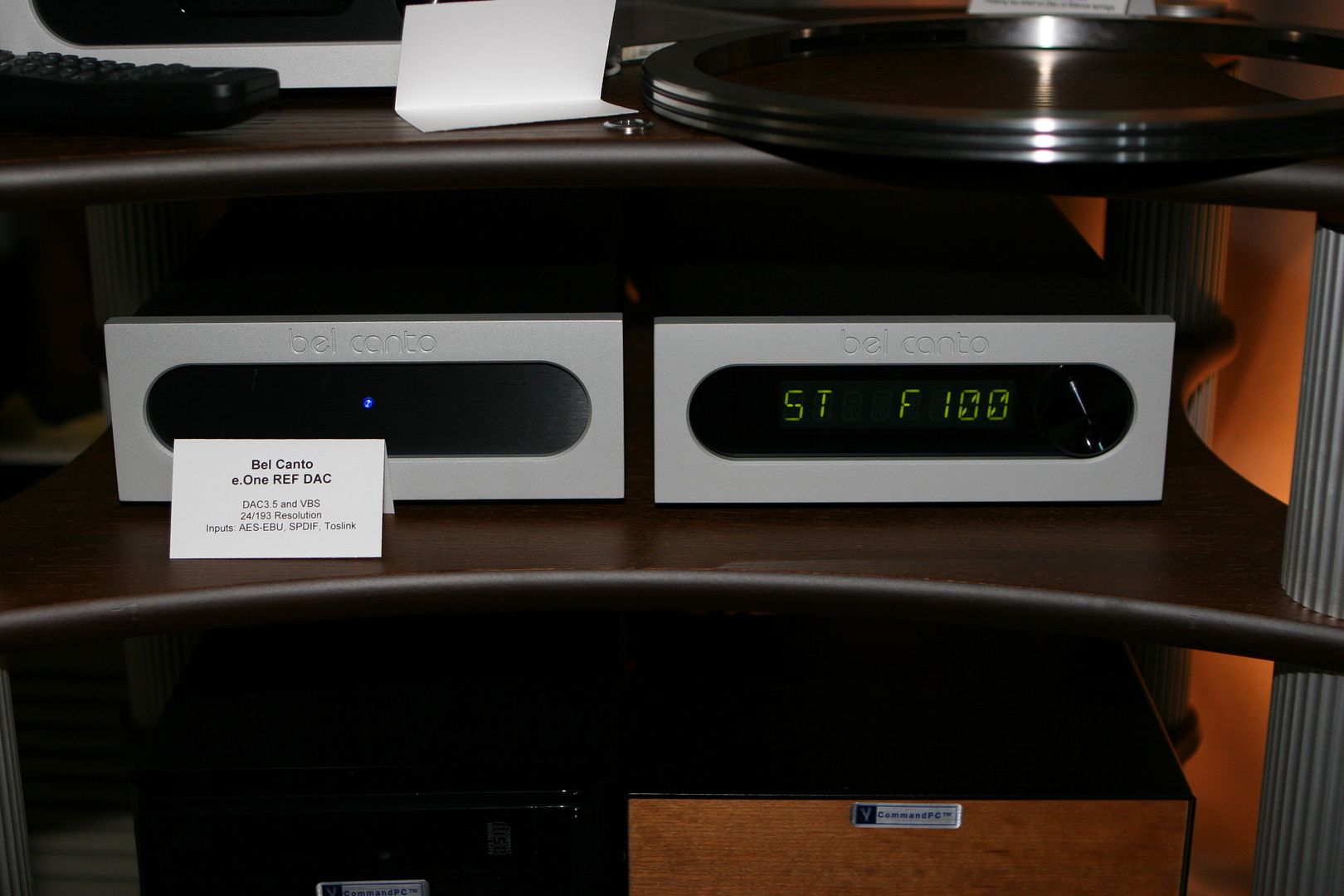 Digital duties were handled by a Bel Canto Design DAC 3.5 w/VBS fed from a MacBook Pro via a USB Light Link. Sound was smooth, musical, and highly engaging. Detail was great (I heard the crickets!) and the sound coming from this end of the chain was very smooth and musical. Chris Jones' "No Sanctuary" had scary-level bass resonances and when another customer brought out an Ella Fitzgerald disc (he was waving it around like a talisman), the mid range was vibrantly live.
The Bel Canto CD-2 is my favorite CD transport. It's a top loader, which is cool, it's got that giant BC aluminum face plate, which I love, but more importantly, everything it plays back sounds fantastic.
But while it has it's own DAC (it's a full-function player, not just a transport), it still doesn't play hi-res discs. No SACD, no Blu Ray, no DVD-A. Now, before you get all uppity about how hi-res CD is dead as a doornail (whatever that is), please-to-consider that I, at least, have 50 or so SACDs that I quite like. And isn't Blu Ray the next big thing for hi-res audio (distribution, at least)? Sure, fine — yes, you can use a computer for that. Command Performance actually sells a suite of custom-made and custom-configured computers just for this purpose — see below for one of their models with a separate wood-enclosed linear PSU. Yes, they sound quite good. In fact, that's understating it — this system, with the CommandPC feeding the Bel Canto DAC 3.5 sounded as good as any system at this show, no problem (better than most, actually). But I still want to play my SACDs! Woe is me, apparently.
Anyway, I did wheedle out of PJ that Bel Canto will be coming out with a $1,500 front-loading CD, transport-only, unit sometime soon, to mate up with their C5i. Stay tuned for that.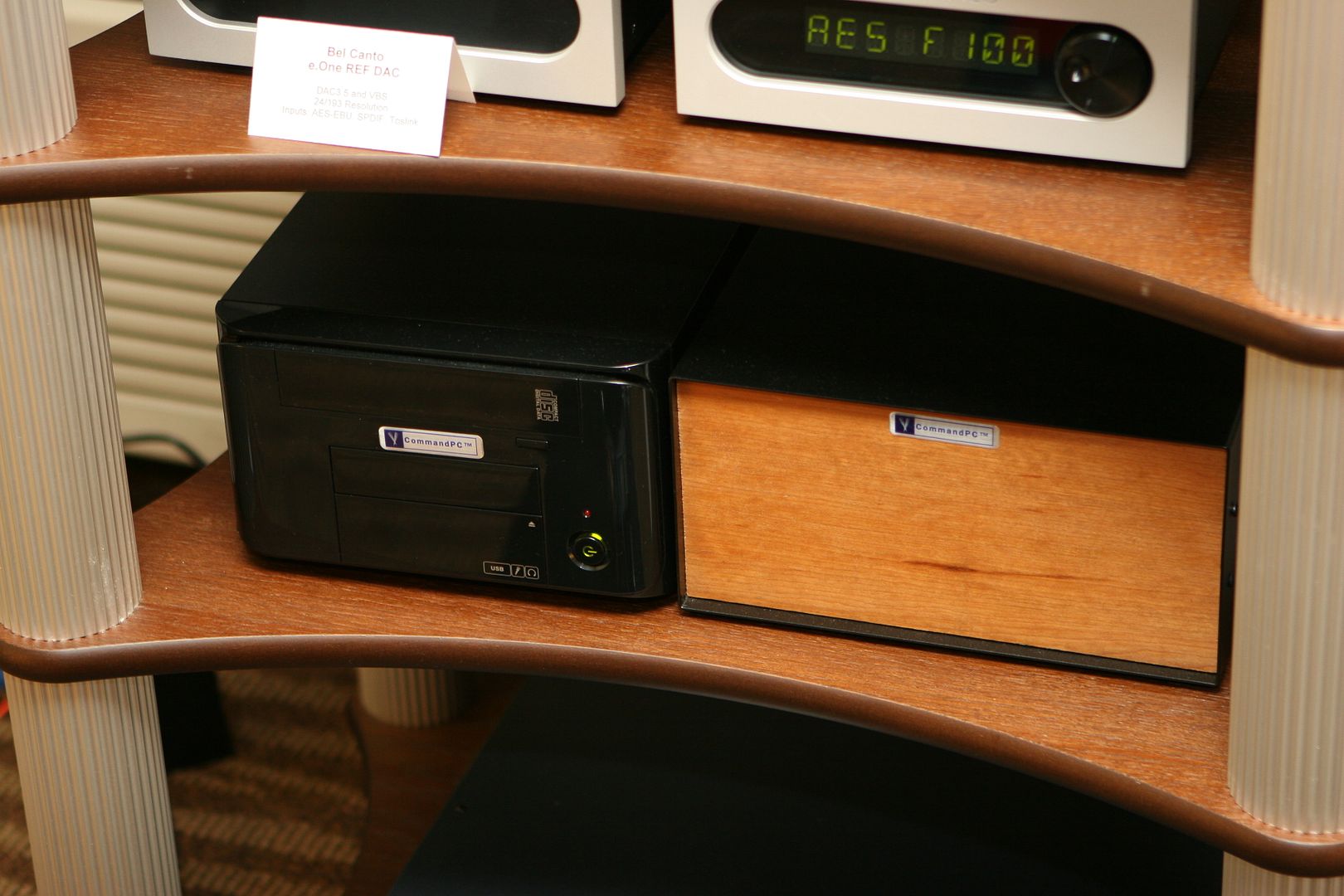 Power at shows is terrible. Always. Without fail. Enter: Shunyata. The Hydra line just got updated and, below, check out the new $2995 Talos! There were two of these at the show, one per rack. I guess that's how they roll.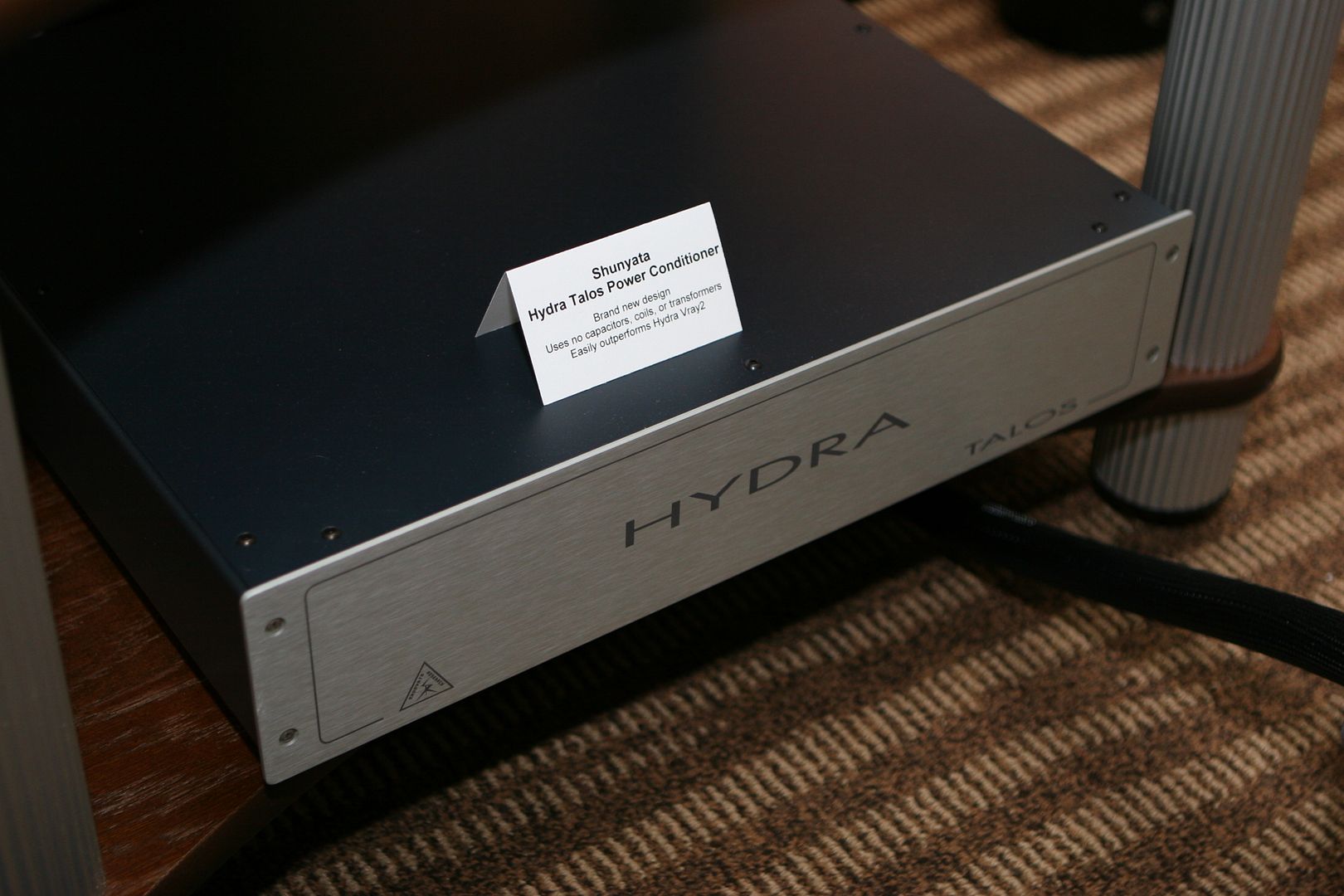 On my second swing through the room that day, I found a couple of interesting personalities hanging out on the couch: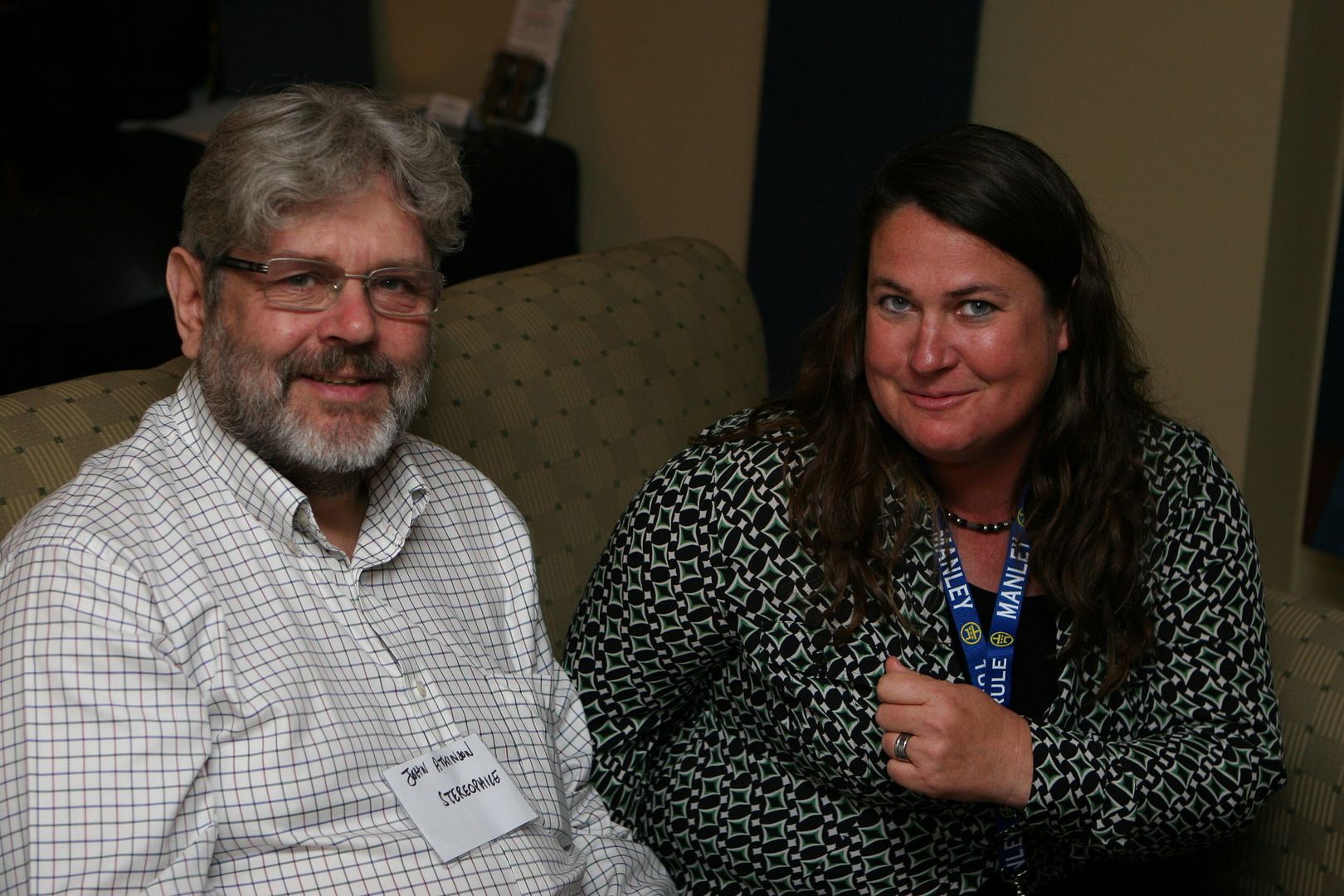 John Atkinson and EveAnna Manley were chatting away. Chris Sommovigo (Stereovox/Stereolab/Black Cat Cables) wandered in. And the next thing I knew, PJ and Jeff got roped into an extended discussion of the US domestic policy, the strengths and weaknesses of the Libertarian platform, the state of the economy and how tough the high end audio market is these days. It was surreal. There was some serious verbal kung fu going on! BTW, do not get into an economic debate with John Atkinson. Or a political one with Chris or EveAnna. The chances of you getting your tush handed to you on a platter are unreasonably high. I can't remember the last time I got lectured on the writings of Adam Smith.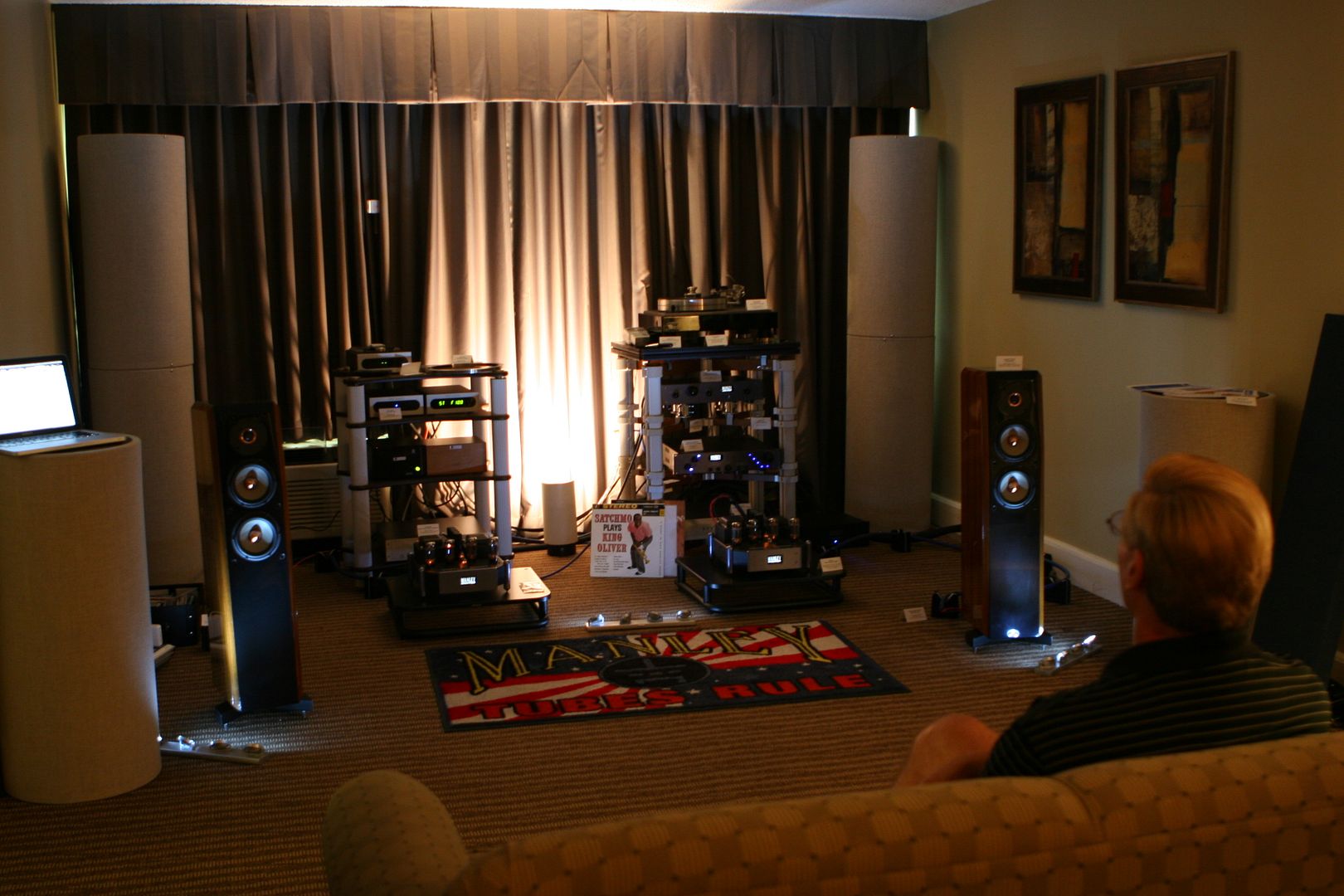 Philosophical asides aside, the room had an undeniably alluring sound. Very compelling.
On Sunday, I got to return to the room in time to see Jeff Joseph packing up the Perspectives for his (and their) return to Lawn-GUY-lund. No matter! Out came the Pulsars.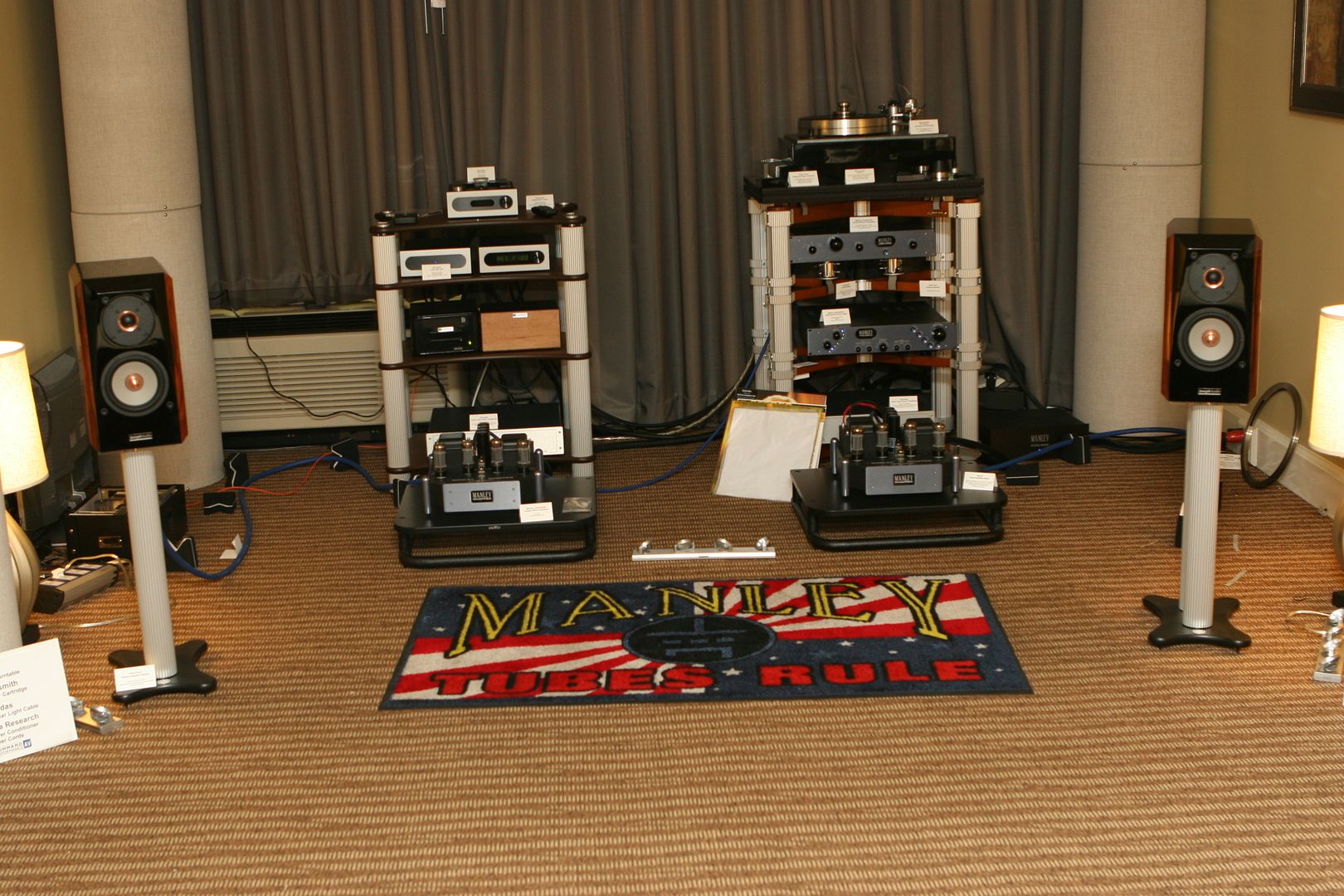 What struck me most is what didn't strike me, if you catch my drift. As I mentioned above, there is a "house sound" to Joseph Audio speakers that is quite recognizable. "It's almost as if I planned it that way," says Jeff Joseph. What consumers get by moving up, then, is mostly in the area of refinements, that is, moving from the $7k Pulsar to the almost $12k Perspective and from there to the $28k Pearl 2, the differences are of degree. At each step there is more (and more linear) bass, sure, but the sound stage is also bit deeper and wider. At each stop on the product line, imaging is bit clearer. But that's bits. Getting in the door with the Pulsar is, and will be for most, a full stop on the Audio Train. The Pulsar is utterly engaging all on its own and no apologies are or need to be made as it sucks you in for an inordinate amount of couch surfing. Did I mention that I quite like this monitor?