Wyred 4 Sound has branched out significantly in the last year, and now offers a handful of nifty new products — most relevantly for Newport is the Music Server. Pricing starts at $2k for 1TB of storage.
The music server niche seems to be heating up a bit, and what W4S is bringing to the table is a very compact unit — think "desktop" or "media cabinet" friendly — with a suite of digital outputs to front-end your nifty new Wyred 4 Sound DAC. Ahem. Anyway, with the Music Server, you get a lot of bang for your buck:
Easy one-time setup
Wireless control
Supports 24 bit 192 kHz files
Coaxial and Toslink digital outputs
Automatically copies CDs using built-in drive
Network file uploading
1TB of on-board storage
1GB of memory
Internet Radio
3rd party apps such as Pandora®, MOG, Last.fm and more
Back-up the hard drive contents with one click
Fan less
Low power consumption
And did I mention that it's tiny? It is!
Also in the rack today was the award-winning $2,499 DAC2, here used as a preamp as well. The DAC2 is a favorite "high-end entry-level" unit with the Computer Audiophile crowd, and features some top-level features. A 24bit/192kHz async USB implementation (it does require a custom driver) rounds out the usual suspects — with one exception. The Wyred DAC supports an I2S connection over a standard HDMI cable — and, happily enough, the Music Server supports an output over the same interface. This is how it was wired up here. A pair of $2,400/pair SX-1000 monoblock amplifiers were pushing the current around.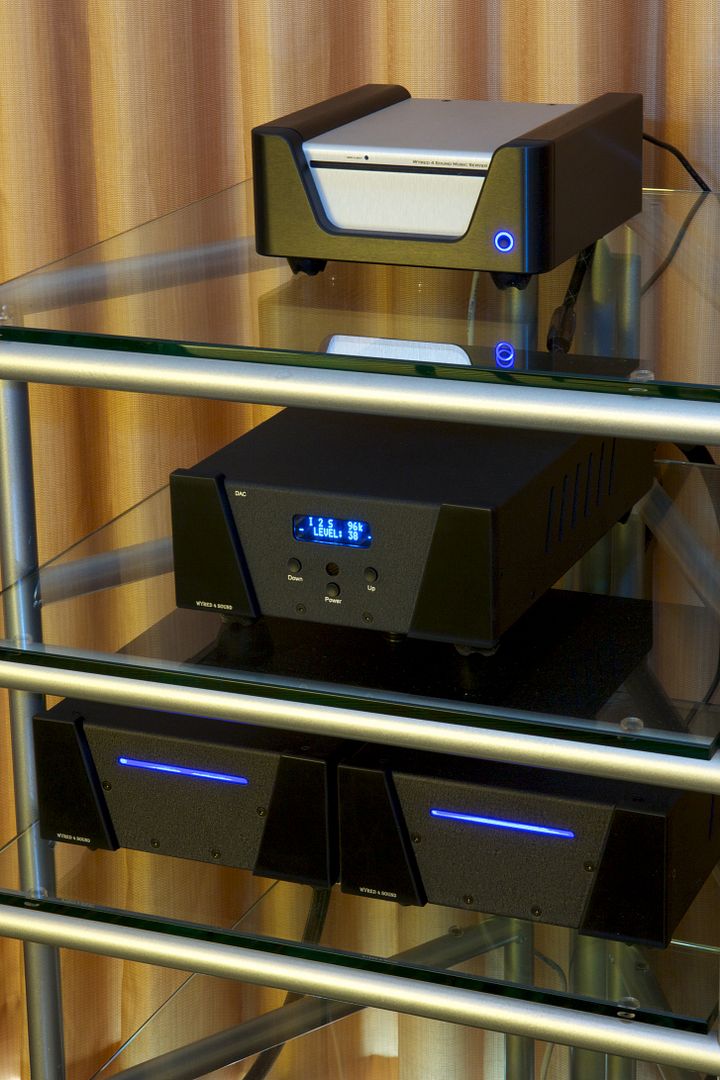 New to me was the $7,200 pair of Clearwave 72R loudspeakers. These guys are showstoppers! Or at least, they were for me. RAAL ribbon tweeters and a pair of Accuton drivers, wrapped in a custom beveled cabinet, and I was all a-quiver. And the sound … mmm mmm, good! Fast as … well, something really fast … with great tone and impressive extension. 4ohm nominal, flat to 38Hz and … yeah. There's a new review up on 6moons if you want to read more. What I know is that I would really love to spend some extended time with these speakers! Oh, and did I mention that there's a monitor version as well?