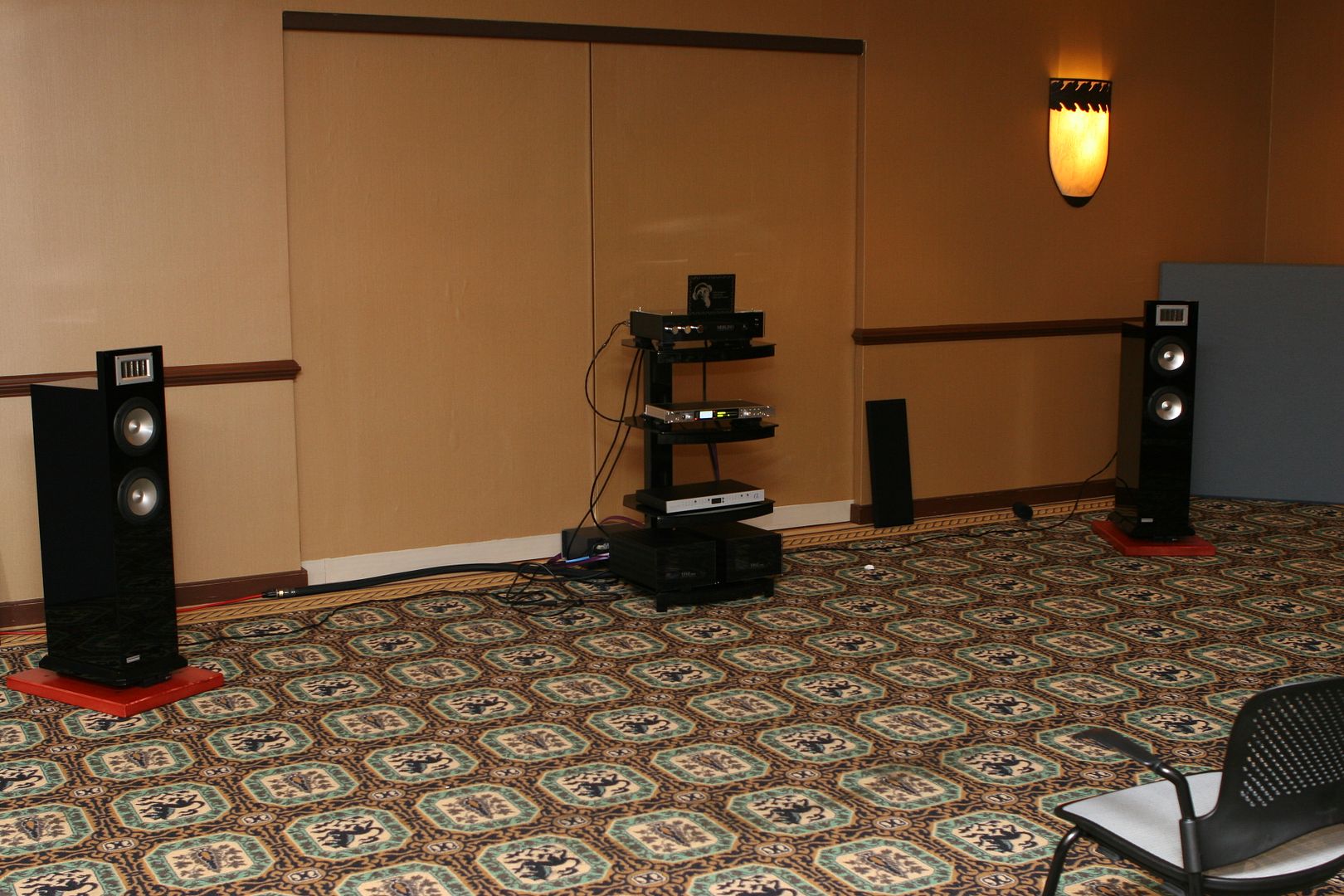 The Signal Collection's Chris Sommovigo brought along a striking pair of Transmission Audio M3 loudspeakers. These speakers are the bigger brother of the startling M1i monitors I was so struck with when I first heard them at Command Performance A/V. Like their shorter siblings, the 2.5-way M3 ($6499/pair) have the same spectacular quad-ribbon. Can you say "imaging"? Yeah. Me too — and hearing it from the M3s is "something else". Bass was deep, resonant, and room-filling. It was, in a word, beautiful.
Also on display were a matched set of tube gear from Klimo ($8999/pair Tine class-A monoblocks and a $6699 Merlino preamp), all wired up with Black Cat interconnects and speakers cables. On Friday, a Korg A-D/D-A converter that Todd Garfinkle of MA Recordings uses to do his recordings was also pushing out the tunes. On Sunday, a Berkeley Audio Alpha DAC had taken over and was doing the conversion — from the Korg! Very clever. All told, I think I prefer the Berkeley to the Korg, but then, I actually own a Berkeley so perhaps that's unfair.
I did have a question about the toe-in on the Transmission speakers — the were set up to fire directly into the sweet spot w/ 100% toe-in. When I asked Chris about it and he was characteristically blunt: show acoustics suck, and by toeing in, you take out the reflection points. Bingo. That explains that. Chris went on to point out that in "normal" setup, you wouldn't need anywhere near that configuration.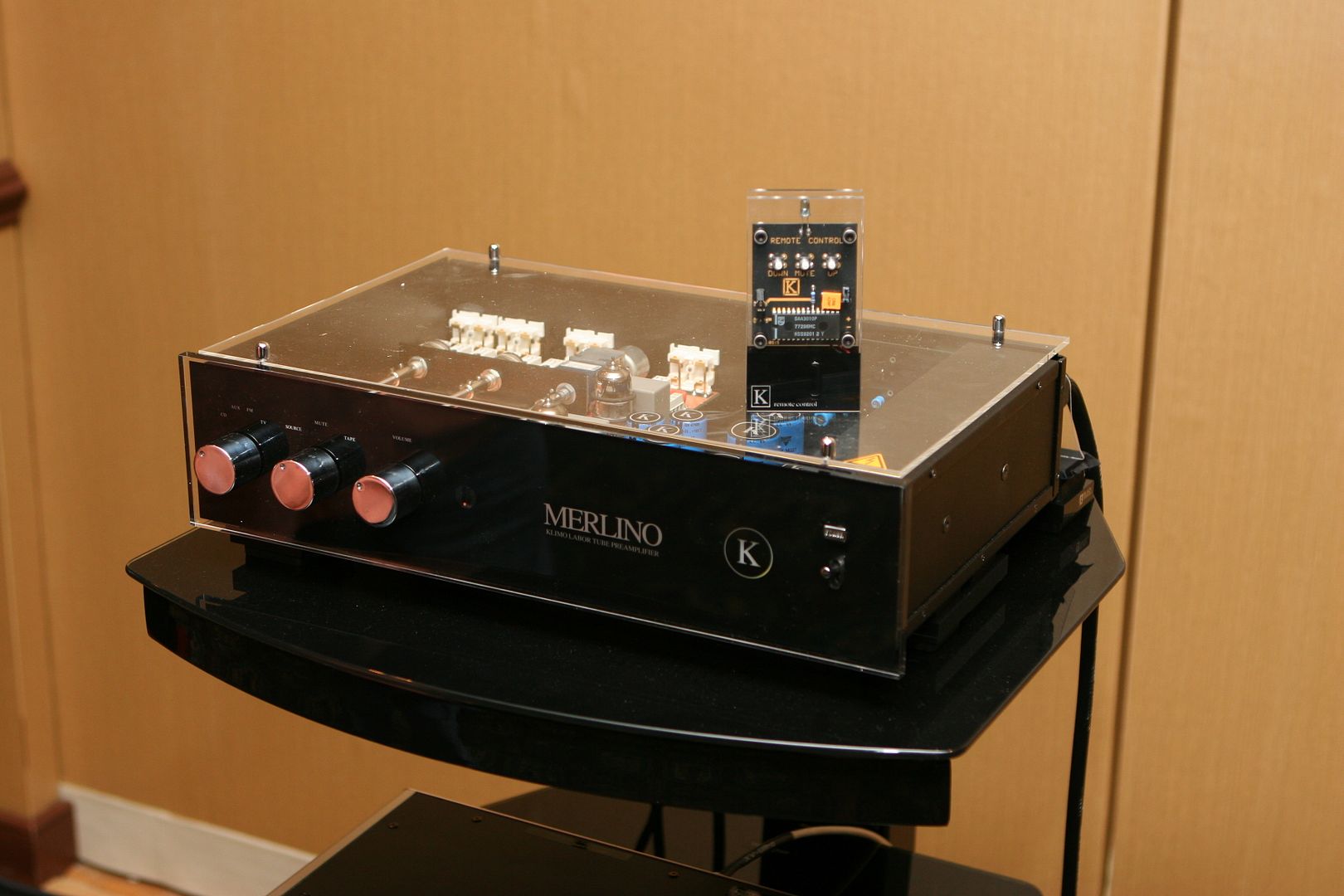 I love the Klimo remote, which matches the optional clear-acrylic top the Merlino can ship with. Looking inside your audio gear like this is a really fun touch, especially for those of us with Operation! fetishes left over from our childhood. Okay, maybe that's just me. But then, I'm all about the tourbillon watches, too, so sure, I have a problem.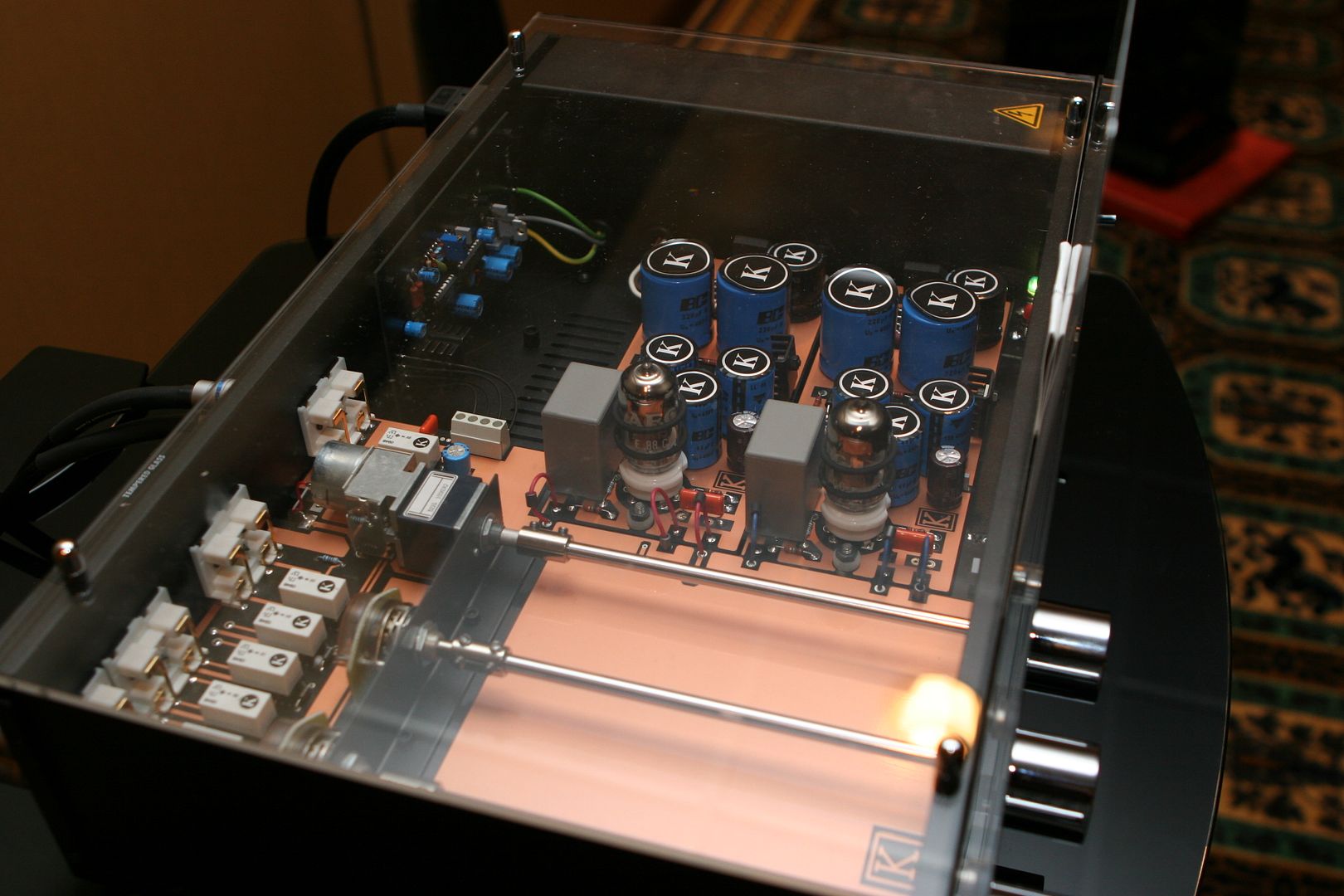 Mr Cable, aka, Chris Sommovigo with his Klimo toys.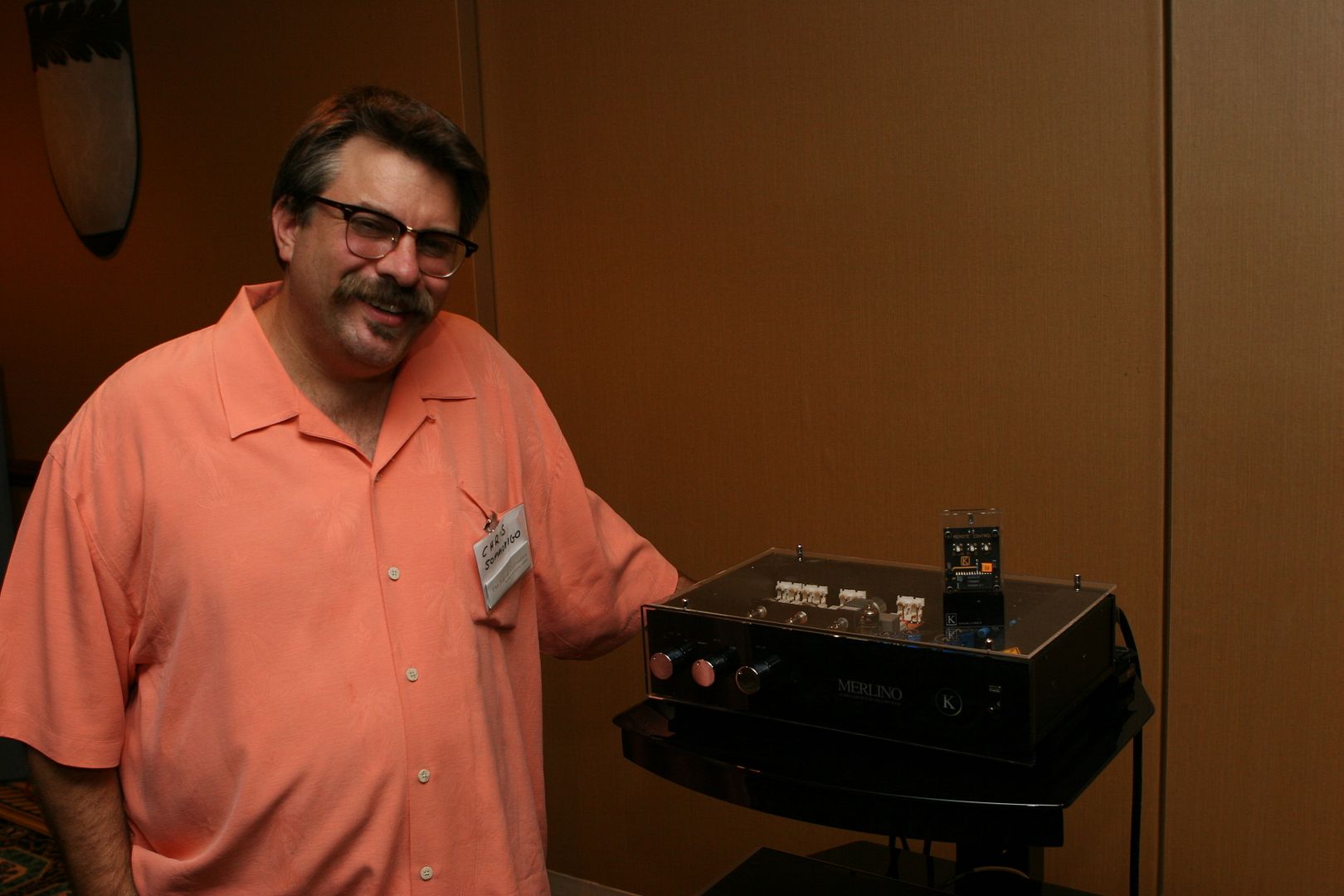 Klimo Tine 40wpc Class A tube monoblocks. Love the peeky-peeky windows.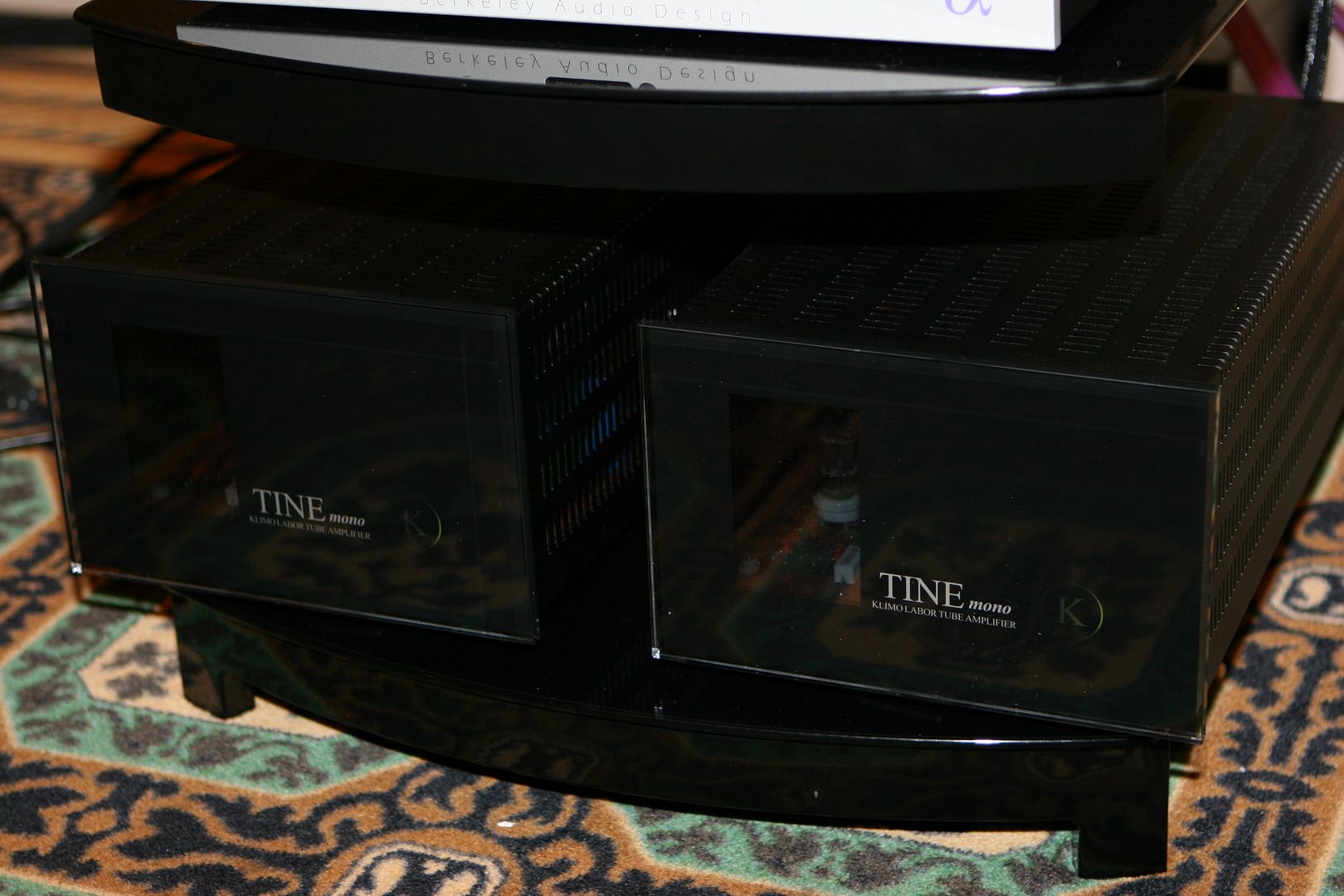 Todd Garfinkle of MA Recordings has a million recordings that's he's traveled the world to collect. Ok, maybe not a million, but it's a lot. The music is always sounds spectacular but tends to feature artists and venues that are a bit … outside … the mainstream. And as far as I can tell with my limited exposure to the catalog, that's a very good thing. Getting tired of the same-old, same-old? Yeah. Guess what? Todd has the cure for what ails you.
I picked up high-res copies of Matthias Landaeus' Opening and Sera una Noche's La Segunda. That's 24bit/176kHz, folks! Huzzah! More on those titles later, but I can't recommend strongly enough that you do the following: if you ever hit a show where Todd is playing music, take the time to ask him about his collection. He's enthusiastic, funny, and has the broadest taste in music you're going to find. Tell him what you like and let him match it up for you. You'll be blown away by the fresh new "faces" and the quality of the sound. Todd has a knack for pulling spectacular performances out of what we silly Westerners would call "unusual places" and I can't thank him enough for doing so. Great music is always welcome!