I think it's wise to bring comfortable clothes to an audio shows. Especially shoes. You might be wearing them down a bit, hunting for that one room that fits you. Where you can relax. Take a load off. Chill.
For me, that tends to be a Joseph Audio room. And I was doubly lucky at Newport, because this year, there were two rooms featuring my mid-tier "reference" speakers — the $7,000 Joseph Audio Pulsar.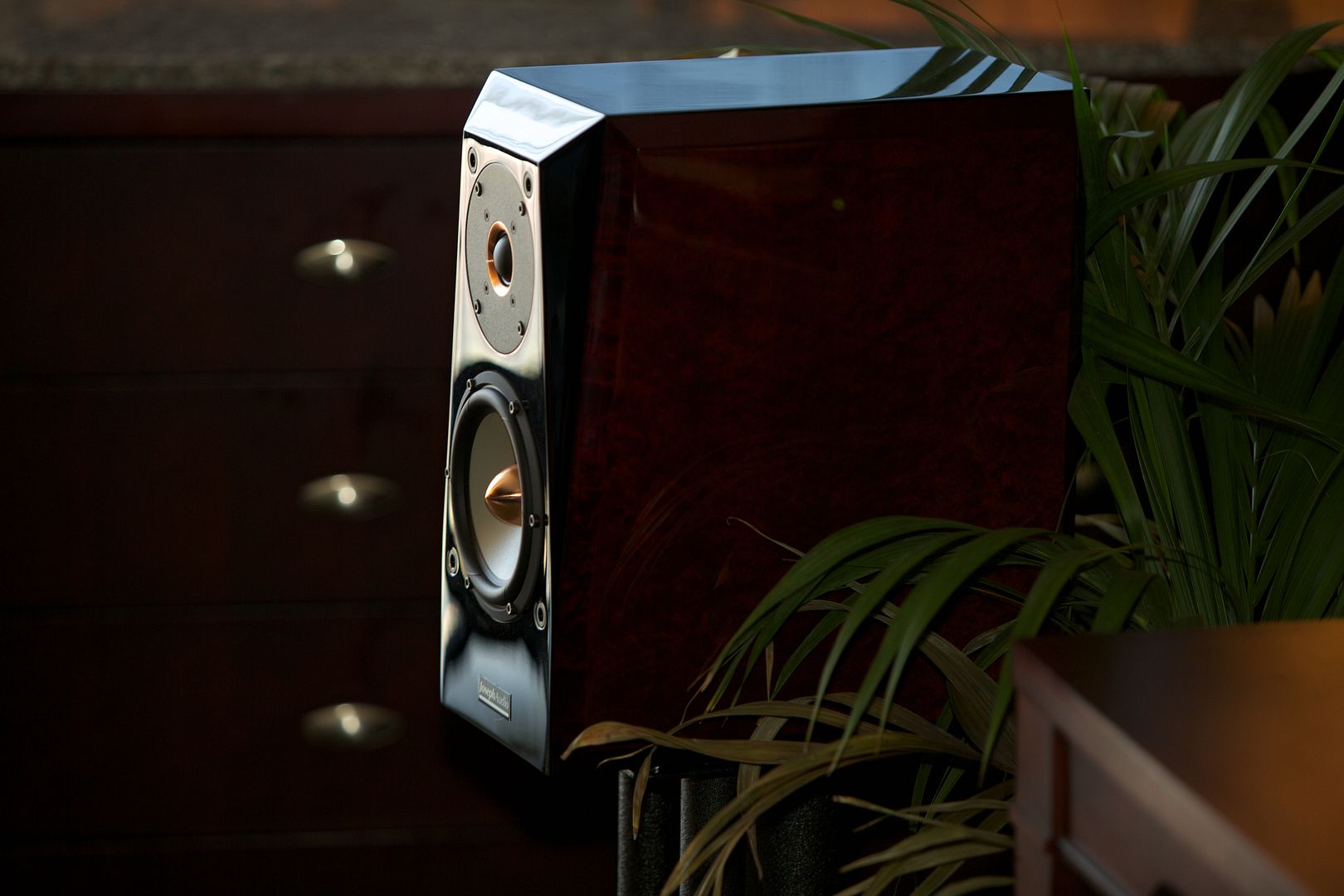 I've had a lot of fun edumacating audiophiles about basic manufacturing economics, but no matter how many times I say it, it seems I need to keep saying it — so here goes. The Pulsar is an expensive stand-mount loudspeaker, yes, it's true. And, yes, $7,000 can buy you a lot of things, that's also true. And finally, it's true that price doesn't necessarily correlate with performance. But sometimes … sometimes it does. And sometimes you have to pay — and sometimes, pay a lot — but for that, you'll also get a lot. That's the way of things with the Pulsar. It does a lot. I didn't pick it as a reference just for fun — it's outstanding. In the June issue of Stereophile, Michael Fremer agrees with me wholeheartedly and unreservedly: the Pulsar is a reference-class product. I just want it noted, for the record, that I was all over this little gem years ago. Just sayin'.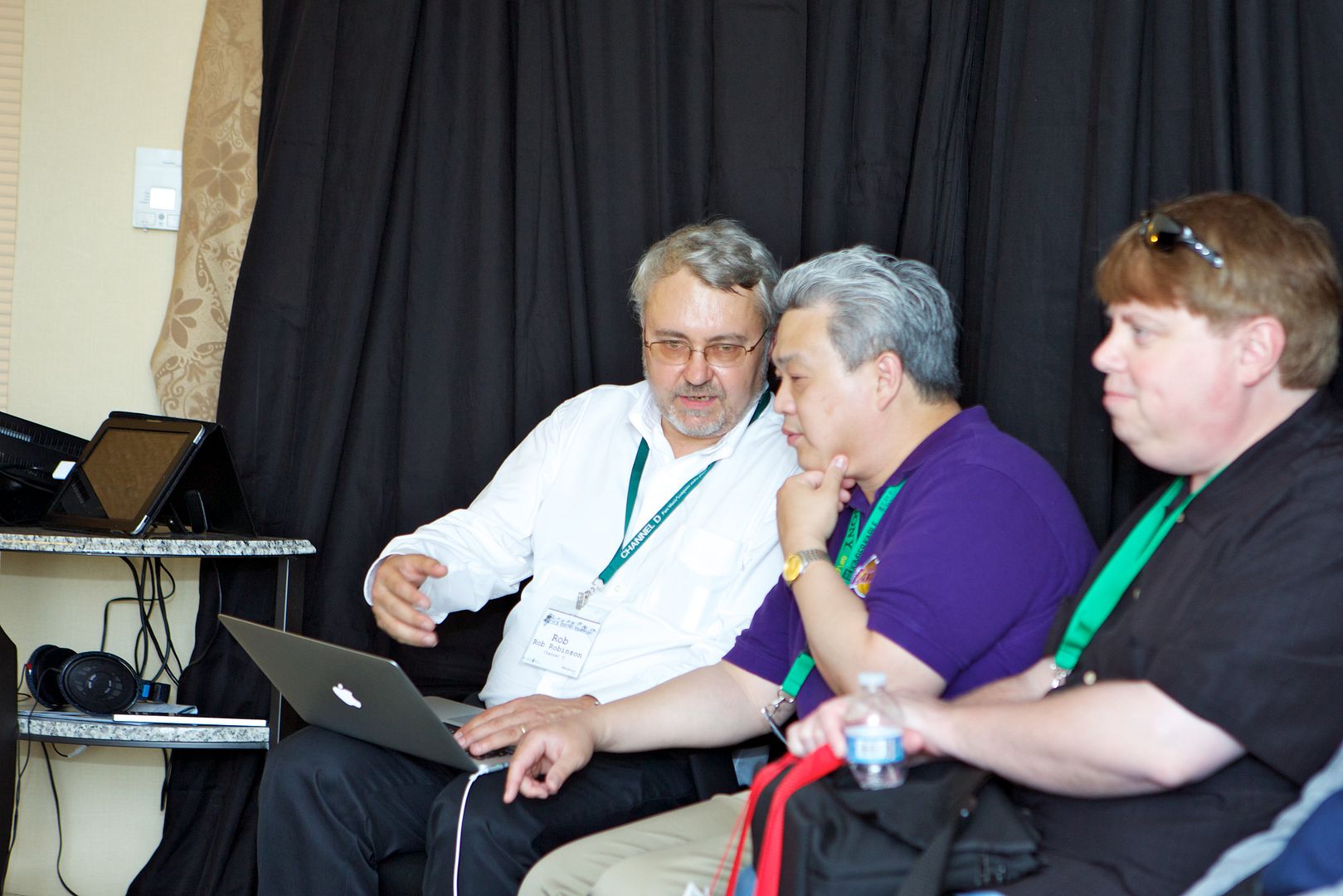 So, walking into the Channel D room at Newport was, in many ways, like coming home. The sound was inviting, deep, dynamic and detailed. Triple-D. Works for me. Ahem.
So, I got a chance to chat with Rob a bit while I was at the show and I thought I'd report on a couple of things. One, Rob is going to help me write-up a "what not to do in computer audio". I'm hoping to keep it from becoming a diatribe, but hey, you know how Rob is. Give him a soapbox and watch out!
Okay, okay. I'm kidding. Rob's a very cool cucumber and even when offered the chance to write a polemic manifesto, Rob very adroitly avoided the traps. But I still think I may have to write-up that manifesto nonetheless — we do so much stupid shit in computer audio that it's really time to start setting the record straight. Dude — you do not need an SSD to have your computer audio sound "good" and no, computer audio does not have to be voodoo and black magic.
Which is why Channel D's Pure Music software is so helpful. It really does eliminate a lot of the variables when it comes to computer playback. Sure, you can tweak to your heart's content, but after properly configuring Pure Music, most of what left to do is pouring yourself a giant cup of STFU and sitting down to (finally) enjoy your music.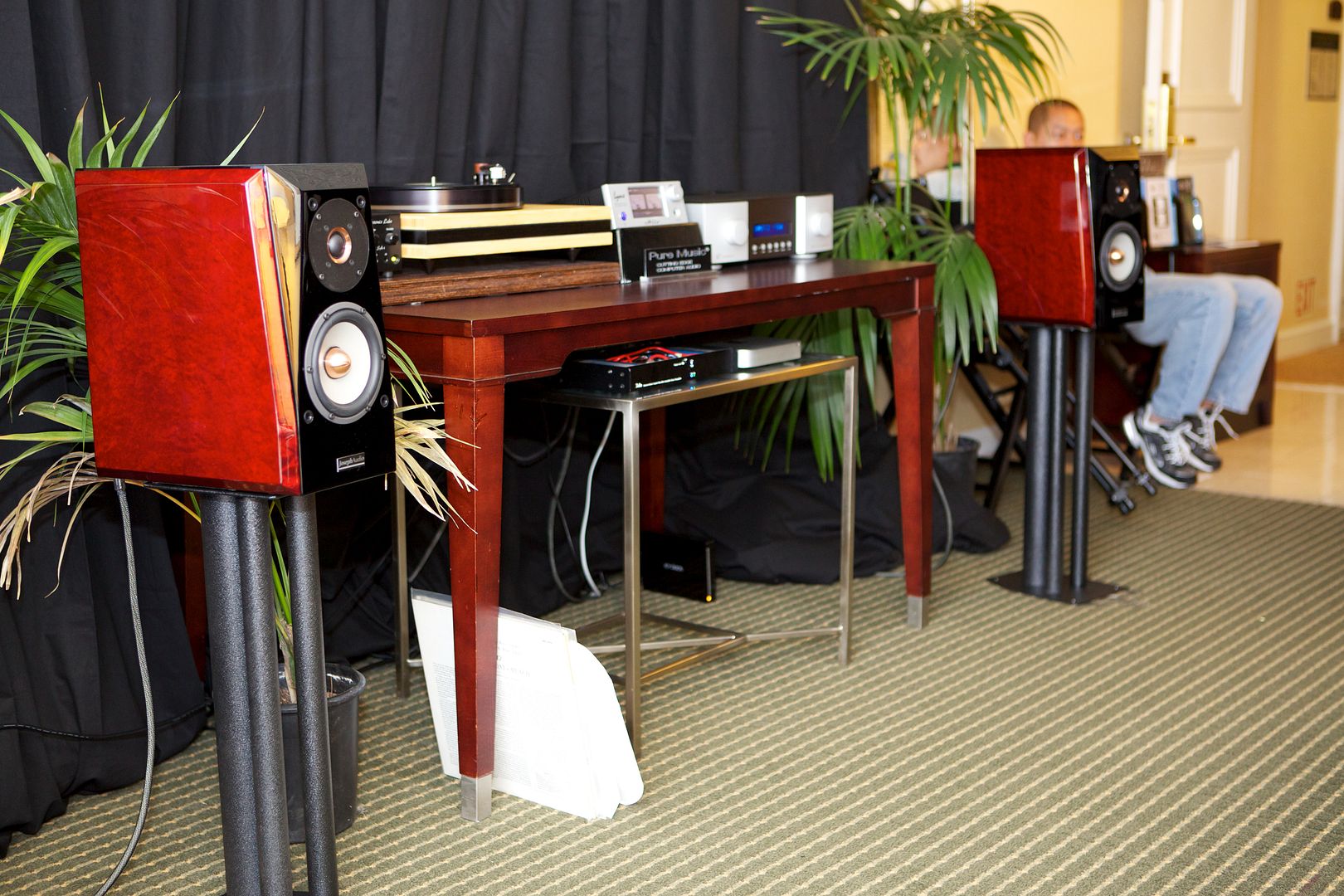 Front and center — and doing the heavy (technical) work — was the new AD/DA converter from Lynx Studios, the $2,500 Hilo. This DAC will require you to make some choices, that is, do you want it in silver or black, but other than that, everything seems included.
The DAC is a dual-mono converter with a 4.3″ touch screen interface, which "provides control of all setup, routing and metering functions". Interestingly, this same interface is also available as an application for a USB-connected computer.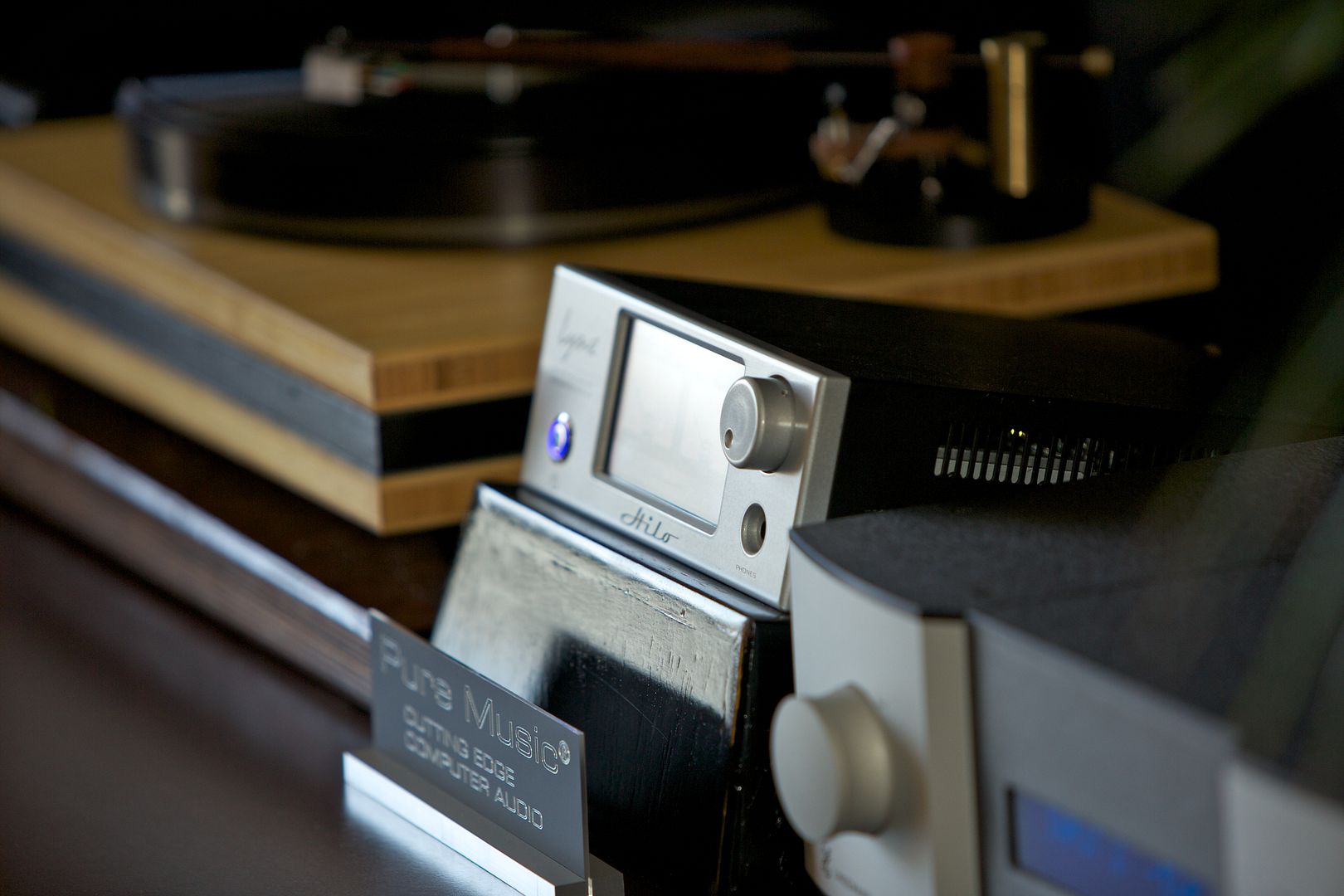 The DAC features RCA and XLR for line in and out, a phono plug interface for "monitor out" and supports AES/EBU and S/PDIF over coax or optical. The USB input supports up to 24bit/192kHz with no drivers required for Mac OSX users. The Hilo is fully "USB Audio Class 2" compatible, so you can get up to 32 channels of I/O available. External clocking is supported as well.
Other gear? Sure! The power came from a $14,000 integrated from Lindemann, the 885, which is good for 135wpc into 8ohms. Phono conversion came courtesy of Channel D's own $3800 Seta Model L, a 5 MHz balanced DC-coupled phono stage.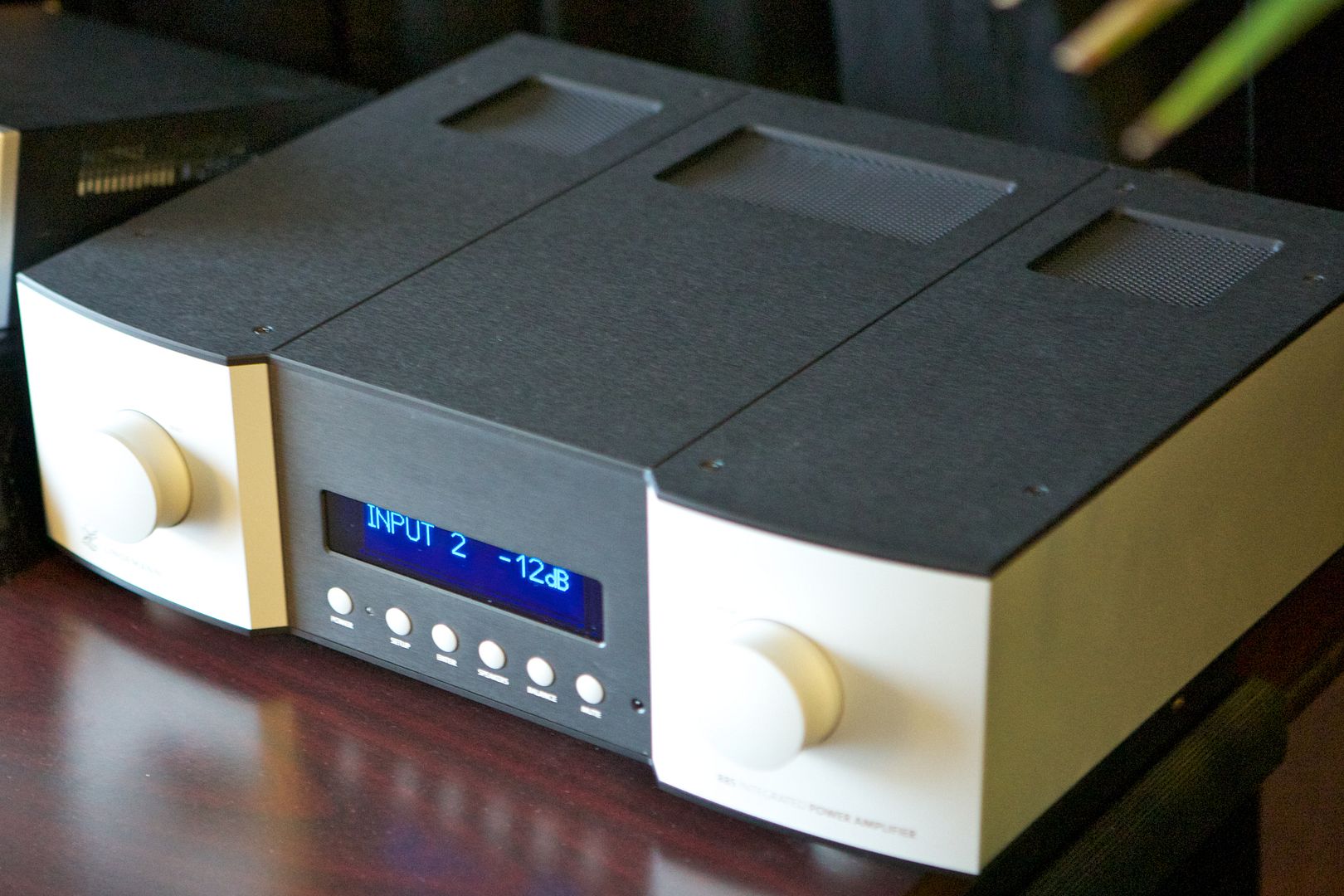 Rob, knowing I have ADD (not really, but you'd never know it watching me bounce around like a ping-pong ball in a Lotto drawing), quickly distracted me from asking more pesky questions about Pure Music 2.0 ("it's coming out when it's ready" and "it's gonna be awesome") with the fancy analog rig that Rob was demoing his up-market analog-ripping Pure Vinyl software with. I love how he "manages me".
Enter the clever and sexy Artemis Labs SA-1. An $8,200 bamboo-plinthed turntable, the SA-1 is elegant, clean, and cleverly put-together.
There are actually 3 three-layer plinths, all bonded together. The bamboo layers are layered cross-wise, with each layer laying at 90-degrees to the layers above/below. The motor sits inside the bottom plinth, the tensioning system sits in the middle, and the bearing is embedded in the top plinth — and each plinth is separated by isolation and absorption material to provide isolation, separation, dampening, and all that anti-rumble stuff you'd want in a turntable.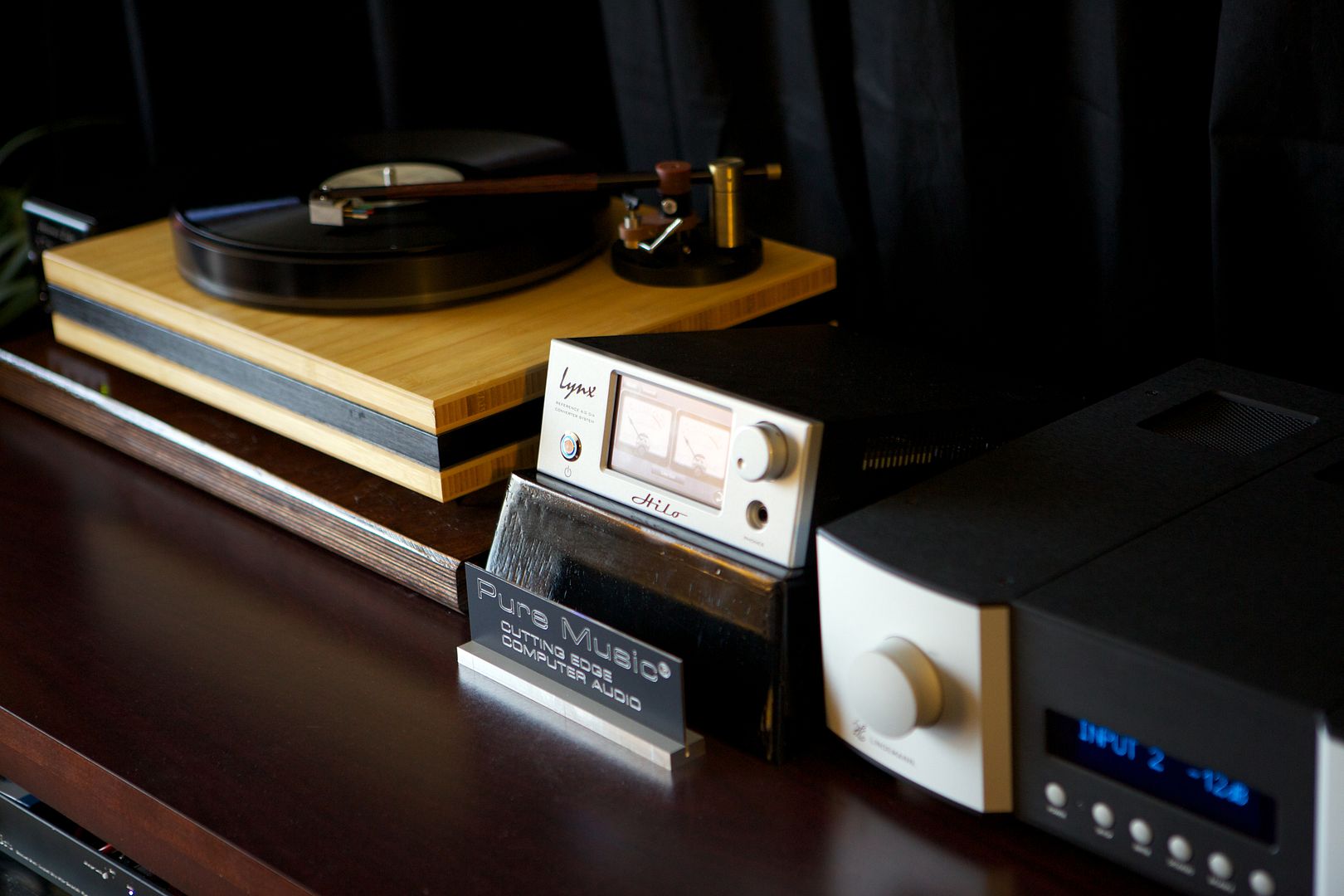 The table came mounted with an Artemis TA-1 tonearm, and there are several arm-wands available in different woods. I saw and got to fondle the cocobolo and ebony wands — very fine . Each comes pre-threaded with "captured wire" — a continuous run from cartridge clip to RCA jack. I think this makes the $3,800 price tag for the tonearm a bit easier to swallow as you won't have to worry about a tonearm cable.
Magnetic anti-skate, azimuth adjustment, plenty of VTA and a clever 2-piece counter-weight that you can either tighten to, ah, tighten the bass response or loosen it to … well, yes, you guessed it, loosen up the bass a bit. It's called "customization". Love it.
Other little bits worth mentioning — the record spindle is notched. Yes, notched. That is, the record slips over the spindle and sits on the platter — but no longer touches the spindle! It's sitting straight and centered, but it's no longer a conduit for bearing noise or motor rumble. Slick, no?
Did I mention the tensioning system? "Tensioning system?" you ask. Well, yes, says I — the system by which the belt is attached to, maintains contact with, and actually drives the platter — that system. In this case, it's not actually a belt — it's magnetic tape. Not like "it's a magnet" but rather, it's the stuff pulled from a reel-to-reel tape — it's inelastic, which is the relevant bit here, but with the loop-back approach, pictured below, the actual contact area is something like 97% of the rim of the platter. Lots of transfer area!
Did I mention that the table uses an eddy current brake? Maybe it's just me, but I think it's pretty cool:
The motor works against a defined drag, comprised of the frictional losses in the bearing and further losses caused by a magnetic eddy current brake, situated below the platter. Friction losses due to stylus drag are minimal compared to the above "built in" system losses and won't cause smeared dynamics, "congested" reproduction of complex signals, or low frequency speed variations (wow).
Two magnets, embedded in the top plinth and below the platter, make up the brake.
Finally, Zu Audio's awesome hunk of aluminum love was fixed to the headshell. A Denon rebuild, this cart has won fans from all over (Stereophile loves this cart), but I haven't had a lot of opportunity to see it on something other than a Zu Audio demo. Nice to see and hear it here.
This was a fun room. I personally like Rob's taste in music and his dry sense of humor works for me, so I always have a great time hanging out. Nice gear, great sound, great folks — this is what it's all about, for me.
By the way, Rob had this to say about Pure Music:
There will be at least one more maintenance release of 1.8x. This is being developed in parallel with the 2.0 version (the reason there was a longer period than usual since 1.86). Of course anyone purchasing 1.86 now will be upgraded to 2.0 for free (as well as those who purchased a license some time ago).