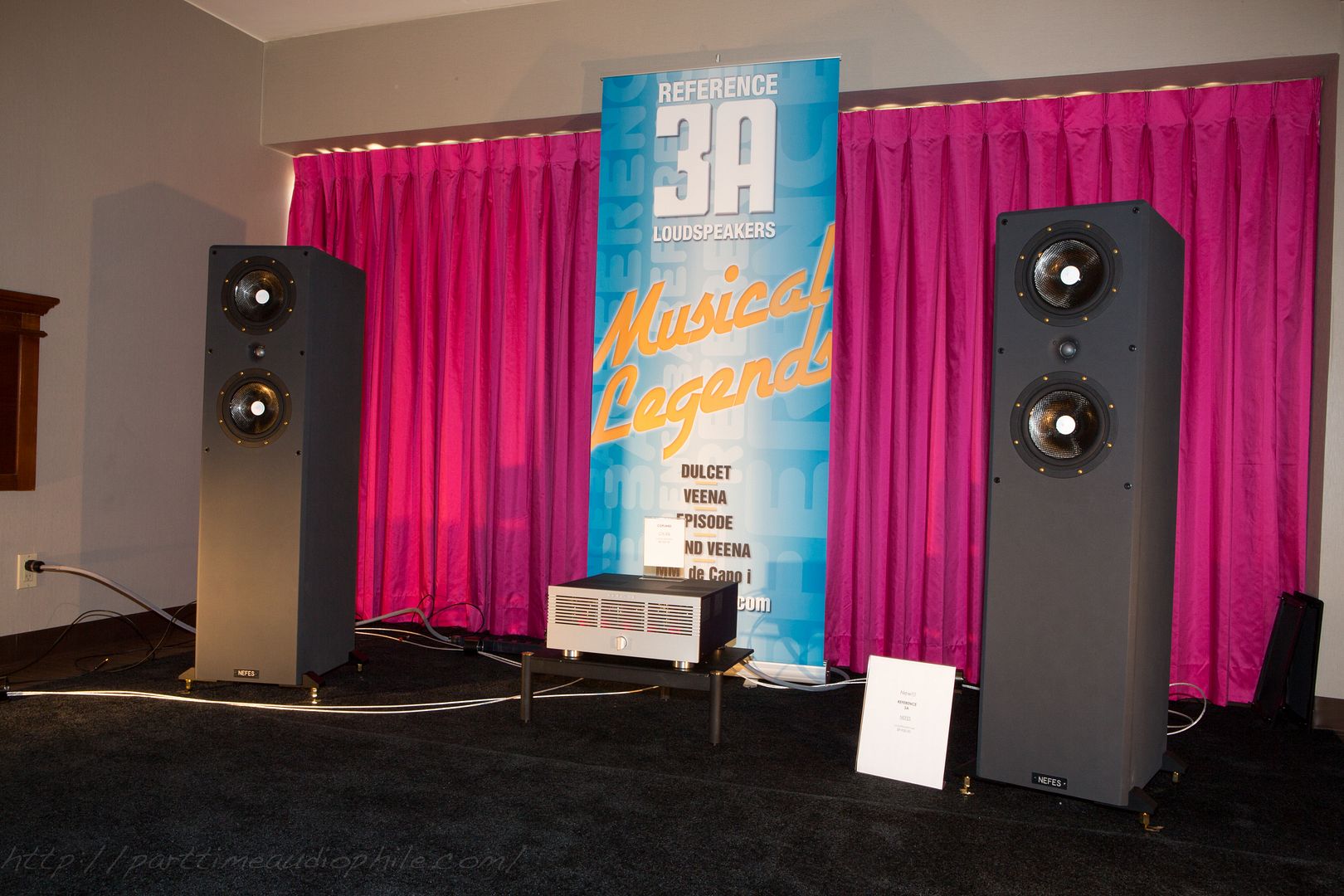 Reference 3a has made a few changes to the lineup for 2013, and not necessarily willingly. Since Murata super tweeters are no longer being made, some changes were simply required. Swapping out for a Beryllium dome brought system performance up to 40kHz, so that was apparently an "easy" fix, and one that's now found on the entire Ref3A line — whether that model originally carried a Murata or not. That's the plus.
On the other hand, I'm a little dubious about the new Nextel finish on the loudspeakers that Tash Goka is so hot on — while I don't doubt that it'll reduce cabinet vibrations significantly, I'm nervous about his plans to phase out all veneers in favor of it. Honestly, the Nextel matte-grey finish just isn't sexy.
On the gripping hand, I still don't know what to make of the little Surreal Acoustic Lens sitting in the middle of the big mid/woofer. Yes, they are patented — so there's something going on — and Tash says they "really are wondrous" in their ability to eliminate sound-muddying turbulence during driver excursion. All that said, they still look weird.
The proof is in the listening, of course, but my listening at the show was frustratingly inconclusive. The sound was merely "good", while I was clearly expecting more of the fulsome lusciousness that I so fondly remembered from my time with other Ref3a offerings. Was it me? The room? Who knows. Audio shows are like that. Anyway, I'm very much looking forward to a rematch at the next show.
In addition to the new features common to the line (listed above), the new Nefes loudspeakers ($9,950/pair), with their un-Ref3a D'Appolito array of drivers, also marks a technological departure from models past — Bybee Purifiers have been dropped from the line. In its place (perhaps?), I did note references to the same "Magnetic Wave Guide" technology, from Rick Schultz' Magnetic Innovations, that is found in the big Silver Circle Tchaik 6. Perhaps not surprisingly, then, was the cable loom from Rick's High Fidelity Cables being used throughout the room.
Shown here with electronics from Copland, including a CTA 506 power amplifier ($6,500). This KT120-based tube amp is good for 90wpc, and leverages a pair of 6550 tubes for tube regulation. 4 and 8 ohms taps, an SNR > 100dB, an input impedance of 100k ohms, XLR and RCA inputs, and 57lbs of weight round out the features.
Copland's CTA 305 preamplifier and CDA 825 CD player were also on display, as was a tiny DAC from exaSound. The e20 ($2,500) supports DSD 64 and DSD 128 files (over PCM), and PCM up to 32bits and 384kHz sampling, over an asynchronous USB, leveraging proprietary drivers. The little box features XLR and RCA outputs, a DAC-chip derived digital volume control and a headphone jack.